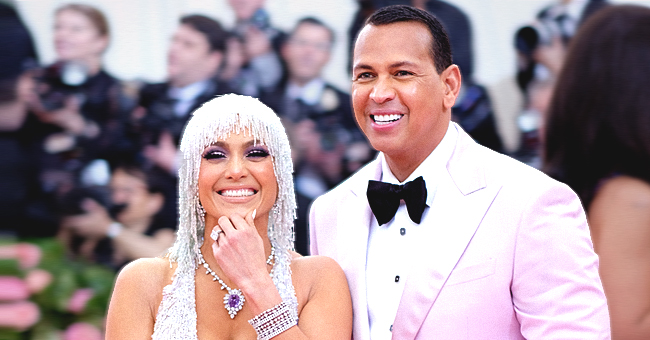 Getty Images
Jennifer Lopez Stopped Her Show to Sing 'Happy Birthday' to Sweetheart Alex Rodriguez
Jennifer Lopez celebrated her fiancé's birthday by hitting the brakes at one of her concerts to roll in a huge Yankees cake and sing Happy Birthday to him.
Just two days after her own birthday on July 24, the singer and actress celebrated that of her fiancé Alex Rodriguez and she was able to do it while at work. Lopez performed at a Miami concert where the atmosphere of the party was just right for the occasion.
She stopped her show about mid-way through and brought in a Yankees-inspired cake that featured Rodriguez' jersey number, 13, from his time as a professional baseball player. A clip of the event is found below.
Rodriguez, who is often present to support his superstar fiancée, walked onstage of the AmericanAirlines Arena with the kids wearing a black suit. He hugged Lopez, who had put on a black Versace robe for the tributary moment.
Fans attending the "It's My Party: The Live Celebration" concert joined in as she sang "Happy Birthday" to her beloved, with whom she's been with for two years. Rodriguez turned 44 on the big day.
The singer later posted the clip to Instagram with the caption:
"Celebrating you today and everyday my love... you are one of a kind, my hurricane and my calm in the middle of the storm...thank you for being such a beautiful light in my life... wishing you the most beautiful birthday ever!!! HAPPY BIRTHDAY 13!!!"
The power couple did not let the party stop there, however. He and Lopez later held another more private affair, a clip of which Rodriguez posted to his own Instagram account.
Lopez also received a huge show of appreciation when she turned 50 last week. Not only did she hold a big bash at the estate of Gloria and Emilio Estefan in Star Island, Florida, but she also received the keys to the city.
Additionally, her beau bought her a brand new red Porsche and, in a sweet display, put together a video collage which he shared online. Rodriguez' message in the clip was perhaps the most meaningful of all his gifts.
"Since we've been together, you have made me feel like everyday is my birthday. Thank you for your passion and your energy and your inspiration, and your endless pursuit to be the best at everything that you do," he said.
Throughout the clip, scenes of Lopez performing, hanging out with family members, and just enjoying life played as Rodriguez continued to speak.
The singer herself commented on the heartwarming clip saying, "I'm crying….I love our life…I love you so much… thank you my beautiful Macho…"
Lopez has twins Emme and Maximilian, eleven, from her previous marriage, while Rodriguez has daughters Natasha, 14, and Ella, 10, from his.
We can't wait to see the beautiful family officially become one when the two get married.
Please fill in your e-mail so we can share with you our top stories!