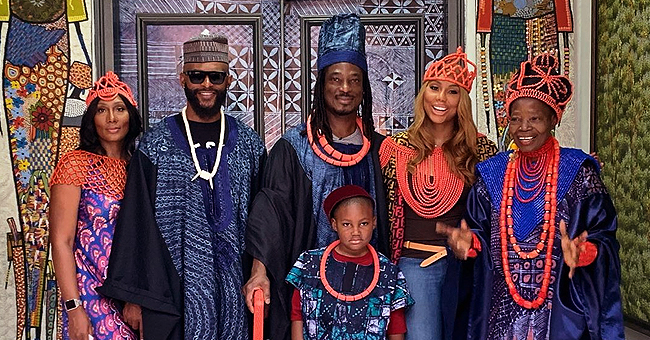 Instagram/tamarbraxton
Tamar Braxton Visits Nigeria with Boyfriend David Adefeso, Some Fans Hear Wedding Bells
The beautiful American singer and baby of the Braxton family, Tamar Braxton visited her boyfriend's country of birth lately. She shared pictures from the trip on her Instagram page, thus adding flames to rumours of their engagement.
Could Tamar Braxton and her Nigerian boyfriend, David Adefeso be engaged? That is the question on many people's lips after seeing the recent pictures posted by the singer on Instagram.
Tamar and David visited his native country, accompanied by her son, Logan, her sister, Towanda Braxton and Towanda's partner, Sean.
A WARM WELCOME FOR THE LOVEBIRDS
Nigeria is known for its hospitable people, and that was on display for the reception granted to their August visitors. David and Tamar visited the Nike Art Gallery in Lagos, owned by the artist, Nike Okundaye.
There, they were treated to a royal welcome by David's mom and family members and greeted with chants of "Ekabo," which means welcome in Yoruba Language (one of the languages spoken in Nigeria.) Tamar shared the video of their warm reception, which also showed her and the family dancing along to the tune.
TAMAR ENJOYS HER TIME IN LAGOS
Since arriving in Nigeria, Tamar's Instagram has been busy with posts of her time in the country. The singer posted a short video of her and David dancing together at a party.
In the caption accompanying the post, she revealed that she was glad to be home and part of David's spectacular family. She also posted another short video of herself enjoying the view of the Lagos beach house while rocking a beautiful Animal Print Dress from Fashion Nova.
THE BRAXTONS SISTER LOVE NIGERIA
If Tamar needs more knowledge of Nigeria, she can ask her elder sister and famous musical star, Toni Braxton, who visited Nigeria recently. The elder Braxton had a great opinion of the country, as she believes everything about it is beautiful.
One thing Toni loves is indigenous Nigerian music, and she even has a favourite tune.
THE ENGAGEMENT RUMORS
The rumours of David and Tamar's engagement were reignited due to her attire in the picture. Some commenters to the post noticed that she was wearing the Nigerian traditional wedding necklace on her neck, thus believing that she was engaged to the business mogul, David Adefeso.
Other commenters praised the couple for coming home and wished them well. A particular commenter promised that Nigerians would treat the couple as royals, and promised Tamar that she would always have their support now that she is one of them.
DAVID AND TAMAR'S LOVE STORY
The love birds began dating about a year ago. David revealed he met Tamar in a bad state, as she was in emotional pain as a result of the happenings in her past.
He resolved to be a loving partner to Tamar and show her the true meaning of love. That resolution has led to a beautiful story as they now share a happy passion that is clear for all to see.
Please fill in your e-mail so we can share with you our top stories!