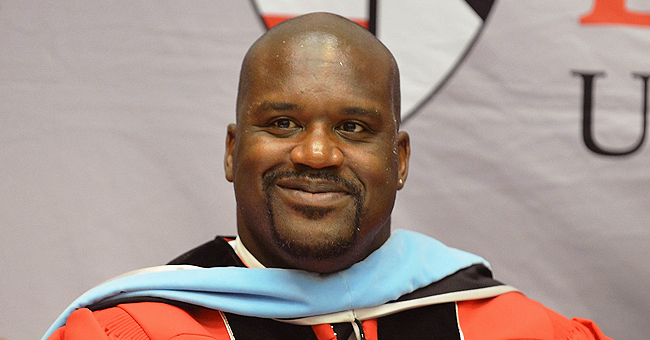 Getty images
Meet Shaquille O'Neal's Rumored New Girlfriend Who Was Spotted on Yacht with Him

Seven-foot tall basketball Legend, Shaquille O'Neal recently went on a vacation in Spain as a major getaway from his ever-busy schedule. But it was not the sun or captivating ardour of the Formentera beaches that drove the paparazzi nuts, but the stunning, swimsuit-clad diva that graced the sportsman's arms.
A ROMANTIC GETAWAY
Shaquille O'Neal recently developed passion for "Dj'ing" and has been on what seemed to be a global tour. Reportedly, his recent Europe visit was in line with the tour, but the forty-three-year-old legend was not one to let his new career get in the way of fun.
The basketball icon was spotted in Formentera, Spain, enjoying a splashing day out with friends on a luxury yacht. The sports analyst was in the company of one exceptional friend, who he got handy with all through the outing.
The mystery woman was clad in a black, drop-dead, two-piece swimsuit, as she soaked in the soothing Formentera sunlight. With O'Neal wearing only a pair of blue printed swimming shorts, it was impossible for him to keep his hands off the swimsuit-clad beauty whom many have alleged to be his girlfriend.
MEET THE MYSTERY DIVA
Having been single for a while after breaking up with his actress girlfriend, Annie Ilonze, it came as a surprise to see the television show caster make a public appearance with an unidentified lady.
This sent fanatics scouting for the identity of the alleged new bae, whose name has been revealed to be Dani Nicole. It was gathered that the beautiful woman is a model in Houston, and she has an impressive online presence.
DANI ON SOCIAL MEDIA
A glimpse into the mysterious beauty's Instagram page shows more captivating photos of her. In one of the pics, the model could be seen smiling while striking a hot pose that reflected she was "happy and blessed."
Another shot featured her in her trademark black swimsuit, standing in the middle of a water body while trying to get some water off her ear. Even in moderate makeup, the stunning woman looked adorable in a passport-sized shot. She also gave a little tip about her perfect look in her caption, which read:
'Lip balm is my go-to, that's really all you need."
She goes by the Instagram username, daninicolexoxo. There was no mention of the basketballer in any of her posts, but she did hint that she could be no one's girlfriend unless she was asked.
COULD SHE BE A REBOUND CHICK?
While many believe that the sports icon has found a new love in Dani, others think that she was a rebound chick, or worse, a vacation escort. The new girl's resemblance to Shaq's ex-wife, Shaunie O'Neal has raised even more questions as to the place of this gorgeous queen in the star's life.
But neither the 43-year-old nor his mystery model is willing to let the cat out of the bag. Whether or not the duo have become an item, it does not change the fact that the Texas Diva certainly has some sort of relationship with the NBA star.
Please fill in your e-mail so we can share with you our top stories!