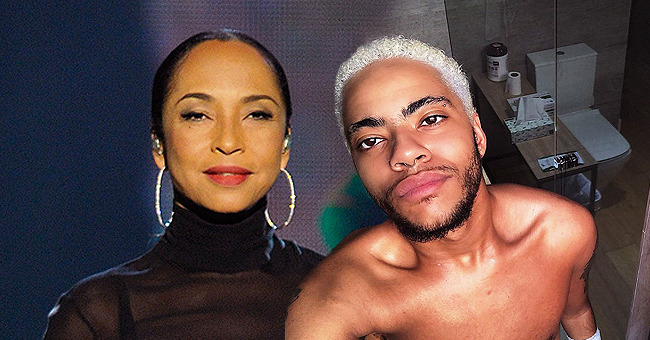 Instagram/long_____________boy Getty images
Sade's Son Talks 'Trying, Tiring, Painful' Process of Gender Reassignment Surgery
Izaak Adu, the transgender son of veteran singer-songwriter Sade Adu, recently took to Instagram to share his experiences going through a gender reassignment procedure.
Izaak is the only child born to world-famous singer Sade Adu who is known to keep things very private. Because of Izaak's unique self, he always seems to be under public scrutiny.
"THIS IS THE PATH THAT WAS LAID FOR ME…" – IZAAK
Izaak has done very little to shield himself from the media since he publicly came out in 2016. He has progressively become at ease with sharing tidbits about his private dealings.
Just a few days ago, the 23-year-old shared how tasking it is to go for gender reassignment surgery.
Izaak shared four photos, all black, and white, taken with him lying in a hospital bed. While the pictures are of a rather scenic view, it is Izaak's lengthy caption that caught the attention of the public.
It started with the young man explaining that the process is exceptionally trying in all ramifications.
"This process is trying, tiring, painful, emotionally exhausting, physically exhausting, uncomfortable (like I can't sleep like a normal human being rn lol)," he wrote.
His next statement had him expressing curiosity at why he has to go through such a process to "be who I am." He however pushed on that no matter what, he would bear it all because it is his "path," and he'll "walk it to the end."
Getting a sex-change surgery is no mean feat because just as Izaak revealed, it can become emotionally tasking. Thankfully, Izaak has had his family standing tall to support him through the process.
Also, in his caption, he detailed that he always gets motivated whenever he thinks of one of his father's loving advice.
"My dad always says "keep your eyes on the horizon," and that's what I do because through all this pain is the comfort that it's not forever and I have the rest of my life ahead of me," Izaak wrote.
Izaak also let on just how happy he is to be getting the surgical procedure through his caption. He, however, concluded the lengthy piece by sending a heartfelt to his family.
"Big up to my Mumma, Pappa, family, and friends for all the support you give me on the daily, it'll never be forgotten #ftm #trans #transgender #transman #tpoc #tmoc #selfmademan #phalloplasty #thisiswhattranslookslike #yaaaaas," he finished.
THE INTERNET REACTS
Considering how sensitive the subject of the sex-change process can become, Izaak's post quickly gained attention on the internet. It is now the subject of many headlines, but the reactions are all good. So far, the post has amassed well over 1500 likes, and numerous comments as fans excitedly shared compliments as well as words of encouragement.
One fan, @deshigels wrote:
"Sweetheart...you're a shining star...so loved!! Don't let anything keep you down. Every bump on the road makes you stronger...love uuuu!!"
"Always remember you have a lot of support across the world," wrote another, @juss_jai.
Another user, @andrea__storm said:
"Thinking of you always Izaak get well soon. ️I miss you so much.
There are even many more comments like these, and there is no doubt that everyone is drawn in by Izaak's peaceful acceptance of his unique self. If nothing else, the supportive energy flowing about Izaak is sure to hasten his recovery!
Please fill in your e-mail so we can share with you our top stories!