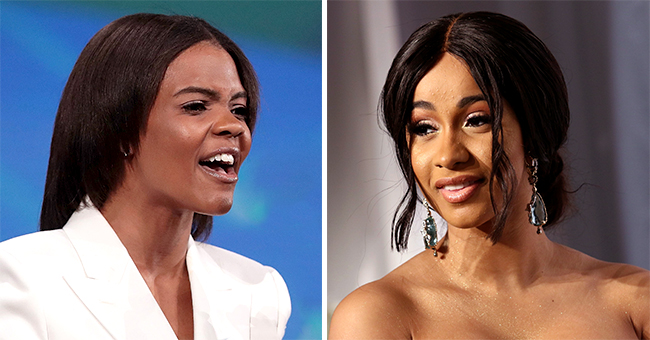 Getty Images // Shutterstock
Candace Owens Challenges Cardi B to Debate after Bernie Sanders Meet, Offers $250K

Candace Owens challenged Cardi B to a debate in which she was willing to pay $250,000 for after finding out the rapper endorsed democrat Bernie Sanders to be the next US president.
Cardi B engaged in a conversation with Sanders, who is currently the independent US senator for Vermont, who is running for the Democratic party's 2020 presidential elections.
After finding out about Cardi's endorsement, the "Blexit" movement founder challenged her to a debate.
"I see that @iamcardib is politically advocating for Bernie Sanders with claims that Trump is bad. I would like [to] publicly offer 250k to a political campaign of her choosing if she will publicly debate her stance with either myself or ANY black conservative I choose."
Cardi's Response to Owens
Of course, Cardi didn't back down without a fight and responded to Candace by saying that her goal is to educate her followers, not to endorse just one particular candidate.
"Why don't you use that 250k for a charity that will be more helpful. I like Bernie because since the 60s he's been fighting for equality. It looks like progression is really his passion. I still want to ask other candidates questions that my followers would like to know."
Cardi and Bernie Face-to-Face
Cardi sat down with Bernie Sanders to ask him about his plans for the US. The rapper is only one of the many who have given Sanders a chance at winning the presidency.
Just a couple of hours after he announced his bid on the presidential race back in February, Bernie raked in over $1 million in support.
A Huge Sum of Campaign Funds
In the wee hours of the morning, just four hours after he declared his bid for the presidential nomination, over $1 million dollars worth of campaign funds were received by his campaign group, and that number just kept growing in the past couple of months.
These donations were given by individuals and companies from all American states.
With more and more celebrities and individuals backing Bernie, the opposition has been working twice as hard to garner the same support for their own camp.
Please fill in your e-mail so we can share with you our top stories!