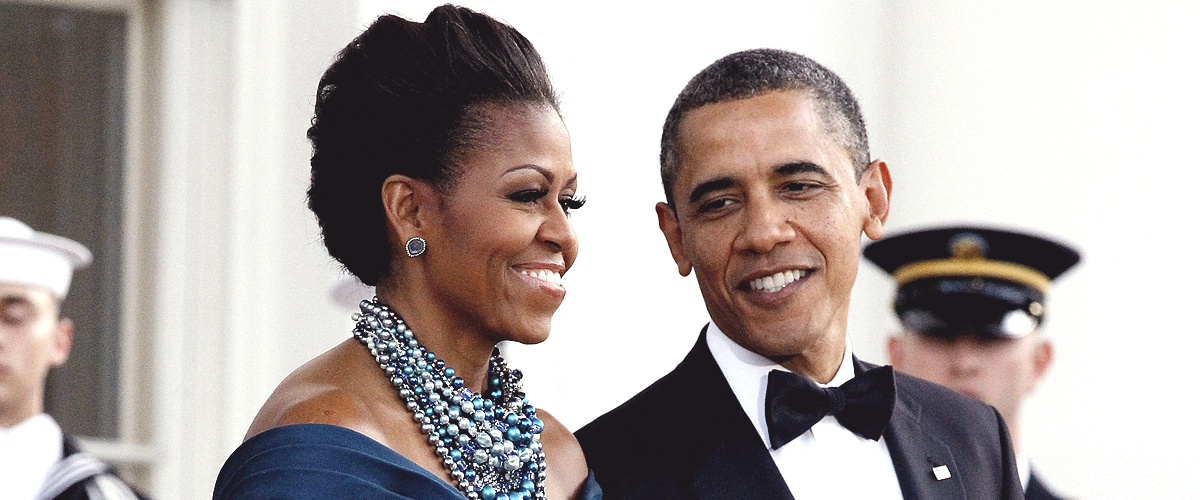 Getty images
Barack Obama Honors Michelle's Mom Marian Robinson on her 82nd Birthday (Photos)
Barack Obama showed appreciation for his mother-in-law with a heartfelt message made in tribute of her birthday. The former President spoke of her "perspective" and "wisecracks."
Marian Robinson, former First Lady Michelle Obama's mother, has been ever-present in the Obama family's life, even moving in with them when Barack first became president and moved into the White House in 2009.
And while the stigma is that most mothers-in-law are more like monsters-in-law than anything else, it's no surprise to learn that Marian is not part of the stereotype. She raised Michelle, after all.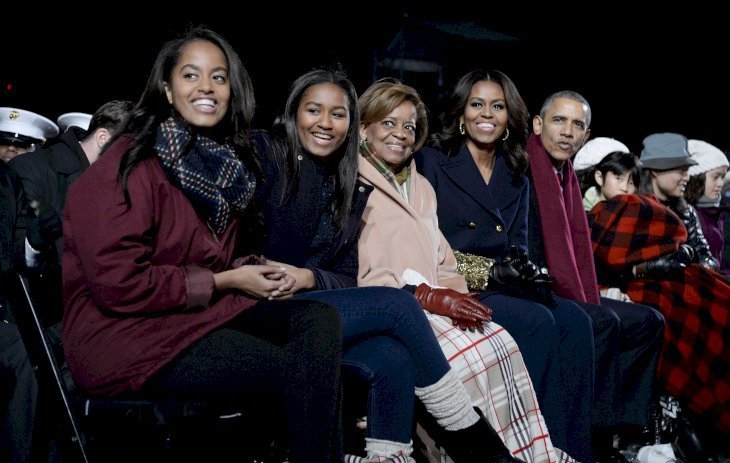 (L-R)Malia Obama, Sasha Obama, Michelle's mom Marian Robinson, Michelle Obama & Barack Obama at the national Christmas tree lighting ceremony in the White House on Dec. 3, 2015. | Photo: Getty Images
Thus, when Barack mentioned that Marian has joined him and his family for several events including "inaugurations, Christmas tree lightings, Easter Egg Rolls, and a whole lot more," we weren't the least bit stunned.
The former POTUS said, however, that we may not know about "the way she's been there for [the Obamas] every day — not just for Michelle and our daughters, but for me, too."
"I've always appreciated her steadiness, her perspective, and the way a wisecrack from her reverberates around the room. Happy birthday, Marian—here's to many more."
Barack attached two pictures that featured Robinson in the post. The first was the two of them sitting side by side holding hands, while the second was a family photo of Obamas joined by Robinson.
Robinson, who turned 82 on Tuesday, also received a sweet message from daughter Michelle. The beloved First Lady posted a photo of Robinson in her younger days along with a touching caption.
"Whenever I see this picture, and the look in my mother's eyes, I wonder if she has any idea what's coming in the decades ahead: Real love and real loss, children and grandchildren who'd keep her on her toes, a wild ride to places she'd only read about or seen on television," Michelle wrote.
"But I also see something else in those eyes, something that guided me every day from the moment I was born—her unflappable belief that whatever came her way, she'd manage it. And because she'd manage, we all would, too. Happy birthday, Mom. I love you!"
Earlier this month, the family celebrated another birthday when Malia Obama turned 21 years old on the Fourth of July. Again, Barack shared a message which commemorated both his daughter and America.
He wrote: "This is always a great day in the Obama family: a chance to celebrate America—and Malia's birthday, too." Fans of the Obama family also made sure to wish the young adult a Happy Birthday.
Please fill in your e-mail so we can share with you our top stories!