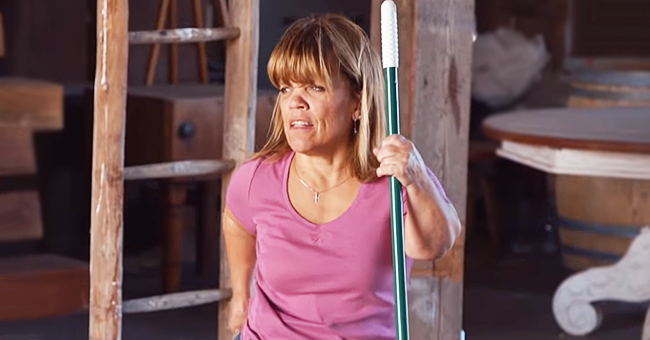 YouTube/TLC
5 Times Amy Roloff Sparked Debates over Family Issues
"Little People Big World" Amy Roloff suffered numerous criticisms about her life choices after her marriage to Matt Roloff fell apart. From how Amy chooses to run her business to her personal life, netizens have their own ideas about it all.
THE CONTINUAL USE OF THE ROLOFF SURNAME
More than a year after Amy and Matt's divorce, a promotional photo shared by Amy caused a stir among followers.
In the picture Amy posted on October 20, 2017, dressed up as a pirate, she stood in front of a Roloff Farms Pumpkin Patch sign in promotion of her homemade food business holding a pirate sword.
Because Matt and Amy got divorced, some followers questioned Amy's continued use of the Roloff surname.
"Why does Amy carry Matt's name when they are divorced??" one follower asked while another explained why women often keep their ex-husband's surname after divorce. "A lot of women don't change it after a divorce. Especially if they have children," the fan replied.
CRITICISM OVER MARKETING TOOLS
Three months later, Amy got accused of using the wrong tools to promote her business again. Amy posted a picture of sharing breakfast with her son Jacob, and it struck the wrong chord with fans.
"Nothing like using product placement with your son who LOATHES being in the spotlight," a fan wrote. "Can't just hang out with Jacob without hawking some product?" another follower chimed in.
Other netizens didn't appreciate the negativity and clapped back at the keyboard warriors. "Jacob looks happy ...so does Amy.....STOP with the NEGATIVE comments.....remember the old saying. If you can't say something NICE... Don't say ANYTHING !!!!" a popular response read.
PERSONAL CRITICISM
A post by Amy on February 2018 had fans riled up about her personal life. She posted a Super Bowl picture with her boyfriend, Chris Marek.
"Friends watching the Super Bowl game! Yeah some of us rooted for the Patriots ... but those Eagles? They were spectacular. What a game," Amy captioned the group picture. While many followers thought that Chris and Amy look "great together," other fans didn't share the sentiment.
"Chris is not the one for you. You don't have that look-alike features," one fan wrote while another's comment got more personal.
"A Christian doesn't continue to live in sin...better to marry than to burn. Don't claim Christ when the fruits deny him. Take after your three kids who knew better. Fornication is unbecoming," a user wrote.
ACCUSATIONS OF DISRESPECT
Two months after the Super Bowl picture, another picture taken of Amy and Chris had fans accusing the matriarch of being "disrespectful" towards her ex-husband Matt.
With happy memories of past motorcycle adventures with Chris, Amy posted an earlier picture taken of them during one of their previous trips.
Even though many fans commented on how happy the couple looked or urged them to be safe on the motorcycle, other followers had different thoughts.
"Its not fair that Matt has to leave. He built that farm he loved that farm. Now Amy and her boyfriend are going to live there that's not fair sorry Amy should move out and give the farm to the kids that's fair," one comment read.
Some negative comments got personal as another follower wrote, "You are such a witch. You want to go around having so much fun, but yet you whine and cry about Matt having a life! You just want it all, including the big house! You are so selfish! I can see why he wanted to leave you!!"
AMY ACCUSED OF NOT LETTING GO
In May 2018, Amy's grandson, Jackson, turned one year old. The matriarch took to social media with a picture of her with Jackson and his almost forgotten birthday present, a children's book called "I Wish You More."
"Had to wish Jackson another Birthday wish w/ a book I forgot to include in his gift! Lol. Tori and I were talking, and we both mentioned 'he's not a baby anymore, he's s boy' His first year flew by. I'll love my grandson of mine forever and always. I wish and hope for everything good to be in and a part of his life," Amy captioned the image.
"I love this book and can understand why you wanted to gift Jackson with it for his first birthday!!!!" a fan shared, but others saw it as a snub against Matt and his first children's book which he dedicated to Jackson.
"Amy sometimes u r selfish regarding Matt and his life now. He gave you a lot. U need to let go," a user commented.
A post by Amy on July 2019 sparked engagement rumors between her and Chris Marek. The matriarch accompanied Chris to a family reunion, and a ring spotted on Amy's finger soon got the gossip circulating. Later on, Amy decided to clear the air about her engagement status after the rumors persisted.
Please fill in your e-mail so we can share with you our top stories!