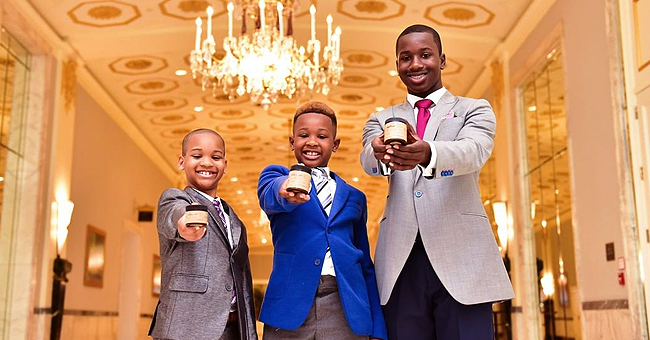 Instagram/themayflowerhoteldc
Meet the 3 Brothers Who Started Candle Company to Buy Toys & Are Now Helping the Homeless
Three young siblings have garnered attention with their warm efforts to help the homeless. Read how they launched their own candle company and why they are now so popular.
Collin, Ryan and Austin Gill made headlines a few days ago thanks to a unique feature on People and the heartwarming story of the boys who are aged 13, 11, and eight, respectively.
HOW THEY CAME ABOUT THE CANDLE BUSINESS
It all started back in 2017 when like every other child, the cute trio strived to get their mother, Celena Gill, to buy them toys and games.
They had even compiled a list of their most favorite toys! Sadly, Celena turned them down and instead gave them a special task to find something they can do to make money even though they were just kids.
While speaking in an interview with PEOPLE, proud mama Celena said:
"I told them you need to get a job or start a business, and they decided to start a business!"
Celena further explained that she and the boys started their research on the most popular businesses kids could do. Soon after, the brothers kickstarted their candle business and even gave it a fancy name: Frères Branchiaux.
The trio started making the candles by hand together right in their Maryland home and faithfully kept to it.
GIVING BACK TO THE POOR
It all started about two years ago, and thanks to their hard work and dedication, Frères Branchiaux has grown beautifully. They now enjoy the joys and profits that come with a thriving business.
As if that wasn't already so admirable, the boys give about 10 percent of their monthly earnings to homeless shelters in the Washington, D.C. area. According to their 44-year-old mother, Ryan, who is not even a teenager yet, brought up the brilliant idea.
"It makes me feel good about myself every day!" he excitedly said.
THE BOYS' CHARMING GOAL
Boys will always be boys. Despite their hard-earned success, the Gill boys still bicker over little things, mainly because they have a small space in their home. Celena, however, explained that she and her husband help "manage" the order of the business so that things remain organized.
Now, the critical goal for the little boys is to get themselves a "cable truck" someday. That, Celena, explained is like "a food truck that sells candles." It is a win-win for the boys because not only would it grow the business, it would enable them to provide homeless people with jobs.
How sweet! The Gills have now set up a GoFundMe page to help bring the boys' candle truck dream to life.
Please fill in your e-mail so we can share with you our top stories!