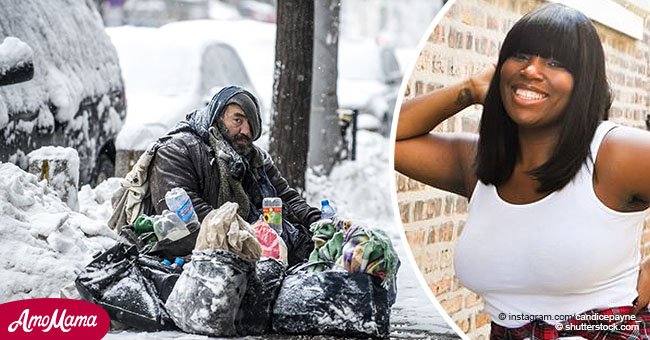 Real estate broker helps save more than 100 homeless people by booking them rooms at hotel
A real estate broker from Chicago has recently gone out of her way to help more than 100 homeless people escape the dangerously low temperatures.
Candice Payne shared that it was a "spur-of-the-moment" decision but that same decision has probably saved many people from sleeping in the freezing cold.
The 34-year-old managed to find 30 hotel rooms at the Amber Inn for $70 a night and, with the help of the Instagram community, found a way to transport all those in need to the hotel.
NOT LOOKING AT EXPENSES
Knowing that the temperatures were dangerously low, she just couldn't come to terms with the fact that there would be people suffering in the streets, so she decided to do something about it.
Payne paid for all the rooms with a credit card and met with several volunteers at tent city, where all the homeless people usually set up their tents.
Among the several groups heading to the hotel were two pregnant women and a family of five, a heartbreaking image that pictures the harsh reality of today's society.
While helping everyone settle in, donations didn't stop pouring into Payne's Cash App account, which helped her buy several necessities, such as toiletries, food, lotions, prenatal vitamins and snacks.
KINDNESS ATTRACKS KINDNESS
Upon learning of Payne's kind initiative, many restaurants donated trays of food and more rooms were anonymously booked by people calling the inn.
Chicago has been experiencing record-breaking temperatures as the polar vortex sweeps across de Midwest.
Initially, only 30 rooms were available for the homeless, but thanks to people's kindness, that number doubled, allowing for more groups to be taken in.
Not only that, but thanks to the $10,000 in donations, the homeless will be able to stay at the inn from Wednesday to Sunday, which made Payne very happy.
According to her, seeing people come together to help those in need made her realize that, if everyone pitches in, everything is possible. Now, she feels inspired to seek a more permanent solution for the homeless.
COLDER THAN ANTARCTICA
Chicago has been experiencing record-breaking temperatures as the polar vortex sweeps across de Midwest. The last time the city endured temperatures below 11 degrees was in 1994.
Northern states are also feeling the effects of the harsh weather, which lead to several schools being closed down, such as Milwaukee Public Schools in Wisconsin.
Please fill in your e-mail so we can share with you our top stories!