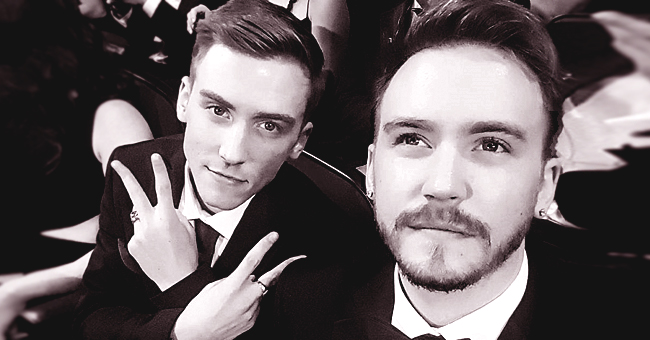 Instagram/realityduality
Meet 'Full House' Twins Blake and Dylan Tuomy-Wilhoit 25 Years after the TV Show Ended
The Tuomy-Wilhoit twins became known to fans of "Full House" as Aunt Becky and Uncle Jesse's children on the show. Since then the twins have grown and followed their passions in life, none of which includes acting.
Blake, known as Nicky on the television show kept out of the public eye for most of his life after the popular television show ended. He became a firefighter, and when Netflix announced the show's revival "Fuller House" released in February 2016, Blake posted a picture of the script with the caption, "Its Nicky time."
"It's a show that is very much in the spirit of the original," Netflix's Ted Sarandos said of the new show in June 2015. "At the taping of the [first] episode this past week, when the cast shows up on stage, the audience reacts immediately, and the actors have fallen right back into the roles. It's very much in the same spirit but with a modern take on Full House."
As a child, Blake didn't give his television fame much thought as it felt like "something we just did every day." Only during his teenage years did Blake realize what impact the "wholesome show" had on others.
"I've had people send me fan mail as a teenager saying like, 'This show saved my life. I used to have this really crappy situation, and the Full House family became my family, and it made me want to live.' I didn't know it impacted people the way it did. It feels very rewarding having been part of that," Blake said during a podcast in May 2019.
Blake and his twin brother, Dylan, who played Alex on "Full House" maintained a strong bond over the years. Dylan stayed in the entertainment industry and became a foley artist. His love for music shined since childhood.
"Growing up, I was always singing and dancing, in the choir, and going to music festivals and shows as much as possible when I first graduated High School. I wanted to make music, both acoustic and dance music- the two types of music that have influenced me the most," Dylan told Trainwreck'd Society.
After Dylan graduated high school, he took a year off and landed a spot at SAE Institute, a trade school in Los Angeles. There Dylan learned the skills to explore any avenue in the audio world and explained how he became a foley artist.
"I wanted to be in the audio world, only to find myself fascinated in Video Game Sound Design. Soon afterward, my father Jeffrey Wilhoit began mentoring me in his studio as a foley artist," he said.
Dylan worked on big movies like "Scouts Guide to the Zombie Apocalypse" and "Furious 7," while he also earned an Emmy nomination for his work on the series, "Game of Thrones." While he continues to work as a foley artist, Dylan shared that he sees his future heading in a different direction.
"But for my personal future, I am beginning to move away from Film/Television and move into more Video Games/Virtual Reality work. I may always do Foley, but I am looking towards a Sound Supervising and Design career in Video Games," he elaborated.
"Fuller House" picked up where the widowed DJ Tanner-Fuller asked her best friend Kimmy, and her sister Stephanie to help raise the children.
While it remained unclear whether Ashley and Mary-Kate would return as Michelle Tanner, it ended up being their sister, Elizabeth who took over the role on "Fuller House."
Please fill in your e-mail so we can share with you our top stories!