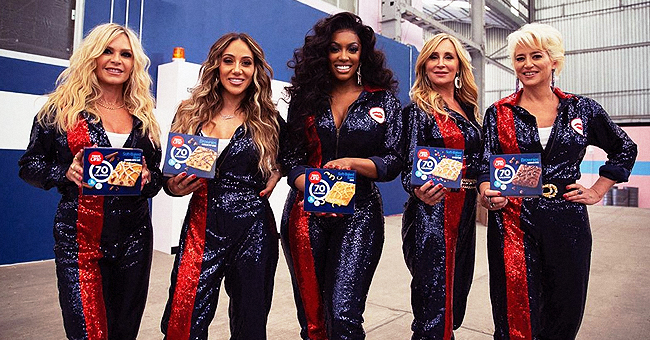 Instagram/dorindamedley
Porsha Williams & Other Real Housewives Celebrate Having 'Work Done' in New Music Video
Porsha Williams channeled her inner pop star in a new music video to promote Fiber One's new snacks. The brand managed to create an epic crossover that features Williams and other stars from Bravo's Real Housewives franchise.
Porsha Williams joined forces with Melissa Gorga from "Real Housewives of New Jersey," and Sonja Morgan from "Real Housewives of New York City," in a music video for "Work Done," a song that has the reality stars owning the rumors about their plastic surgeries.
"I know I look delicious, confirming your suspicions," Porsha sings in the track. "Yeah I've had some work done, but Rome wasn't built on wishes."
THE MUSIC VIDEO
The staged song and music video are part of Fiber One's new launch of their protein bars, which are now only 70 calories, 5g net carbs and 2g of sugar.
In the clip, Porsha and company are wearing matching sequined blue and red jumpsuits while dancing on platforms at a factory. Meanwhile, a dozen of dancers blow up balloon lips, iron wrinkles on a sheet, and make some pirouettes around the ladies.
Williams welcomed her daughter Pila Jhena on March 22 and has not been shy of showing off her post-partum body.
Tamra Judge from "Real Housewives of Orange County," and Morgan's castmate Dorinda Medley also made special cameos in the music video.
After the video was released, the ladies took to their respective Instagram accounts to share their excitement for the project, which was recorded in late June.
Porsha shared several clips from the set, and added in one of her captions:
"Baby I was was working this lil 2-month postpartumness baby. Thank you @fiberone for bringing our my inner Peyonce and for my fav Healthy brownie snack!"
EMBRACING HER POST-BABY BODY
Williams welcomed her daughter Pilar Jhena on March 22 and has not been shy of showing off her post-partum body.
The 38-year-old "Dish Nation" host recently shared a powerful and encouraging Instagram post showing off her figure in a body-hugging black dress that didn't hide her curves or her "FUPA."
"Sooo I have def been taking my time when it comes to losing my baby weight!" she started her caption."I'm big on enjoying every step of this experience, and I didn't want to cloud it with worrying about my size. I have thoroughly been enjoying motherhood and making Pj priority number one!"
Although Williams says she hasn't rushed the process, she recently started eating healthy and managing her portions while drinking a lot of water, "and I actually can see some early changes in my body," she admitted.
THE SNAPBACK
Porsha revealed she doesn't believe in "the snapback thing" and is celebrating that she's starting to feel like herself again after childbirth. She doesn't feel ready to go to the gym yet, but she hopes to get there in another month.
Meanwhile, Williams is not trying to hide her figure, and she's proud of her body as a reminder of the miracle of life, as she told US Weekly:
"I dress so that I am comfortable with my new body and the size that I am right now. It's actually liberating to post a picture, and my little stomach is right there, because I just had a child, and I don't want to send that message of editing my picture, like, 'Oh, she had a snapback, and it's just an edit, a Photoshopped picture.'"
Her message to all the new moms out there is: "Love your new body no matter what stage you are in because you are a warrior and have accomplished a true miracle by creating new life!!"
Please fill in your e-mail so we can share with you our top stories!