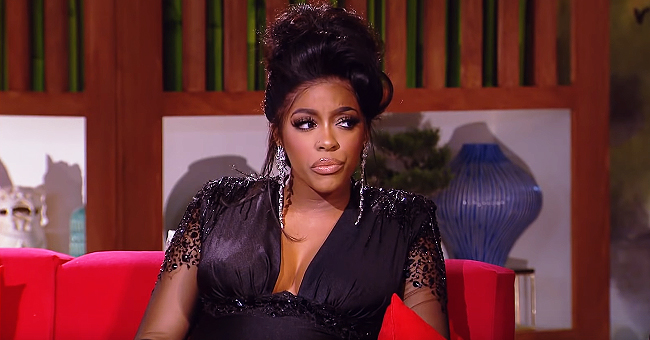 YouTube/Watch What Happens Live with Andy Cohen
New Mom Porsha Williams Seeks Help, Shares Video Revealing Her Edges Have Fallen Out

Porsha Williams opened up about a vexing condition she's dealing with since her baby's birth and asked other moms for help and advice.
"Real Housewives of Atlanta" star Porsha Williams took a brave step and opened up about a common problem that afflicts many new moms, and that most women are embarrassed to talk about.
Porsha reached out to other moms through a video clip posted on her daughter Pilar's Instagram account and asked for help.
"Ok sooo I had to hack Pj's page because I know a lot of amazing mommies follow her! So HELP ME ! My edges have fallen out after childbirth! I heard it would happen but I didn't think it would have snatched mine??? " Porsha Williams
A COMMON PROBLEM FOR NEW MOMS
In the video clip, a worried-looking Porsha looks silently at the camera while she carefully fingers her thinned hairline.
Like so many women, Porsha is suffering from what is known as postpartum alopecia, a condition which affects up to 90% of new moms to some degree in the first 3 to 6 months after their babies births.
"What can I do to get them back guys?? I need real mommy tips . And how did y'all wear y'all hair until they came back? ?" she wrote.
One particular change new moms are hesitant to talk about is postpartum hair loss.
LOSING HER CROWNING GLORY
As
Porsha
has discovered, being a new mom isn't easy, coping with the demands of a newborn, the changes in schedule, and of course, the changes in her own body.
THE FSNS RESPONDED WITH SYMPATHY AND ADVICE
Porsha's appeal for help touched the fans who responded with lots of helpful tips and reams of good advice.
"Pure castor oil will get them edges back in no time. The castor oil I had was from the Caribbean and was made pure from the seed for me."
"I stopped doing tight pony tails for a while and took biotin and I'm just now seeing a difference and my baby is 18 months"
"No leave out, if you're braiding it, be easy and leave it. The least amount of manipulation is best. It takes a awhile, it can be a very long time even but they will grow back. The more you're playing with the edges the less you'll have they're like that newborn and you've got to be so gentle to them"
TIME IS ON PORSHA'S SIDE
The consensus seems to be to go easy on the fragile hair and give it time to grow back.
Some women may see an improvement in a few short months, while others will find their hair only resumes its former glory up to a year after the baby's birth.
Of course, for Porsha, who spends most of her life facing a camera, the condition may cause a great deal more anxiety, but with all the loving support she's getting, we are sure she will soon feel a lot better.
And the truth is, Porsha looks amazing, no matter what!
ALL ABOUT POSTPARTUM HAIR LOSS
New moms know they have a lot of challenges ahead of them when they bring their newborn home. Their entire lives change, and their bodies change too.
One particular change new moms are hesitant to talk about is postpartum hair loss.
New moms may notice that their hair is thinning within the first two to six months, and sometimes the loss can be extreme and affect the mother's self-confidence.
The medical term for the condition is postpartum alopecia, and as many as 90% of women will have a form of it.
If the hair loss continues unabated for over 6 months, other health factors may be at stake, since pregnancy brings so many changes to the body and its metabolism, so it's convenient to consult a doctor and check if there have been any alteration in thyroid function, and that blood sugar, iron, ferritin, zinc, and vitamin D levels are normal.
Remember, this is a natural, and temporary condition that should not distract you from enjoying the amazing adventure of being a new mother.
Please fill in your e-mail so we can share with you our top stories!