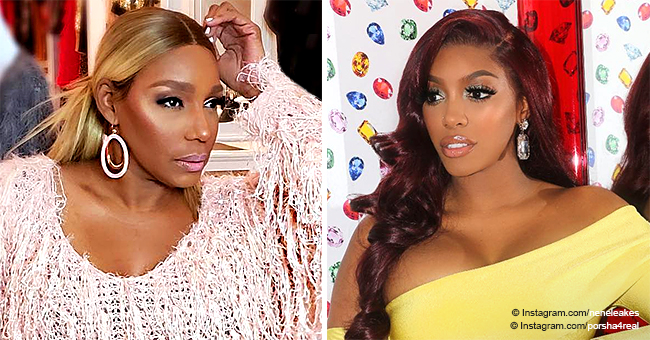 NeNe Leakes Allegedly Fat-Shames New Mom Porsha Williams Only 6 Days After She Gave Birth
Porsha Williams exposes a series of heated text exchanges between her and NeNe Leakes which reveal the latter fat-shaming her just days after she gave birth. "That is why you are sick!" Porsha tells NeNe.
It's safe to assume that after a series of scathing text messages between NeNe Leakes and Porsha Williams saw the light of day, their friendship is over.
Porsha went after NeNe and exposed their text messages revealing the latter fat-shamed her just six days after she gave birth to her daughter Pilar.
"NeNe is so miserable and ain't happy for nobody #FatShamingANewMomShameOnYou," Porsha wrote to caption her now-deleted post revealing NeNe called her a "lying a** big fat hungry b**ch."
THE ROOT OF THEIR SPAT
NeNe's fury stemmed from an incident involving her closet which appeared in the trailer of the "Real Housewives of Atlanta" reunion recently. Porsha accused NeNe of getting physical with her when she and Kandi Burruss attempted to look inside NeNe's closet despite her instructions not to.
"It's too hard being friends with you. I'm done… so enjoy being exposed. Talk about that on your closet special, sis."
In the text messages NeNe sent Porsha, the Swagg Boutique owner called out her co-star for lying about the incident.
"You know I never put my hands on you!" NeNe says, though in the trailer she was seen tearing off the cameraman's shirt when he attempted to enter her closet along with Porsha and Kandi. "Marlo Cynthia nor Kandi can EVER say that! you want an excuse for going in my closet without my permission so You can talk yo fake shit on IG all you want."
After reminding Porsha of how she stood by her during her fights with Kenya Moore and Kandi, NeNe urged her to "say the truth" adding, "because if I put my hands on you, you will know it."
MORE HURTFUL WORDS AGAINST EACH OTHER
NeNe also criticized Porsha's hair and wrote, "Oh and remember you had your hair flipped over yo thin bald spot! I have hair but if i don't, i have enough money to buy all the wigs & Extensions i want."
Their back and forth escalated with Porsha telling NeNe to "Kiss my ass!" and NeNe describing Porsha as a "big piggy with the busted shape" to which Porsha responded with "Girl I know you and them granddaddy long legs and box body not coming for my body !!!!"
NENE REVEALS SCREENSHOT OF MESSAGE TO PORSHA AFTER BIRTH
At the height of Porsha's exposure of their heated arguments, NeNe didn't deny those messages took place but also defended herself by sharing the message she sent Porsha after she gave birth.
"This is what I sent you after you gave birth!" she wrote to caption the screenshot of her congratulatory text. "I sent you text messages last nite after I saw on social media what you had said. I could have responded back on social media but I decided to text rather than do that! I know you need viewers to tune into your 3 episode commercial, which is why you doing the most! Bye ankles!"
"And that is why you are sick!" Porsha responded. "You started with me…and now you play victim! It's too hard being friends with you. I'm done… so enjoy being exposed. Talk about that on your closet special, sis."
NENE ON FEELING DISRESPECTED
The closet incident was a turning point for NeNe who felt disrespected in her own home as she told producer Andy Cohen on his show. She unfollowed all her co-stars on Instagram after. She also tweeted "These are my co-workers! NOT my friends and that has been made VERY clear to me."
HER STRUGGLE WITH HER HUSBAND'S ILLNESS
It seems like NeNe has chosen to cut ties with everyone especially since she also has a lot to deal with at home. Her husband, Gregg Leakes is currently battling cancer and NeNe is struggling caring for him. She admitted they discussed separating due to the pressure she was getting from Gregg through his ordeal but clarified recently that they never went ahead with it.
Please fill in your e-mail so we can share with you our top stories!