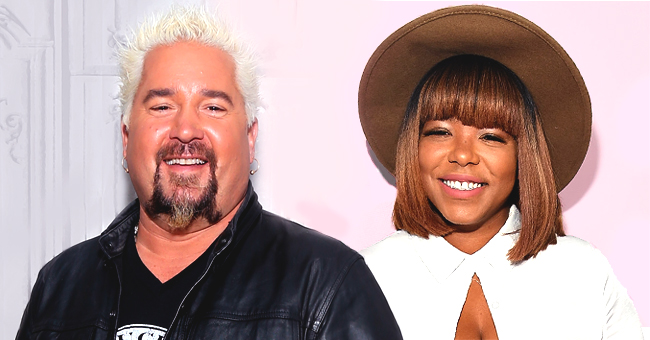 Getty Images
'Food Network' – Where Our Favorite Winning Chefs Are Now
The Food Network competition has seen the best chefs of our times trying to prove their worth. It has been a platform for several of them to become better known. So where are some of its famous contesters nowadays?
The competitions have allowed people to meet the most talented and creative chefs of recent time, bringing into their homes a different, healthy and varied way of eating.
During each season, there have been many favorite competitors. People felt in love with them every week even though only a few of them ended up being the winners.
GUY FIERI
Perhaps the best-known star from Food Network is Guy Fieri, the winner of season 2 and host of "Diners, Drive-Ins and Dives," "Guy's Big Bite," "Guy's Grocery Games," "Founder of Hunt," "Ryde Winery," "Author Most Sold", and "Restaurateur."
DAMARIS PHILLIPS
Damaris Phillips for her part has given new life to Modern Southern Food. Since winning season 9 she has been on the small screen as the host of "Southern at Heart," co-host of "The Bobby and Damaris Show." She is a blogger for Bluebird and Blackberries, and author of "Southern Girl Meets Vegetarian Boy."
EDDIE JACKSON
The winner of season 11 was Eddie Jackson with his Caribbean style, he has since hosted "BBQ Blitz", online host of "Eddie Jackson's Game-Day Playbook", "Eddie Jackson's fitness Playbook." He also owns a food truck.
MELISSA D'ARABIAN
Another of the women who have achieved first place on the show is Melissa d'Arabian who did it in season 5 with her smart and affordable food.
She has since hosted shows like "Aarti Party", "Taste in Translation", "Drop 5lbs with Good Housekeeping", and "Hiddden Eat, Smart Carts: Winning the Supermarket and The Picky Eaters Project."
JEFF MAURO
Chef Jeff Mauro competed in season 7 and was recognized as King Sandwich. Since then he went on to co-host "The Kitchen", "The Kitchen Sink", and host of "Sandwich King," Mauro is also chef & Partner of Pork and Mindy's Restaurants and Products.
AARON MCCARGO JR.
When we talk about food for the soul we are talking about Aaron McCargo Jr. who with his philosophy brought more than a few cute dishes in the contest. He is the author of "Simply Done Well Done", host of "Big Daddy's House" and he launched McCargo's Flavor of Bold and Jersey BBQ Products.
AARTI SEQUEIRA
Aarti Sequeira has her own cooking style, she has been the best selling author with "Aarti Paarti", host of "Aarti Party", "Taste in Translation", "Drop 5lbs with Good Housekeeping", and "Hiddden Eats."
JUSTIN WARNER
Justin Warner beat season 8 and went on to become the author of "Laws of Cooking: And How to Break Them." He also currently hosts "Rebel Eats."
JASON SMITH
Baking is also a very important part of being a Chef Master and Jason Smith managed to win the first prize in season 13. Today we can say that he has won the Holiday Baking Championship and he has also been sworn as Best Baker in America.
TREGAYE FRASER
Tregaye Fraser won season 12 and became co-host of "Kitchen Sink", which lasted barely three episodes before the Food Network chiefs decided to cancel the show.
LENNY MCNAB
Lenny McNab can be defined as a gourmet cowboy and besides being executive chef, he is also a Honkey-Tonk Entertainer.
AMY FINLEY
Season 3 winner was Amy Finley, she is now the author of "How to Eat a Small Country" and host of "The Gourmet Next Door."
DAN SMITH & STEVE MCDONAGH
The winners of the first season Dan Smith & Steve McDonagh were the hosts of "Party Line with Hearty Boys", authors of "Talk With Your Mouth Full" and also became restaurateurs.
Food Network started when Joe Langhan, then head of programming for Colony Cablevision, came up with the idea of a TV network solely devoted to cooking shows.
"My fondest memory from the early days was realizing that what we had been working on, we were actually going to do it. We were able to take it from idea to implementation," Langhan told The Daily Meal in 2013.
Since then, the network has helped launch each of these chefs' careers to places where they only dreamed and for being persistent and fighting they have achieved success; by doing what they are passionate about and what they do best: cooking!
Please fill in your e-mail so we can share with you our top stories!