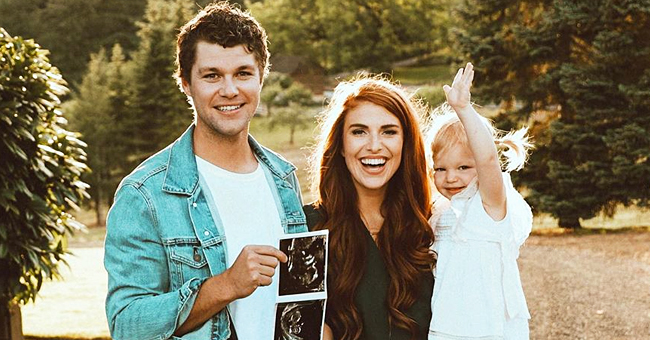 instagram.com/jeremyroloff
Jeremy Roloff Responds to Fans Who Say Wife Audrey & Tori Got Pregnant Together Purposely
The question about Audrey Roloff and Tori planning to get pregnant around the same time on purpose infuriated Jeremy, Audrey's husband, and he made his feelings known.
"Little People, Big World" stars, Jeremy and Audrey Roloff held another episode of their podcast, "Behind The Scenes."
The episode of the podcast, which happened to be the 48th episode saw the couple answer questions about Audrey's second pregnancy, and how they were handling it.
However, Jeremy didn't appreciate a particular question, and he promptly responded to it. Jeremy and his wife Audrey are a cute couple who are very much loved by their fans.
The lovebirds already have a daughter, Ember, who will turn two in September and are expecting a second child, whose gender is yet to be confirmed.
Audrey's pregnancy also comes at a time when her sister-in-law, Tori Roloff, wife to Jeremy's brother, Zach, is also pregnant with her second baby.
Some of Jeremy and Audrey's fans couldn't help but think that the women planned it, and that was one of the questions asked during this episode of the couple's podcast.
While answering the questions asked by social media users, Audrey who referred to the question about her and Tori planning to get pregnant at the same as "Question of the Century," replied by saying that they didn't.
The question annoyed her husband, who cut in, and vehemently stated that it was ridiculous, ignorant, rude, and selfish. His reply showed a side of him that is not known to many; his wife, then, stepped in to defend the fan who asked the question.
She explained that she believes people who were asking had probably never been pregnant. However, Jeremy insisted that the question was either ignorant or rude, and showed disrespect to the arduous journey that women go through in pregnancy.
He further said that pregnancy is a gift from God and that a person choosing to get pregnant because someone else did, is clueless. He then decided to be frank about the question, as a lot of people had been saying it.
Audrey later said that she and Tori were around the same age, and happened to be experiencing the same season of life, and so, they being pregnant at the same time shouldn't be a shock.
Zach and Tori had announced that they were expecting another child on May 13, while Jeremy and Audrey made their announcement on July 1.
Zach and Tori's baby, confirmed to be a girl, would be due in November, while Jeremy and Audrey's baby would be born in January. The expected arrivals would be both set of parents' second children.
Please fill in your e-mail so we can share with you our top stories!