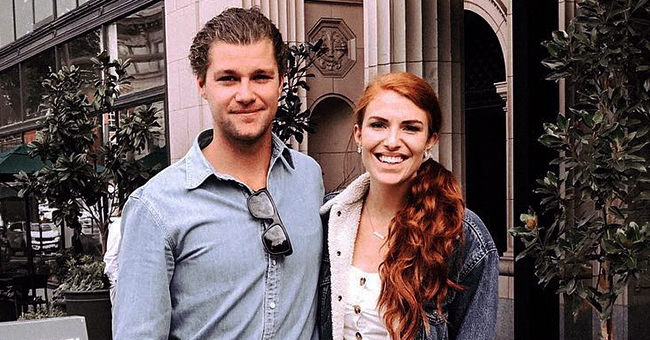 instagram.com/jeremyroloff
Jeremy Roloff's Fans Complain about Modern 'Narcissistic Society' over His 'Rough Week' Post
Jeremy Roloff's post, detailing his rough week, had fans complaining about modern "Narcissistic society" amid other things.
Jeremy Roloff and his wife of nearly five years, Audrey Roloff, often get criticized for depicting their life as perfect on social media, but this time, Jeremy's new post, shed a different light on the couple's marriage.
The former star of "Little People, Big World" shared what he called a "Rough week" on Instagram. Writing a long caption alongside a picture of himself, Audrey, their daughter, Ember, and stacks of the marriage journal, the father-of-one informed his fans that communicating and expressing his emotions do not come easily to him.
Jeremy noted that in his marriage, he has to continually work on sharing his thoughts and feelings with his wife, and since they've been on tour for their best-selling book "A Love Letter Life: Pursue Creatively, Date Intentionally, Love Faithfully," things have been rough.
However, the author revealed that he and Audrey are working together using their marriage journal to enable communication, identify what's wrong in their marriage, and the steps to take to ensure they are always in sync.
As per the course, the long post got a lot of reactions from fans, leading to Teresa Webster's conclusion that today's relationships and marriages are hindered by what she called a modern "Narcissistic society."
According to Webster, when she got married some 35 years ago, couples didn't rely on journals, manuals, and guidebooks, to help them have a successful relationship.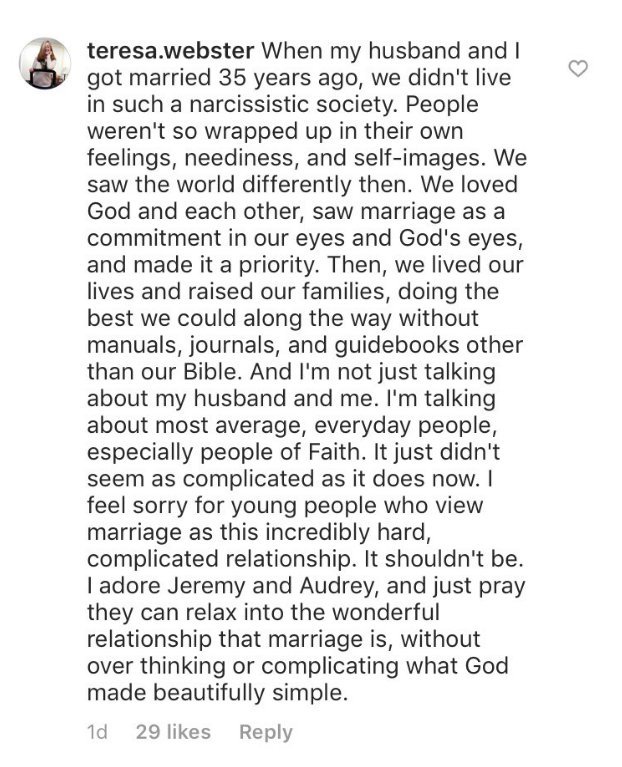 Photo: Instagram/Jeremy Roloff
The LPBW fan added that people were not wrapped up in their feelings, needs, and self-image, but made their relationships a priority.
Webster advised the celebrity couple to relax and enjoy their marriage, without thinking or overcomplicating what she called "What God simply made beautiful."Jeremy responded to the comment, saying he agreed with Webster, although she missed the point he was trying to make.
Audrey shared on Instagram that her picture-perfect social media life was not all perfect, as she revealed that she and Jeremy fight, struggle and face challenges like other couples.
The former TV star added she and her co-author husband are overworked and exhausted and advised fans to not compare their lives to what they see on social media.
The parents-of-one got married in 2014, and by 2018, the co-authors' decided to leave the show to chase their dreams. Jeremy's twin, Zach Roloff, recently revealed that he had no problems with his brother's decision to leave, as it was the right thing for him to do for his family at the time.
Jeremy spent fourteen years and seventeen seasons on the LPBW.
Please fill in your e-mail so we can share with you our top stories!