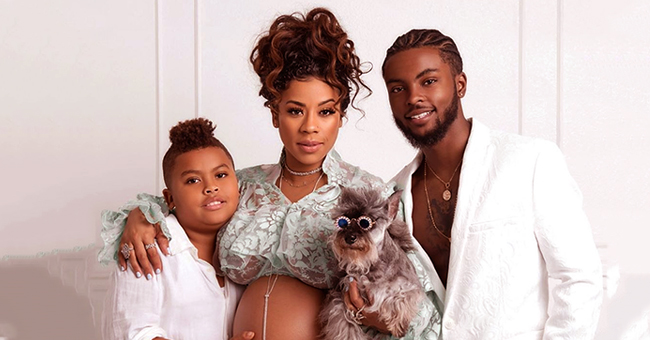 Instagram/keyshiacole
Keyshia Cole Welcomes Healthy Baby Boy with Her Boyfriend Niko Khale

Keyshia Cole has given birth to her son with 23-year-old boyfriend Niko Khale. The singer made the announcement by sharing a lovely photo of her son, Daniel holding her newborn in his arms.
A sweet photo of Keyshia Cole's son, Daniel Gibson, Jr. holding his newborn sibling greeted fans a few hours ago. It signaled the arrival of the singer's baby boy with Niko Khale.
THE COUNTDOWN BEFORE HER BABY'S ARRIVAL
Fans were in on the countdown leading to this day which began ten days ago. Cameras had started rolling then for Keyshia's BET special documenting her baby's arrival.
Three days before her due date, Keyshia shared lovely photos from her baby shower revealing the blooming mom-to-be kissing with the father of her newborn as they celebrated the occasion via a blue and white-themed fete.
THE PHOTO MARKING HER LAST DAY OF PREGNANCY
And just yesterday, Keyshia bared her pregnant belly to the world for the last time with a family photo to include Daniel, Niko, and their dog as she prepared for her baby's birth.
"I'm nervous, But I'm ready!!!!" she wrote to caption the milestone pic. "It's like CHRISTMAS, getting one of the GREATEST GIFTS OF ALL time!"
Her unnamed child was reportedly born on the evening of August 1 after a few hours of labor.
THE ANNOUNCEMENT OF HER BABY BOY'S BIRTH
Just a few hours ago, Keyshia's greatest gift finally arrived. "Baby boy is here yall, OMG" Keyshia captioned an Instagram Story featuring the commotion in her hospital room after her delivery. "Baby boy" Keyshia struggles to say as she mans the camera panning around her room to reveal decorations on the walls and Niko speaking to another man in yellow.
The clip was accompanied by a photo of 9-year-old Daniel proudly holding his healthy baby brother in his arms. Keyshia wrote, "Big brother vibes" along with three giant hearts.
The stories grabbed by The Shade Room are the only proof that Keyshia is now a mother-of-two. Her unnamed child was reportedly born on the evening of August 1 after a few hours of labor.
HER AGE GAP WITH NIKO THAT FANS MOCKED
The boy is Keyshia's first son with Niko who at 23 is 14 years her junior. Fans made jokes about the age gap when Keyshia shared her family photo yesterday. Someone insinuated that Niko looked more like her nephew than her baby daddy.
Last year, Keyshia defended their relationship telling judgmental fans she's with him because he takes care of her. We're certain Niko's nurturing ways will extend to their son who's lucky to be born surrounded with love.
Congratulations Keyshia and Niko!
Please fill in your e-mail so we can share with you our top stories!