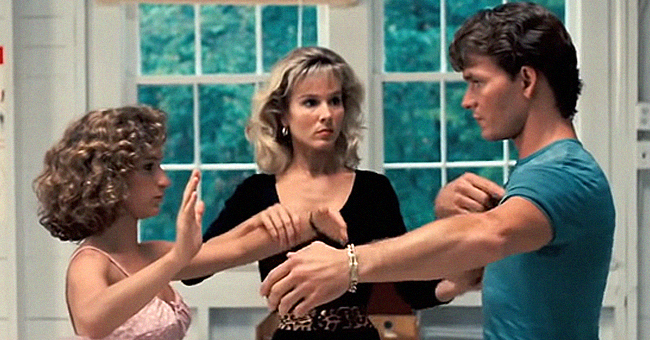 Getty Images
'Dirty Dancing': Where Penny from the Much-Loved Movie Is Now

The appearance of the talented and beautiful actress, singer, and dancer in this iconic film took her to the pinnacle of her career after playing small roles in other films. Here's a little on what has become of her.
62-year-old Cynthia Rhodes is well remembered for her role as "Penny" the dance instructor who was supposed to dance with "Johnny Castle", played by the late and loved Patrick Swayze, but ended up missing the dance for having undergone an illegal abortion.
A SHORT TRAJECTORY
Although this role put her in the eye of the industry, the versatile artist had already been developing a solid career in the entertainment world little by little. Her first appearance on the big screen was in the fantasy film "Xanadu" in 1980.
She then appeared in the famous "Flashdance" musical film as Tina Tech. Her next role was in 1983 as Jackie, in the sequel to "Saturday Night Fever", "Staying Alive" with John Travolta. There she plays a bar band singer who is the romantic interest of Travolta's character, Tony Manero.
Her first role as an actress in a film not related to dance was achieved in 1984 when she worked with Tom Selleck, Kirstie Alley and Gene Simmons in the science fiction thriller "Runaway". Her last role in her acting career was in the film "Curse of the Crystal Eye", in 1991.
HER CAREER IN THE MUSICAL WORLD
Rhodes appeared in several music videos as a dancer including "Rosanna" from the Australian band Toto, "The Woman in You" by the Bees Gees, and "Don't say nothing" by Richard Marx. She was also a dancer for the glam rock band "The Tubes" on their tours in the early years of the 80s.
She later joined the band "Animotion" as a replacement for their lead singer and voice, recording the band's third album with original tracks. Although the band managed to bring to the popularity the theme "Room to Move" from the movie "My Stepmother is an Alien" they did not have the public recognition they expected. Soon, the band dissolved.
CHANGE CAME TO HER LIFE
But Rhodes's career didn´t go forward. In 1983 she had met singer and songwriter Richard Marx, while he was participating with his band in the soundtrack of the movie "Staying Alive".
However, it wasn't until two years later that they started dating after they met again at a party. At that time, Marx was too young to date her. She was seven years older than him but the couple waited for four years until their wedding in 1989.
Rhodes and Marx lived many years in the suburbs of Chicago, where they had raised three sons: Lucas, Jesse, and Brandon. In 2014, Marx's representative announced through a press release that the couple had divorced after 25 years of marriage.
CONVICTIONS FIRST
Rhodes was raised as a Baptist, with deep and firm moral convictions, which caused her to reject those roles where she had to appear naked and also refused to appear on the cover of the Playboy adult magazine.
During the filming of "Staying Alive", director Silvester Stallone said she would first retire from the entertainment world rather than do anything that could embarrass her parents.
Therefore, it is not surprising that after marrying and having three children, she would rather retire from public life and devote herself to motherhood and marriage. During the 25 years of marriage, she had very few public appearances and almost always next to her now ex-husband Richard Marx.
Please fill in your e-mail so we can share with you our top stories!