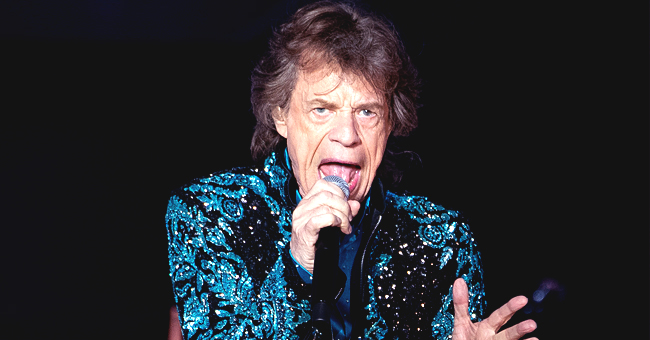 Getty Images
Mick Jagger's 2-Year-Old Son Devereaux Enjoys Riding a Scooter in NY with Mom Melanie Hamrick
The legendary Mick Jagger was surrounded by family during his recent concert. His children Georgia, James, Jade, Elizabeth, Lucas, Karis, Gabriel, and even his youngest son, Devereaux were all in the audience.
No would have pegged Rockstar Mick Jagger as a doting dad. However, that's exactly what he is when it comes to his 2-year-old son Devereaux.
The love isn't one-sided either, the little toddler is his dad's biggest fan. The little boy accompanied his mom Melanie Hamrick to the Rolling Stones concert on Friday.
He was completely engrossed in the performance by his dad and the band. It is the first time in 30 years The Rollingstone's have played in Jacksonville, according to The Sarasota Post.
Hamrick, 32, took to Instagram to share a black-and-white picture showing the back of her with Devereaux in her at the show. In the pic, it looks like the little boy is pointing toward the stands at the TIAA Bank Field.
Earlier this year, another pic of the Devereaux convinced fans that he looks just like his dad. The toddler sported temporary tattoos while standing on an empty stage and looking off-camera.
Devereaux is the eighth child for Stones frontman Mick Jagger. The little boy was born to the rockstar and his longtime girlfriend Hamrick on December 8, 2016.
"Mick was at the hospital for the arrival," read a statement from Devereaux's birth. "Mother and baby are doing well and we request that the media respect their privacy at this time."
Jagger recently underwent a heart-valve replacement surgery. Just two weeks later, he was back on stage performing a three-hour set in front of 60,000 people at Soldier Field in Chicago.
The performance kicked off the band's North America tour. The original first 14 shows of their No Filter tour were canceled so that Jagger could get the medical treatment he had needed.
After his surgery, the rocker revealed he "felt pretty good." He also added that the band was rehearsing a lot following his release from the hospital.
"Thank you everyone for all your messages of support, I'm feeling much better now and on the mend — and also a huge thank you to all the hospital staff for doing a superb job," Jagger tweeted after the medical procedure.
Please fill in your e-mail so we can share with you our top stories!