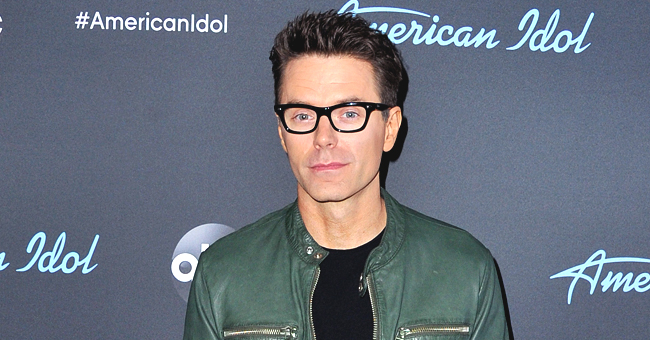 Getty images
Bobby Bones of DWTS Announces Help for El Paso Shooting Victims' Families
Famous "Dancing with the Stars" champion Bobby Bones has come forward to show support for bereaved families of victims of the recent El Paso shooting.
Bobby updated his Instagram feed just a few hours ago. The post includes a self-taken video of the famous television star as well as three pictures.
The video runs for a short time and features a tousled Bobby sharing the innovative project to help families of the El Paso victims.
HOW BUYING THE SHIRTS WILL HELP EL PASO VICTIMS
He explains that buying the Can't See Apparel "Forever Texas" shorts will be a way of helping families of the deceased.
Dressed in a hoodie himself, the dancer explained that all proceeds from the sale of the unisex shirts or sweatshirts would go to these families.
The three photos he shared alongside the video clip are that of the shirts which are Grey. They also have the words "Forever Texas" boldly written in dark blue and all caps up their front.
"Hey, friends. After the shootings in El Paso. And owning "Texas Forever." We are reissuing the shirts to help the victims families. Go to CantSeeApparel.com.You can swipe through and see what they look like."
The caption took on a funny tone as the 39-year-old implored fans to ignore the "sound of my dog trying to eat me" during the video.
It was so evident as the clip shows Bobby trying to ward off his pet who wasn't featured. That and Bobby's comfy look, however, seems to add to the charm of the clip.
That much normalcy is needed when he is trying to get people to support the "Forever Texas" movement.
Also, via his caption, Bobby shared that there are plans to make Ohio shirts too and that elicited varying reactions from Instagram users.
NETIZENS REACT POSITIVELY TO BOBBY'S POST
Bobby's new Instagram post is less than a day old, but it has already amassed nearly 20k likes and hundreds of comments. That significantly proves that Bobby and Can't See Apparel's collaboration is a highly appreciated one.
To voice their support and thank Bobby for being so kind-hearted, netizens took to the comments section. One user, @ida_ruiz wrote:
"El Paso thanks you for helping Bobby. We are saddened and heartbroken, but most of all angry that someone could come into this friendly and welcoming town and do this awful act on us. Thank you so much, #ElPasoStrong."
Another user, @audgk8 said:
"Just ordered! I might live in Arizona, but Texas is my heart! Prayers for both Texas and Ohio!!"
This trend of heartfelt appreciation is observable in the comments section, but it is not the only visible thing. A fast-rising trend has also started as fans raised the suggestion that Can't See Apparel should make similar products for towns that have had a similar occurrence.
PEOPLE ARE STILL REELING FROM THE SHOCK OF THE EL PASO SHOOTING
The positive reactions are mostly borne out of sadness and heartbreak as many continue to mourn the numerous lives lost during the August 3 mass killing. The shooting took place at a massive shopping complex, Walmart, situated in El Paso.
According to reports, there are about 20 victims of the shady operation which was allegedly spearheaded by a 21-year-old racist.
Although arrested, the damage he has done is a rather extensive one that will forever remain in the memories of the numerous families affected.
Out of the 20 people pronounced dead, CNN shares that about four of them are now publicly known. They are Jordan Anchondro, who died protecting her baby son, her husband, Andre Anchondo, 86 year old Angie Englisbee, and 60-year-old Arturo Benavides.
May their souls and that of the many others rest in peace.
Please fill in your e-mail so we can share with you our top stories!