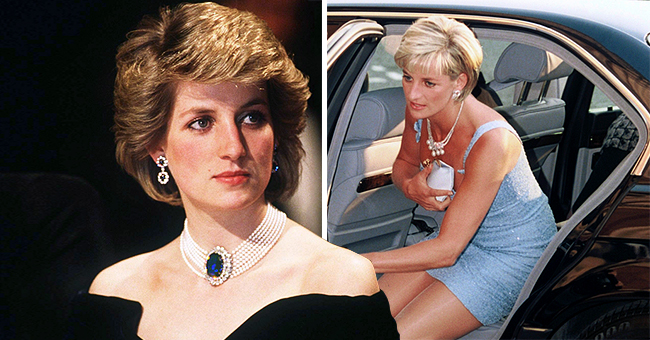 Getty Images
Details behind Princess Diana's Outfits: From Cleavage Clutches to the Famous Revenge Dress
Princess Diana made history in more than one way. Besides becoming the people's princess, she was also the ultimate royal fashion icon.
The Royal Family are often looked to for style inspiration especially after Lady Diana Spencer joined their ranks. She turned the Royal family's strict dress code on its head and became known as one of the most iconic fashionistas of all time.
From greeting dignitaries to charity work and hanging out with A-list friends, the late princess was always dressed to impress. Many of her outfit choices had hidden meanings, uses or backstories to them.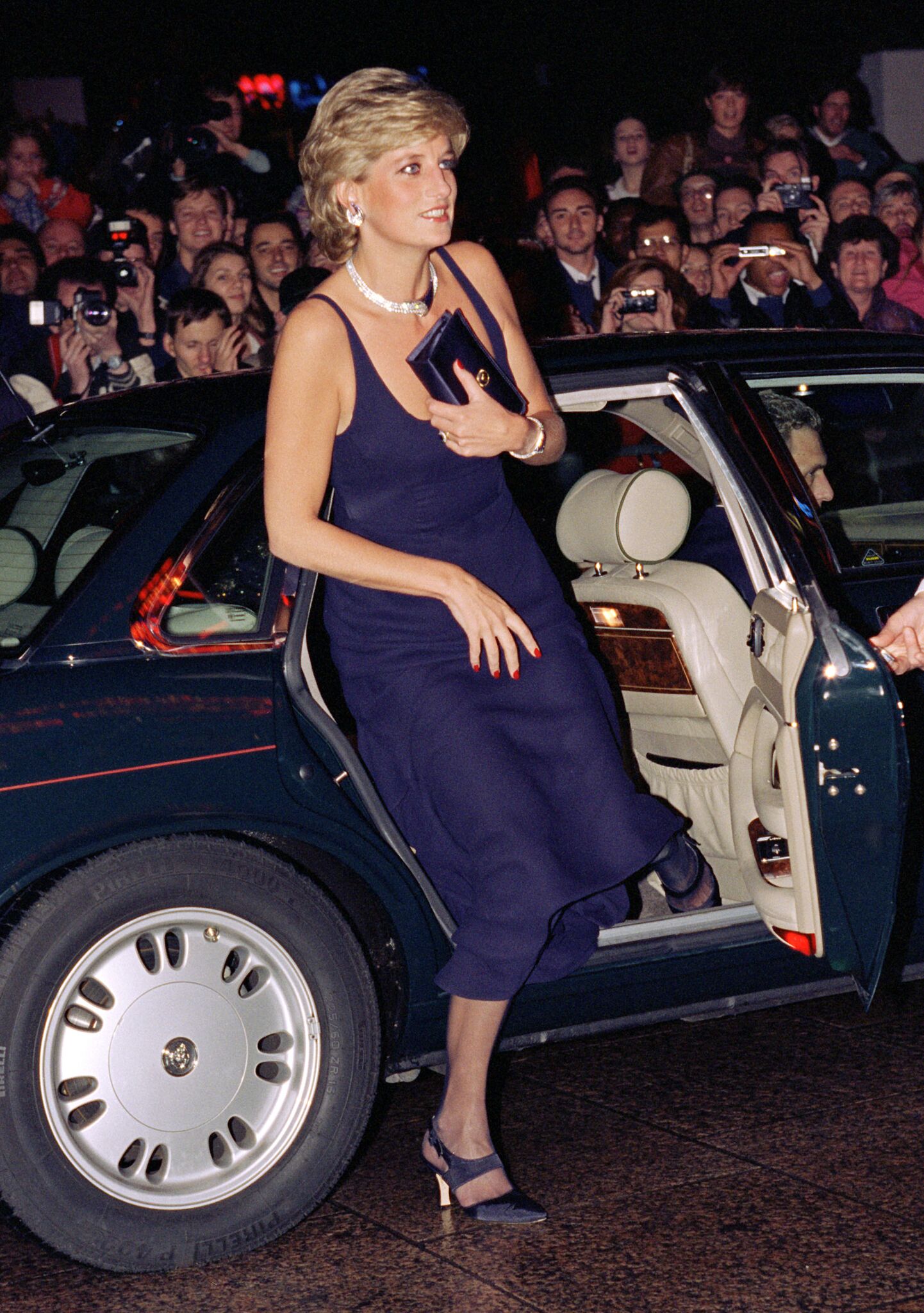 The Princess Of Wales Attends The 'Haunted' Premiere In London | Getty Images
Cleavage Clutch
Princess Diana's evening gowns, especially in the mid-'90s, were legendary. Around that time her style evolved and she began wearing clingier dresses with plunging necklines.
She paired these eye-catching dresses with perfectly coordinated tiny clutch bags. While the bags were the perfect accessory, they were also included in her outfits for a functional purpose.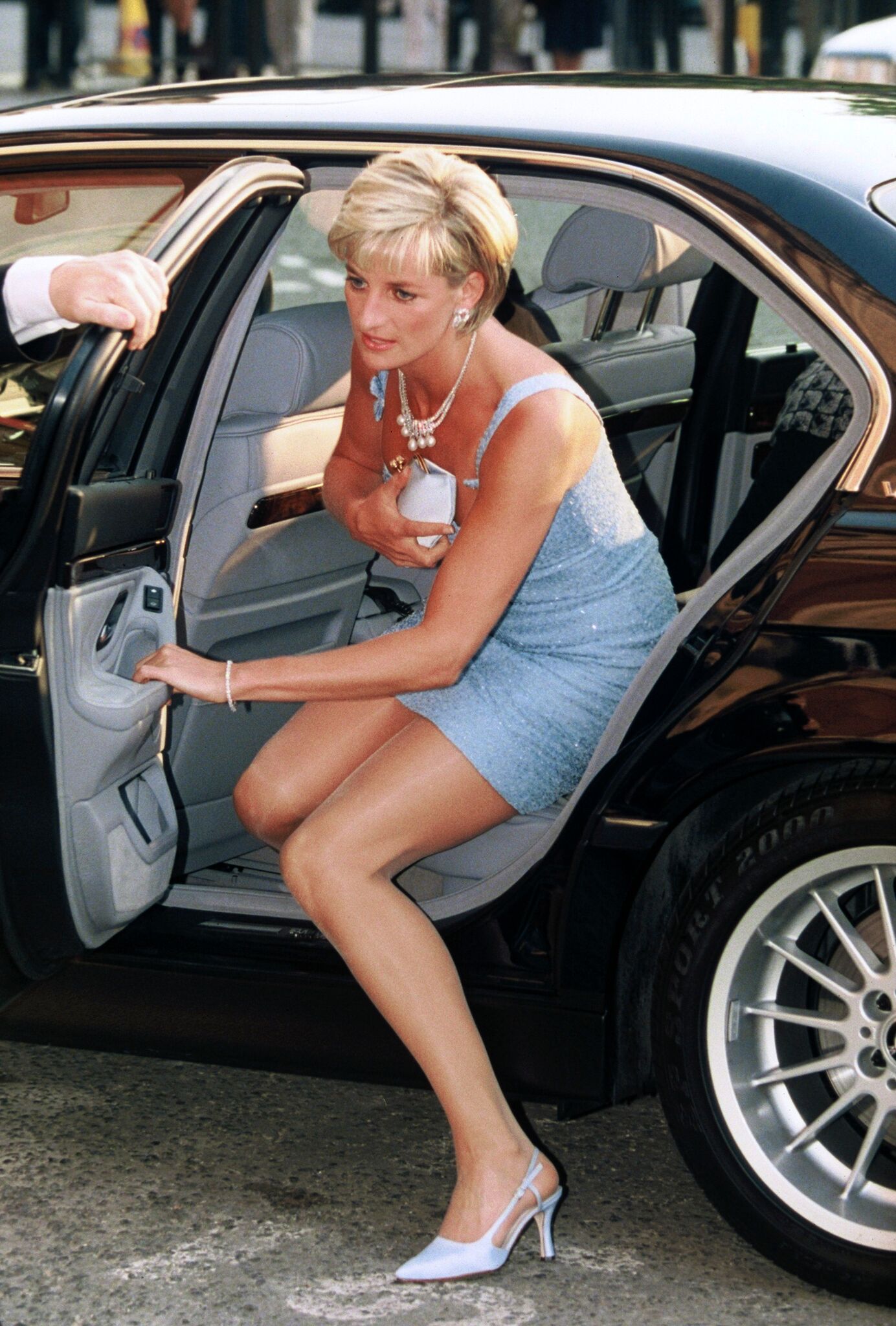 Princess Diana attends the English National Ballet performance of "Swan Lake" | Getty Images
The image-conscious princess used her clutch to shield her chest when stepping out of the car. This helped her avoided showing too much cleavage to anyone watching her.
Anya Hindmarch, a British luxury designer worked with the Princess of Wales throughout the '90s and recently revealed that the princess had a funny name for her tiny purses.
"We used to laugh when we designed what she called her 'cleavage bags,' little satin clutches which she would cover her cleavage with when she stepped out of cars," said Hindmarch.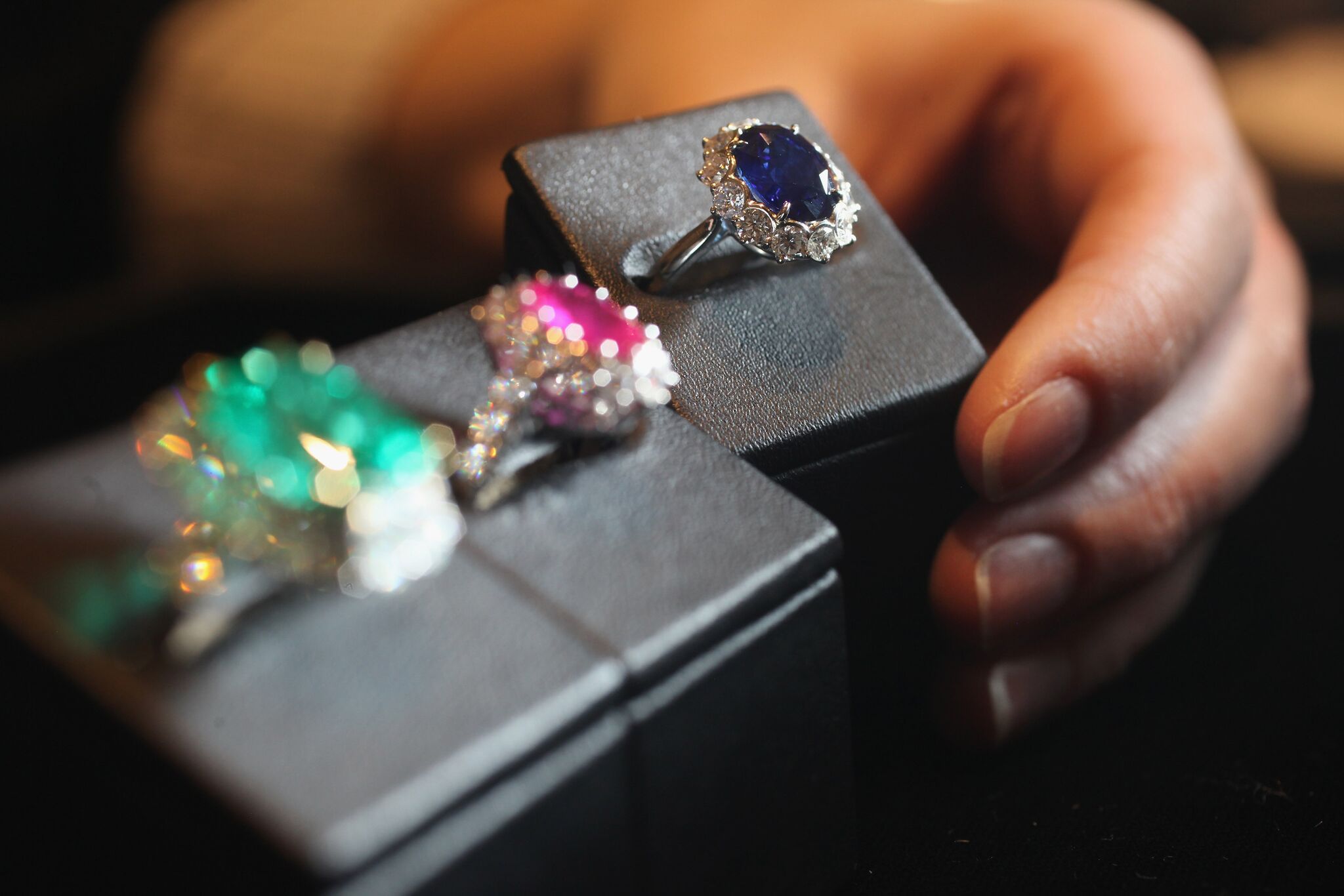 Princess Diana's iconic engagement ring | Getty Images
Her Iconic Engagement Ring
Prince Charles proposed to Lady Diana Spencer on February 6, 1981. When their official engagement photos were released, fans got their first glimpse of the stunning engagement ring he gave her.
She wore it up until she divorced Prince Charles in 1996.
The ring consisted of a 12-carat oval Ceylon sapphire surrounded with 14 solitaire diamonds. It was set in 18-karat white gold. The stunning ring actually broke tradition.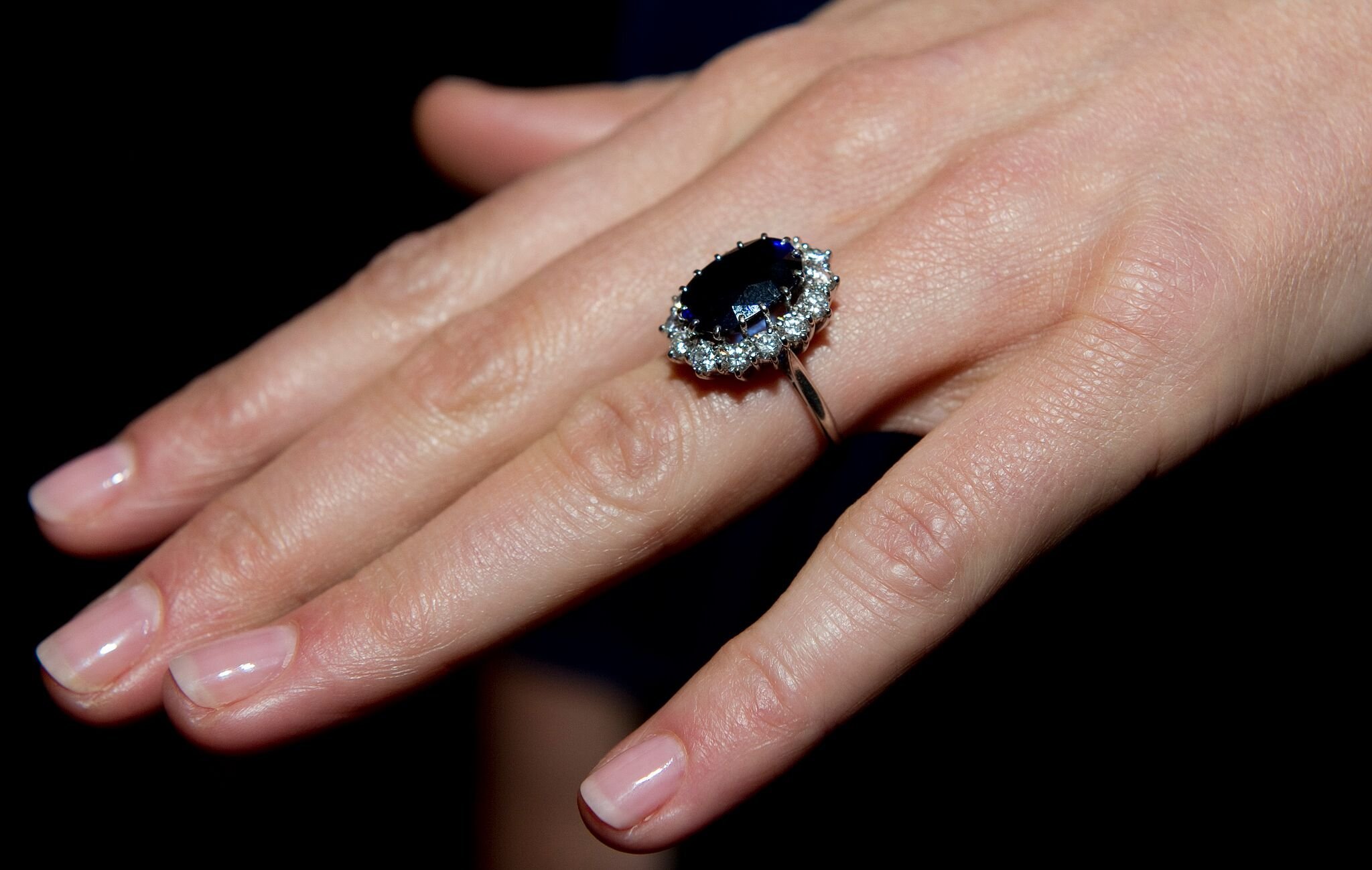 Princess Diana's sapphire engagement ring | Getty Images
Normally, royal engagement rings are custom made. However, Princess Diana actually selected her ring from the Garrard jewelry collection catalog. According to reports, some people within the palace were upset that the ring was "accessible" to the general public and not rare enough.
Nevertheless, Diana loved it and wore it up until she divorced Prince Charles in 1996. The ring, that now belongs to Duchess Kate Middleton, was inspired by a sapphire-and-diamond cluster brooch made for Prince Albert in 1840 which he gifted to Queen Victoria as a wedding present.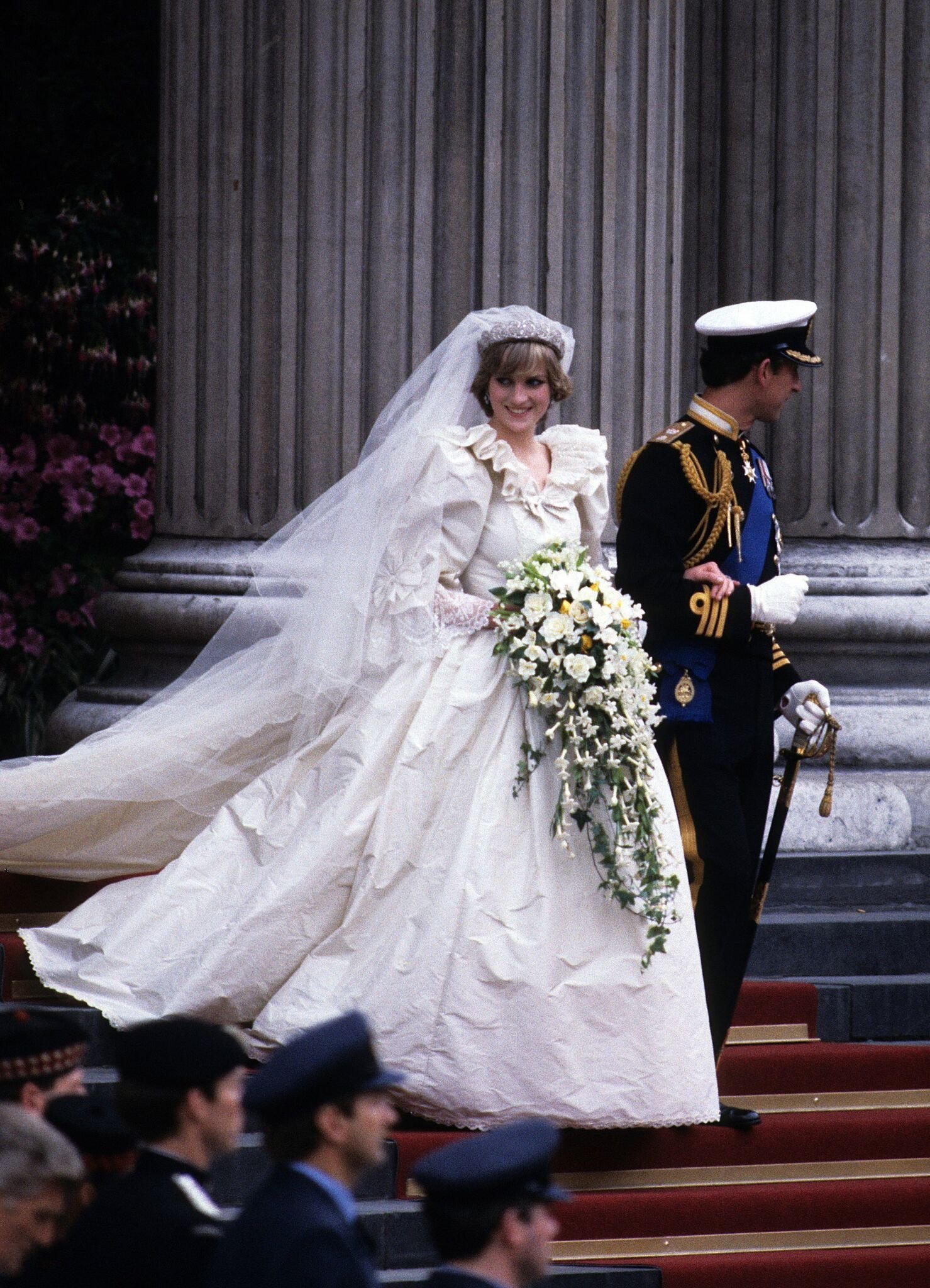 Princess Diana and Charles, Prince of Wales, on their wedding day | Getty Images
Her Wedding Gown
The wedding dress of Lady Diana Spencer when she married Charles, Prince of Wales, on 29 July 1981 at St Paul's Cathedral is one of the most famous dresses in the world. Before the wedding, the dress was reportedly one of the most closely guarded secrets in fashion history.
The ivory silk taffeta and antique lace gown consisted of a 25-foot train and a 153-yard tulle veil. It was designed by David and Elizabeth Emanuel and cost a whopping £151,000.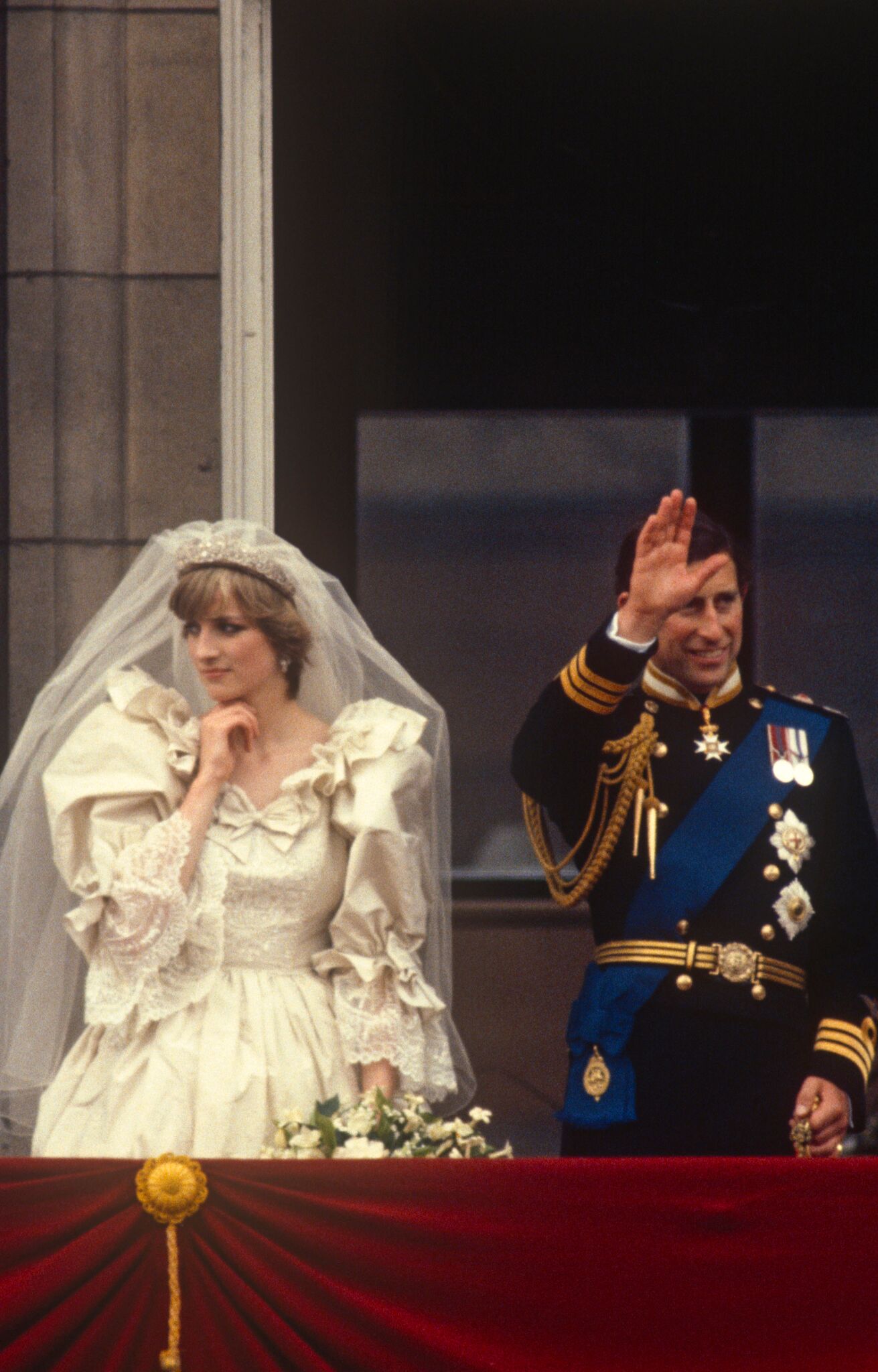 Princess Diana and Prince Charles on the palace balcony on their wedding day | Getty Images
The late princess personally selected the designers for her wedding dress after she fell in love with a chiffon blouse they made for her formal photoshoot with Lord Snowdon. The dress was trimmed with Queen Mary's antique hand-made Carrickmacross lace.
A dress this monumental came with many issues. Firstly, Princess Diana developed bulimia in the months before the wedding and went down four dress sizes in the months leading up to the wedding. The seamstress feared her drastic weight loss would cause the dress to fit improperly.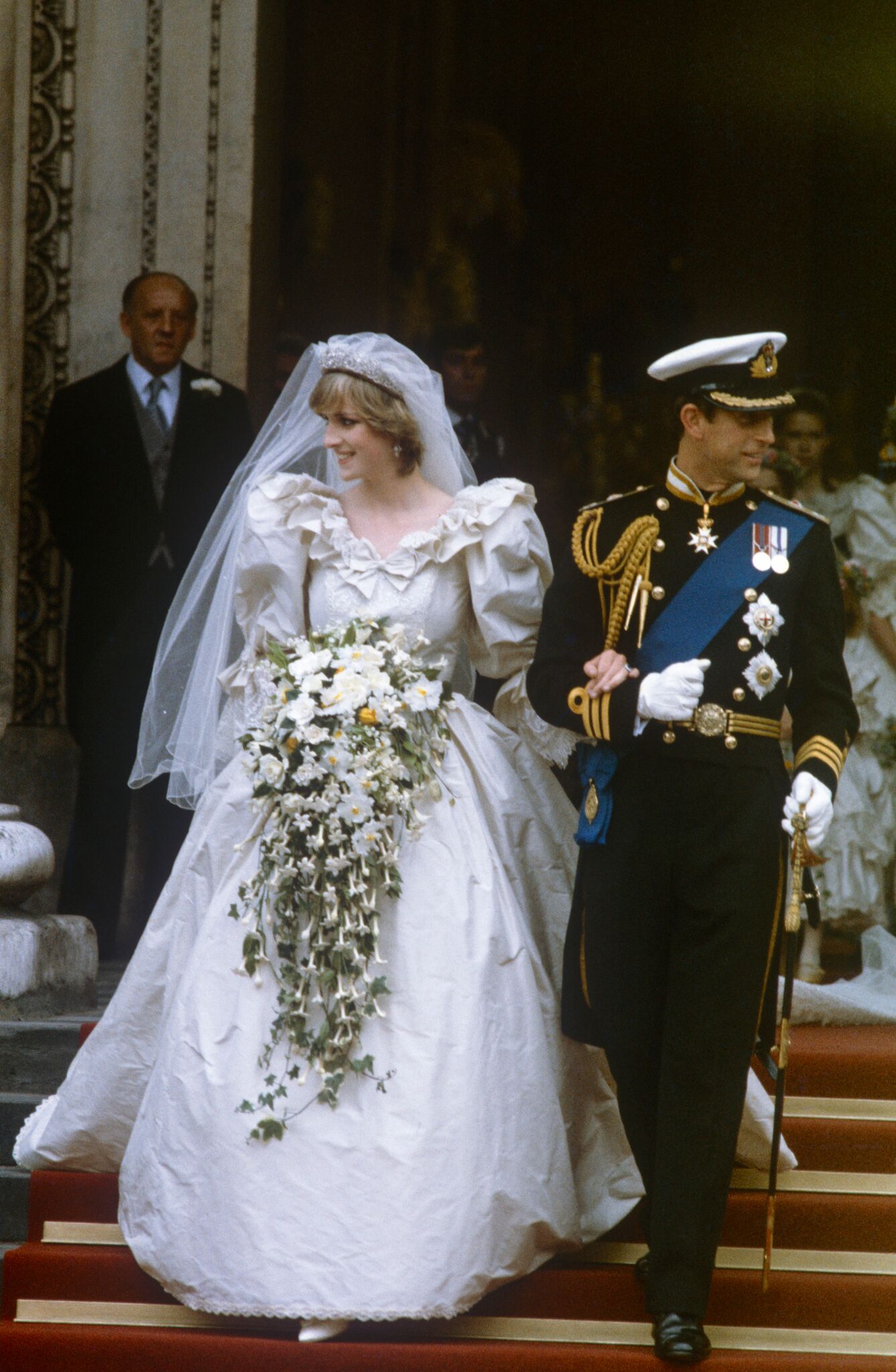 Princess Diana and Prince Charles leaving the church on their wedding day | Getty Images
Another major problem was the sheer size of the train on the dress. According to the book "Diana: Her True Story" by writer Andrew Morton, the designers realized they had forgotten to take into account the size of the glass coach Diana and her father would use to go to the ceremony when they made the train.
The train was badly crushed in the couch and resulted in the visible wrinkles on the wedding gown when she arrived at the cathedral. Besides the train and Diana's weight fluctuations, the royal bride also had to have a spare wedding dress on standby in case the design of the dress leaked before the wedding.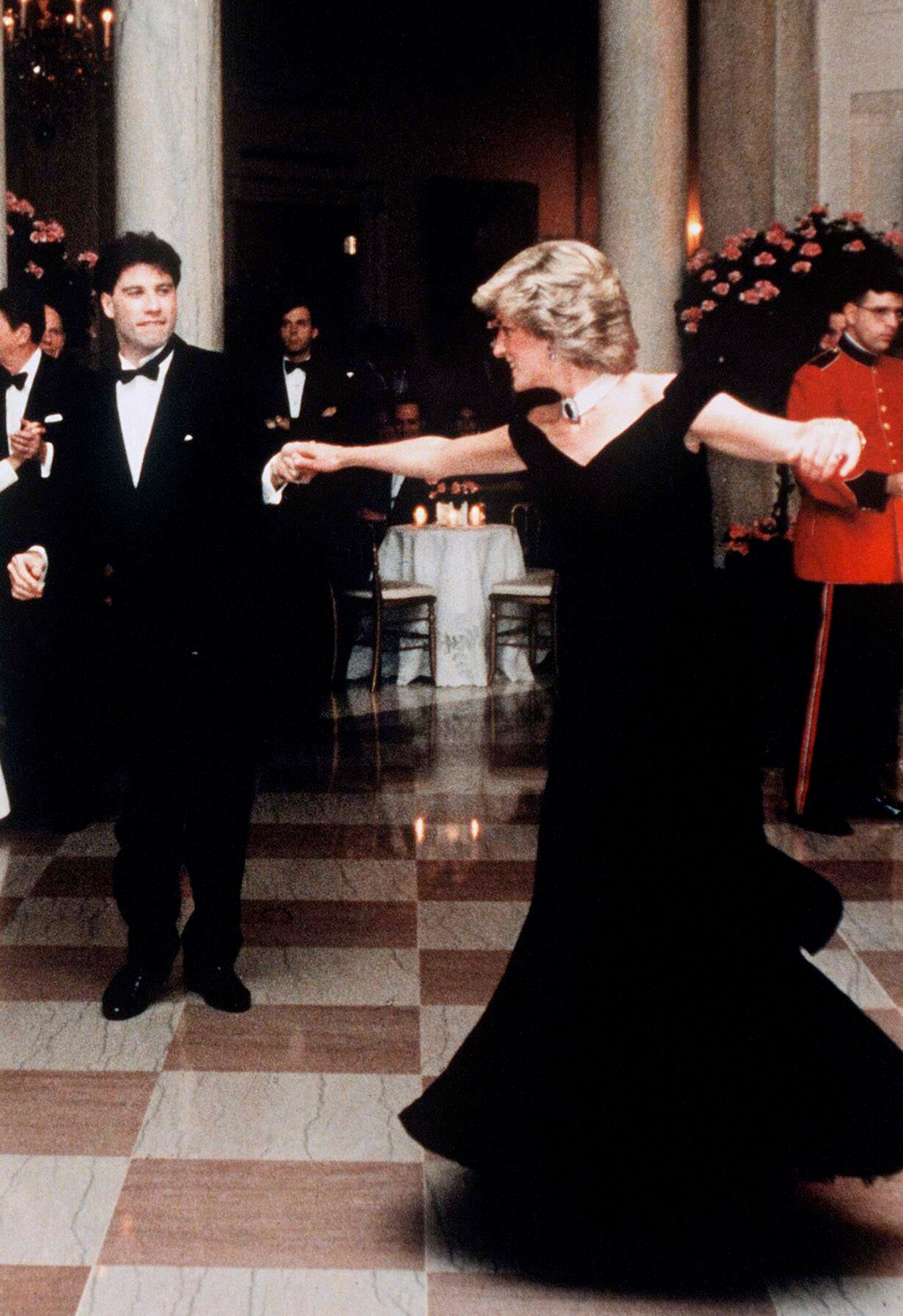 Princess Diana dances with John Travolta at the White House | Getty Images
Travolta Dress
In November 1985, Princess Diana stunned fans when she arrived at a gala dinner at the White House wearing a stunning midnight-blue velvet off-shoulder gown. During the evening, she was snapped dancing with actor John Travolta and the dress was given its name.
Designed by London-born Victor Edelstein, the dress proved to be a favorite of the Princess and she wore it three more times. First in December 1987 then again in April 1988 and lastly she donned the dress for her last official portrait photograph in 1997.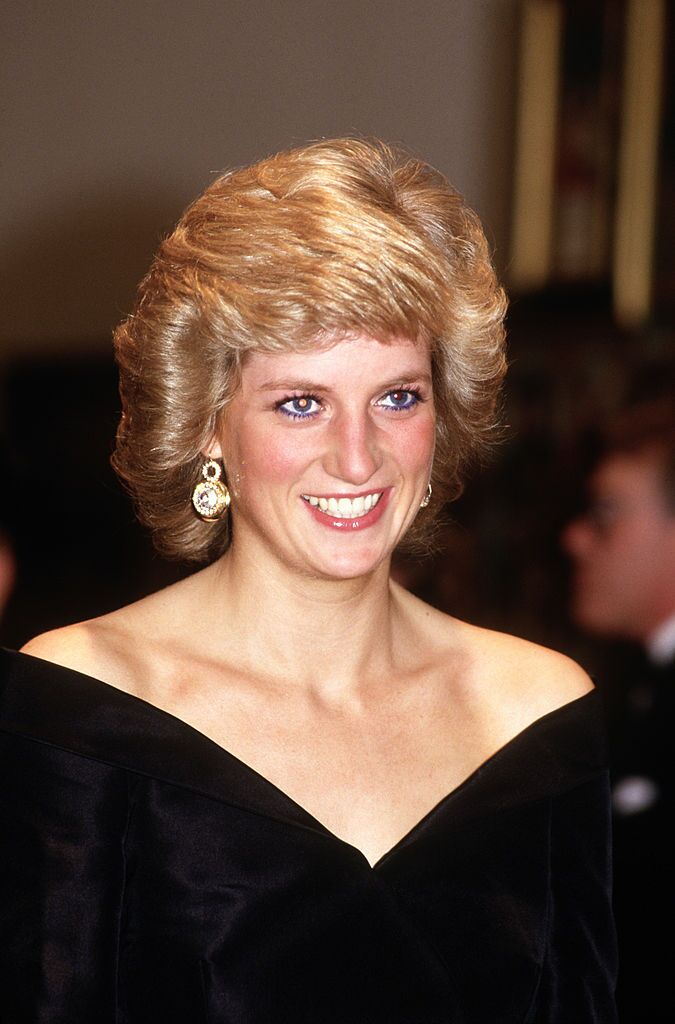 Princess Diana in her iconic "Travolta" dress
Just before she passed in August 1997, Princess Diana requested that the dress be sold in a charity auction. Maureen Dunkel, a businesswoman, bought it for £100,000 in New York in June 1997. It was the most expensive dress at the auction.
After Dunkel went bankrupt, the dress was eventually auctioned again by Kerry Taylor and bought by a Britsh man as a surprise for his wife for $362,424. Once again it was the most expensive dress auctioned.
Revenge Dress
Clearly, Princess Diana's fashion choices over the years made some serious waves, however, none of the previous ones were as controversial as the "revenge dress." In June 1994, the people's princess boldly said farewell to royal protocol with a sexy off-the-shoulder, form-fitting black silk dress.
Diana went out in that dress looking drop-dead gorgeous. She made a big statement right there.
The iconic dress was dubbed the "revenge dress" after the huge confession that shook the royal household and shocked the world was made by Prince Charles. Until that point, even though Lady Diana and Prince Charles had been estranged and separated since 1991, Diana had maintained royal protocol and dress code.
On the night of her public appearance at a party hosted by Vanity Fair, Prince Charles' released a tell-all documentary aiming to gain public sympathy after his separation from "the people's princess." However, things took a turn for the worst when the interviewer asked Charles if he was "faithful and honorable" to Diana while they were married.
"Yes," Prince Charles answered. "Until it became irretrievably broken down, us both having tried."
The public understood his subtle confession and the prince lost his chance to gain their favor especially when it was revealed that Diana never wanted a divorce. Kerry Taylor, whose company auctioned the dress in 2013, said:
"We called that "The Revenge Dress"[because] she wore that the same evening Prince Charles confessed to his adultery with Camilla. While some would have been like, 'I can't face it this evening,' Diana went out in that dress looking drop-dead gorgeous. She made a big statement right there."
However, according to designer Christina Stambolian, the dress was made three years before Diana wore it. In fact, the princess was supposed to wear a Valentino dress but after her choice was leaked to the press she made a last-minute switch.
Please fill in your e-mail so we can share with you our top stories!