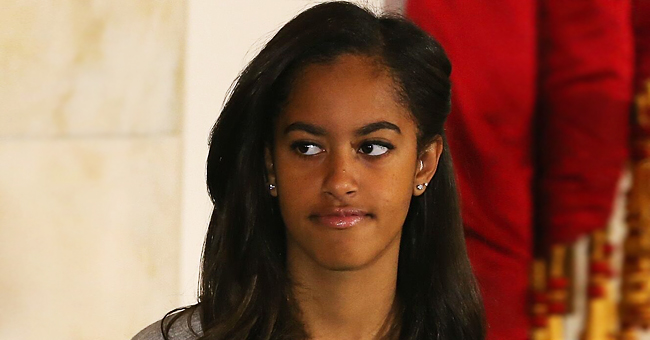 Getty images
Little Known Facts about Obama's Oldest Daughter: Malia's Passion, Upstaged Birthday, and Upbringing
Long after the Obamas left the White House, Malia Obama, the oldest child of the family, still holds a lot of mystery. Check out little known facts about the young beauty.
The Obamas stopped being the First Family of the United States in 2017 after Barack's terrain came to an end. That, however, hasn't stopped them from being the talk of the media.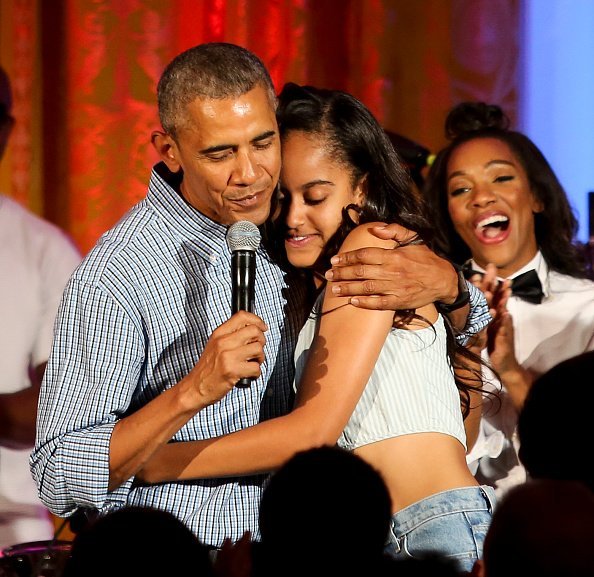 President Barack Obama hugs his daughter Malia at the Fourth of July White House party on July 4, 2016 | Photo: Getty Images
Malia, who is the oldest child of the family, is mainly a fan favorite. Here are little known facts about the youngster.
STRICT AND STRUCTURED UPBRINGING
Malia seems to be the picture-perfect teenager at all times. Just because she was the first daughter doesn't mean Malia was spoiled.
Even long before her father became president, Malia, and her younger sister, Sasha were strictly brought up to learn to take responsibilities.
According to their father, they started by giving Malia one dollar a week in reward for doing their chores. Even after their big move into the white house in 2009, the Obama girls were still made to clean their rooms.
While speaking on ABC News, Barack Obama revealed that he loves his girls, but they "are not too special" to do "their homework or chores."
MALIA'S BIRTHDAYS
Malia is indeed unique; she shares her birthday with America on July 4th! While this may seem like a rather heartwarming coincidence, Malia's birthday always ended up getting upstaged.
That was specially made apparent when they were the first family.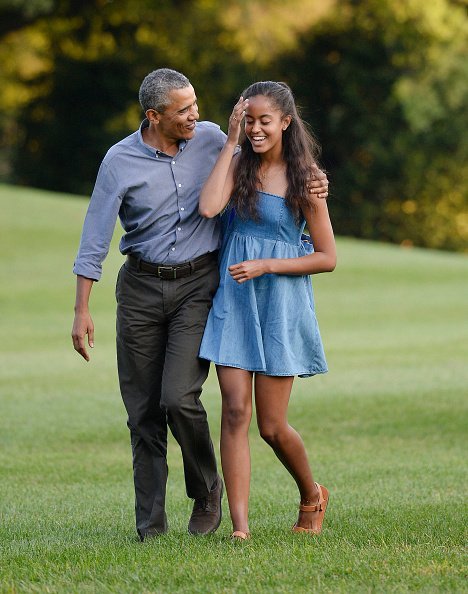 Barack Obama's daughter Malia was well grounded by her parents while growing up | Photo: Getty Images
She would reportedly spend important milestones holed up in hotel rooms with her family as her father would have a lot of appearances scheduled for the important day.
The Obamas, however, always made sure to make the day a special one for Malia. The Tribune reported back in 2008:
"She spent the evening in a Holiday Inn Express hotel room in Montana. During a break in campaigning, the family partied in the hotel room, ordering in dinner and a birthday cake and dancing to her favorite songs."
MALIA'S PASSION IS ENTERTAINMENT
Malia is an up-coming entertainer. Just a little over 20, she has already had experience working in entertainment. The young beauty is quite passionate when it comes to realizing her dreams of becoming an entertainer.
She has not only worked on notable television productions, but she has also taken a liking for learning about the film industry.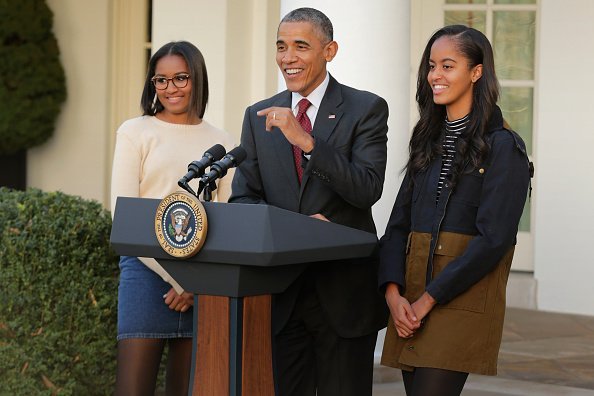 . President Barack Obama delivers remarks with his daughters Sasha and Malia during the annual turkey pardoning ceremony in 2015 | Photo: Getty Images
Malia's mother, Michelle Obama once proudly confirmed this in 2012 by sharing that "just like her father, she is an avid reader, and she enjoys movies."
That is probably one reason why the young beauty toured colleges known for filmmaking, such as New York University, before ultimately deciding on Harvard.
Please fill in your e-mail so we can share with you our top stories!