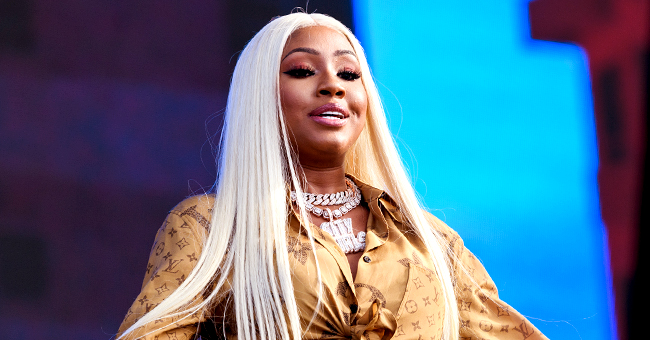 Getty images
Pregnant City Girls Rapper Yung Miami Shot at While Driving in Florida
Yung Miami was caught up in a horrific incident that nearly claimed her life and that of her unborn child.
City Girl singer Yung Miami who is pregnant with her second child was reportedly shot at 14 times while leaving Miami's Circle House Studios in a near-fatal incident
Details of the incident came out when a bystander released footage from the scene of the crime.
YUNG MIAMI REVEALS OCCURRENCE IN HER OWN WORDS
A bystander recorded and later released footage of the rapper explaining the details of the horrific incident to the police.
The pregnant Miami was standing with the police and an identified person as her car was examined.
"They had the lights off so I never saw them. Whoever it was, they had the lights off. It came from behind me, the shots started from behind me. They started from behind me because [inaudible] I said, 'Oh sh_t, somebody shooting!'" she related to the officer.
She was "threatened" in a freestyle by rapper Kodak Black, who is currently incarcerated
SHOOTERS LAY IN WAIT
According to the City Girls rapper, she was working on some music late in the evening at Circle House Studios. The incident occurred as she was leaving in her red Mercedes G-Wagon, a gift from her partner and producer Southside.
AN ATTACK BY KODAK BLACK'S FACTION?
The shooting comes just a week after she was "threatened" in a freestyle by rapper Kodak Black, who is currently incarcerated
"And I bought Yung Miami a ring, she wanted 808's baby/When I see her I'mma hit that b—h in her stomach/The way I keep this shit too real f–kin' up my money," he said.
RUMORS FLY WHILE CASE IS INVESTIGATED
While the incident is under investigation, there are few facts to go on but rumors fly, and speculation is rife.
There has been outrage from social media at such a brutal attack on a pregnant woman. and many have expressed concern with her continuing health and wellbeing.
Rumor has it, that when Kodack threatened Miami, her partner Southside reacted, and was threatened,
Was the attack on Miami a manifestation of that threat? We will continue to update as the story unfolds.
YUNG MIAMI POSTS SPECIAL MESSAGE TO FANS
Yung Miami's near-fatal shooting left fans frantic with concern for her health and that of her unborn baby. Her attackers have yet to be identified, and fans fear they may target Miami once again.
The rapper placed a post on Instagram, reassuring her followers that she is "perfectly fine" as is the baby, which she referred to as "Summer."
"❤️?? Thank you to everyone that reached out to me! I'm OKAY LOVE YALL ?," she captioned her post.
She also thanked her fans and friends for reaching out and for all their prayers and sympathy.
Please fill in your e-mail so we can share with you our top stories!