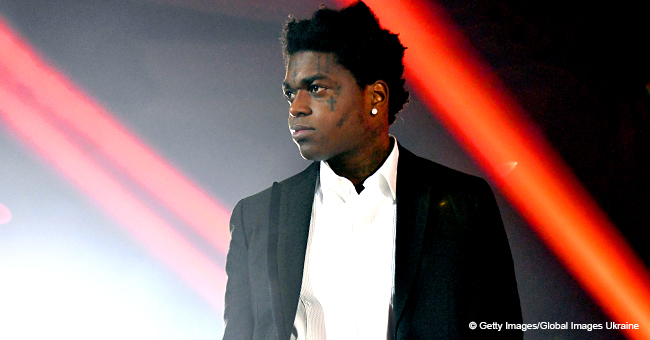 Rapper Kodak Black Charged with Criminal Sexual Conduct after Allegedly Assaulting Teenager
Kodak Black was charged with first-degree criminal sexual conduct in South Carolina after he allegedly assaulted a teenager, and is about to face trial in a couple of months.
The rapper is currently facing charges of raping a high school student in South Carolina, according to a city prosecutor.
While the popular rapper is on tour, he will need to return to South Carolina in the summer or early fall to face the charges filed against him.
According to 12th Circuit Solicitor Ed Clements, he hopes the case will be up for disposition by that time, as the trial which was initially scheduled for April had to be pushed back to a later date.
The tragic incident reportedly happened in a hotel room after he performed a concert in Florence, Clements. The arrest warrant accuses the 21-year-old of committing the crime back in February 2016.
Kodak Black, born Dieuson Octave, was arrested on the same sexual assault charge in November 2016.
The victim did not immediately report the assault to law enforcement but instead told a nurse at her Richland County High School. Realizing what the student just said, the nurse immediately told the school reource officer before bringing it up to the Florence County Sheriff's Office.
The Arrest Warrant
According to the arrest warrant, the rapper forced the girl to the bed and floor where he sexually abused her despite repeatedly telling him no and to stop. He did not stop, even biting the girl on the "neck and her right breast," injuries that were recorded on a rape kit.
After his arrest, Black was released on a $100,000 bond. He then agreed to be swabbed and the prosecutor's office has his DNA.
The rapper could face a maximum sentence of 30 years in prison if convicted, but there are also several lesser sentences that he could face depending on the results of the trial.
Clements makes sure everyone knows, though, that he will do whatever it takes to give the girl justice.
"I want to do justice for the victim, whatever it takes."
Kodak Black's predatorial ways?
Kodak Black is also making headlines because of his creepy Instagram Live video that targetted Nipsey Hussle's widow, Lauren London. His insensitive comments showed him contemplating when and how he would try to get London for himself.
The Florida-based rapper shared a disrespectful Instagram Live video that showed him hanging out with some of his friends while talking about Lauren as if she was his "target" that he wants for himself amid Nipsey's sudden death.
In the clip, he calls her "that baby" and a "whole widow out here," saying he would be the best man he can be to get her to himself. He says that he's giving her a year of "crying and [expletive] before he makes his move.
It seems Kodak Black has a history of disrespecting women, and if anything, should be reprimanded and taught a lesson on how to treat women properly. Hopefully, the charges against him will change things for him and his victims.
Please fill in your e-mail so we can share with you our top stories!