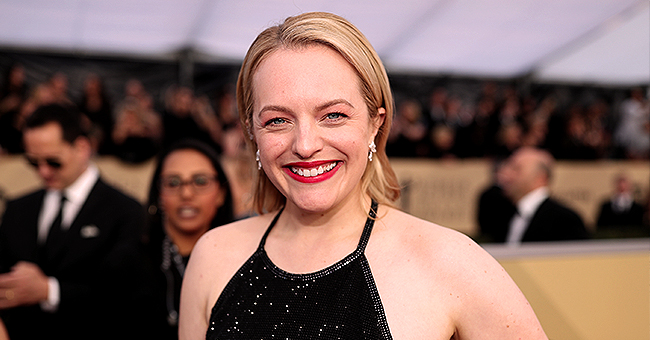 Getty images
Elisabeth Moss Looks Different to Her Character from 'Handmaid's Tale' (Photo)
Elisabeth Moss left fans shaken after she shared a very hot photo of herself on social media. The difference between the picture and her famous "Handmaid's Tale" character has left many confounded.
"The Handmaid's Tale" only started airing some two years ago but it has already earned itself a devoted fan following. Aside from the show's thrilling, unique plot, the sterling performances by the ensemble cast is what has made the show a fan favorite.
Elisabeth Moss, who plays the lead role of June Osborne in the famous series, is one woman that the internet loves. It is why her most recent Instagram post, which has her in a tight racy ensemble has caused a stir amongst fans.
The picture features Moss leaning against a classic red vehicle that made quite the spectacle against her chic ensemble. The gorgeous actress wore a black/white ensemble that did very much to accentuate her figure.
It included a white short, a black asymmetrically-cut jacket, and short leather skirt. Moss paired the fashionable combo with black strappy heels and a big black bag. Moss' sleek shoulder-length hair was just the perfect accent to the sexy look Moss was going for.
The award-winning entertainer penned down a short message to accompany the beautiful picture. It reads:
"5 more days until @thekitchenmovie premieres Aug 9... you ready? @melissamccarthy @tiffanyhaddish @andreaberloff #thekitchen #sheready."
Fans dig the retro meet chic Vibes emanating from the shot. The picture which is just one day old has already amassed well over 100k likes as well as hundreds of comments.
The comments section had netizens voicing their appreciation for the shot. A significant number shared that they are also looking forward to the premiere of her upcoming crime drama, "The Kitchen."
A fan, @jessica_lorenzetti, commented:
"How cute is she though? I'm so used to seeing her as a handmaid."
That is so true considering that the star is fast becoming a household name for starring in the famous series. It almost seems a bit unusual to see her dressed in something other than her usual handmaid's conservative gown.
It is, however, not the first time she will be among a gorgeous spectacle like this. Her adorable features add a unique charm to her, and it is hard to think of someone that would fit the role of June in "The Handmaid's Tale."
Seeing how widely popular the show has made Moss now, it is hard to believe that she almost turned down the role!
Please fill in your e-mail so we can share with you our top stories!