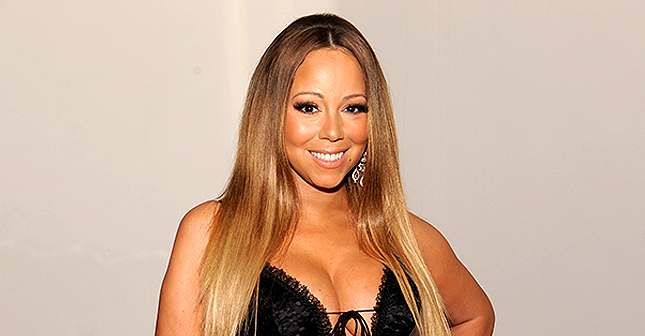 Getty Images
Mariah Carey Calls Hillary 'President' in a New Photo with the Clintons
Mariah Carey posted a controversial tweet on Monday evening, that referred to Hillary Clinton as her president, making a subtle diss at Donald Trump.
Over the weekend, Mariah was in attendance at the Barbra Streisand concert at Madison Square Garden in New York City. She got to hang out with Hillary Clinton and her husband, Bill Clinton.
Mariah took individual selfies with Hillary and Bill Clinton, and shared the photos via Twitter, alongside a caption that many fans believe to be a subtle shade at Donald Trump. She captioned it:
"An honor to meet President Clinton and her husband, former President Bill Clinton! (inserting a blushing smiley face) Thank you for everything you have done and continue to do for our country"
and finished it with a heart emoji and the American flag.
Hillary Clinton had served as the former Secretary of State during Obama's administration and was the first woman in America to be nominated for the post of President by a major party.
She contested in the 2016 presidential election but lost out to Donald Trump. Her husband, Bill Clinton, is a former president of America.
By the afternoon following the tweet, Hillary replied Mariah's shoutout with the tweet:
"The honor is ours; it's not every day you meet a queen."
and ended her message with a crown emoji.
MARIAH'S OTHER ENCOUNTERS WITH POLITICAL FIGURES
It is not the first time, the Grammy-winning singer and actress is meeting political figures. In 2013, she had met the Obamas at the National Christmas Tree Lighting ceremony.
As reported by Entertainment Tonight, Mariah revealed during an episode of Watch What Happens Live With Andy Cohen, that her son, Moroccan a.k.a. 'Rocky' (aged two at the time), spit upon a dress worn by the former First Lady, Michelle Obama.
Mariah recalled it being one of the most humiliating things that had ever happened to her.
"She (referring to Michelle Obama) was like, 'Thanks to you, I'll never be able to wear this dress again, Rocky. So thank you.'"
Please fill in your e-mail so we can share with you our top stories!