Mariah Carey Writes It's an 'Honor to See President Clinton & Her Husband' on New Photos of Them Together
Mariah Carey met former president Bill Clinton and wife Hillary over the weekend, and she took the chance to thank the pair for "everything they have done for our country" in a shady social media post that caused a heated debate among her followers.
Mariah Carey is the queen of throwing jabs in a not-so-subtle way, and her recent shout out to former Democratic candidate Hillary Clinton is proof of that.
On Monday, the singer took to social media to share two selfies with the Clintons, as they reunited backstage at Barbra Streisand's concert in Madison Square Garden last Sunday.
Carey was all smiles in the photos, donning a tight black dress with a plunging neckline. Hillary, on the other hand, rocked a black and white blouse, and her husband wore a black t-shirt under a blue blazer.
"An honor to see President Clinton and her husband, former President Bill Clinton!" Mariah cheekily wrote in her caption. "Thank you for everything you have done and continue to do for our country."
An honor to meet President Clinton and her husband, former President Bill Clinton! 😊 Thank you for everything you have done and continue to do for our country. ❤️🇺🇸 pic.twitter.com/uPj1WXQjnm

— Mariah Carey (@MariahCarey) August 6, 2019
FANS' MIXED REACTIONS
Fans noticed that Mariah's words were aimed to throw shade at President Donald Trump, and a heated debate ensued in her comment section, with some followers praising her sense of humor, and others slamming her for calling Hillary "president."
"Pretty sure there's something in the Constitution that says if 'Mariah Carey claims thou as president, then thou is president so…" wrote one user.
Another added, "President Clinton!!! You betta throw all that shade to Mr. Cheeto."
And a third one agreed,
"Yasssss, I didn't know I could love you any more than I do already #wedontknow45."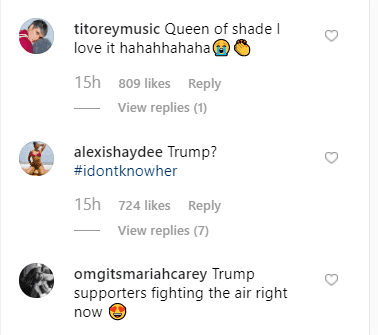 However, some other fans were not that happy with Mariah's words.
"I think I just lost all respect for Mariah," wrote one user. "Artists should keep their political views and opinions to themselves. Just saying."
And another added, "Evil... Been a fan for 30 years and never thought I would see you in a terrible light. This post has me like WTF."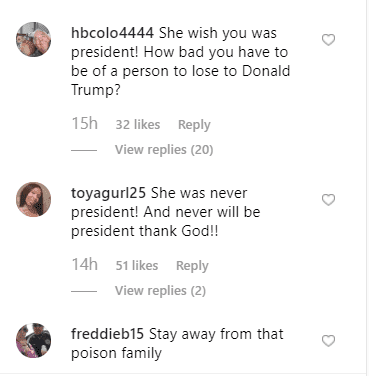 MARIAH'S POLITICAL VIEWS
A few years ago, Mariah confessed to Andy Cohen on "Watch What Happens Live!" that she's often conflicted when it comes to being vocal about her political views, not because she doesn't have them, but because she doesn't think it's her place as a performer.
"It's so hard because I'm just an entertainer," she said. "I'm not a political analyst. So, I don't want to be vocal about my true feelings about all of this, but I have them."
Carey has performed for two presidents as of now, first, for Bill Clinton at the U.S Capitol in 1996, and then for Barack Obama at the National Christmas Tree Lighting ceremony in 2013.
She also showed her support for the 44th president in 2012 in a tweet encouraging people to "Vote Obama."