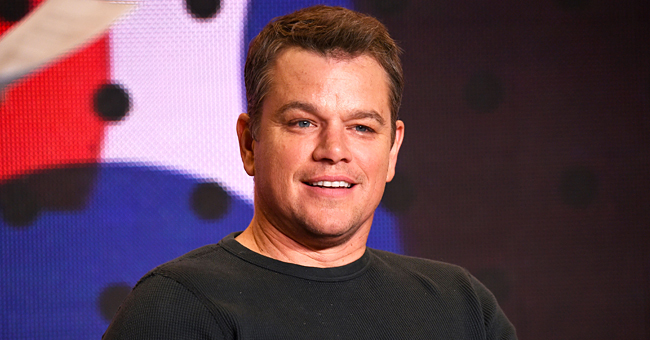 Getty Images
Matt Damon Honors His Daughters as He Gets 4 New Tattoos of Their Names in a New Photo
Famous American actor, Matt Damon recently paid tribute to his four gorgeous daughters by having their names tattooed on his arm.
Winter Stone, the tattoo artist who did the honors took to Instagram to share two pictures, and netizens can't seem to get enough of it!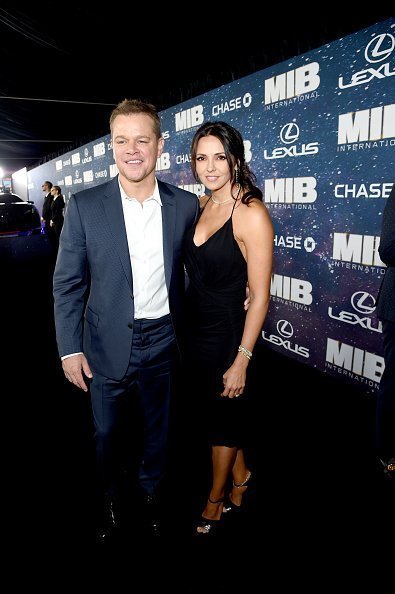 Matt Damon and Luciana Barroso at the ' MEN IN BLACK™: INTERNATIONAL | Photo: Getty Images
The first shot is a closeup picture of Damon's muscled arm which now bears stylish handwriting of his daughter's names.
HOW DAMON FLAUNTS AFFECTION FOR HIS DAUGHTERS
The image being of a black and white tone does nothing to hide the sweet beauty it holds. Stone excitedly shared the photos with a caption which read::
"FOR HIS KIDS. #alexia #isabella #gia #stella Honor tattooing one of my favorite actors! #MATTDAMON."
As observed in the pictures, 'Damon's new tattoo is inked close to the "Lucy" tattoo he has in honor of his wife, Luciana. It seems the actor is now proudly showing off his intimate relationship with the girls, Alexia, Isabella, Gia, and Stella.
They are the products of his years-long marriage to Luciana. Isabella, 14, Gia, 11, and Stella, 9, are the couple's biological children while Alexia, who is the oldest at 21, is a product of his wife's previous relationship.
The widely acclaimed star, however, considers her his, so her name belongs on his arm just like his biological children. The second picture shared by Stone, his skill tattooist is that of himself and the world-famous "Bourne" star.
Also black and white, the picture features a gleeful Damon smiling as he stood with his arms about Stone's shoulders. If nothing else, the joy on his dashingly handsome face shows that he is happy with his new tat.
NETIZENS APPROVE OF DAMON'S NEW TATTOO
While Damon has always had a unique charm to him thanks to his love for family, no one expected this heartwarming display of affection from him.
Just a little after Stone shared them, the shots amassed thousands of likes as well as over a hundred comments. Avid fans of the actor took to the comment section to air their opinions about the new marking.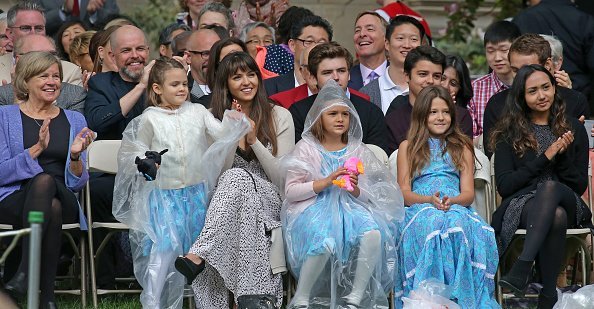 att Damon's wife, Luciana Barroso, and family members at the Massachusetts Institute of Technology | Photo: Getty Images
While many praised 'Stone's talents, a significant number praised Damon's affectionate tribute. One fan, @challlah commented:
"So, dope! Best artist in town linking with one of the best actors in town!"
While another fan, @fofomoyo said:
"Like I needed one more reason to like this guy... I admire your love for your family, Matt! #strongfathersstrongdaughters."
Damon sure has a tight bond with his children, and he has fondly shared that he wants to make sure they grow upright. He told TODAY in 2018:
"'I'm raising my kids to own their mistakes and do better next time and make amends for whatever 'they've done. Next time, you behave differently,"
There is nothing to not love about Damon!
Please fill in your e-mail so we can share with you our top stories!