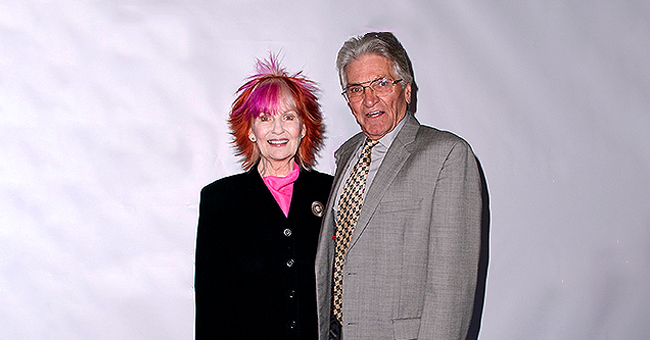 Getty Images.
Paul Petersen and Shelley Fabares: 'The Donna Reed Show' Stars 50 Years after It Ended
For years Shelley Fabares and Paul Peterson starred as teenage siblings on "The Donna Reed Show" in the late 1950s. Even though their lives took different paths after the show ended, both got involved in advocating for the causes they hold dear.
Paul and Shelley's popularity on "The Donna Reed Show" had both try out solo singing careers shortly before the show ended in 1966. Paul had fleeting hits with "My Dad," "Keep Your Love Locked," "Lollipops and Roses," and "She Can't Find Her Keys," while Shelley recorded a #1 hit named "Johnny Angel."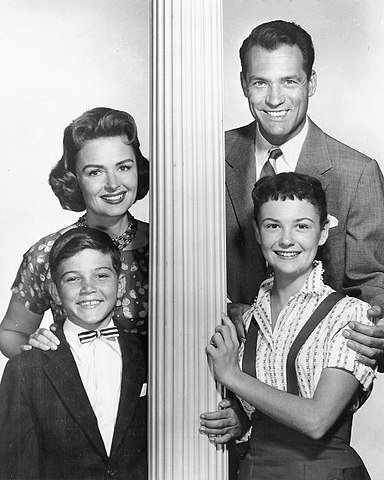 Cast photo from the television program The Donna Reed Show. Standing at back are Donna Reed (Donna Stone), Carl Betz (Alex Stone); in front-Paul Peterson (Jeff Stone) and Shelley Fabares (Mary Stone). | Source: Wikimedia Commons.
Their singing careers never took off, and after the show's demise, Paul and Shelley's lives took different turns.
Left pigeonholed by his role in "The Donna Reed Show," Paul's attempts to transition into an adult actor failed to take hold. In 1967, Paul starred in "The Long Ride Home," and in "Something for a Lonely Man" the following year, along with "Journey to Shiloh."
After his appearance in the 1969 television movie, "Gidget Grows Up," acting roles dried up. With his acting career on the rocks, Paul turned to the writing novels and enrolled at college. He started a limousine business, which he ran for ten years, but Paul also wanted to give back to the acting community.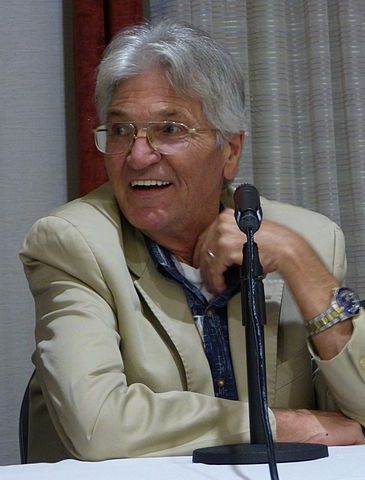 Paul Petersen in 2015. | Source: Wikimedia Commons.
Having experienced the difficulties child stars face in the industry, Paul formed a non-profit outreach organization called "A Minor Consideration" in 1991.
"Created to provide guidance and support for young performers, past, present, and future. With an emphasis on education as well as advocacy for legislation designed to ensure that young performers actually receive the monies they earn," the organization's website states their mission.
Some of the issues Paul deal with include stricter laws regarding child actors working hours, better education, and supporting them through problems.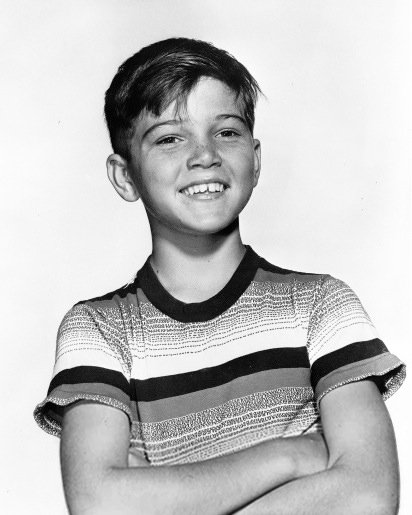 Paul Petersen in 1958. | Source: Wikimedia Commons.
Considered as "the patron saint of former child actors," Paul made it his life's purpose helping others. During an interview in 2017, Paul elaborated on how the idea of the non-profit first came to him.
"When I'd run into people, I noticed some similarities in our life stories — the issues we had to deal with, starting with stage parents; of dwindling fame. Sometimes alcoholism and drug abuse," Paul said. "After the death of three former kid stars, I knew it was time to help. I started, on the morning that I learned of Rusty Hamer's suicide, to call the kids who I knew were in trouble."
The former actor had two children of his own with his middle wife, Hallie Litman, whom he divorced in 1988. First married to Brenda Benet from June 1967 until 1970; Paul married his third and current wife, Rana Jo Platz on December 27, 1992.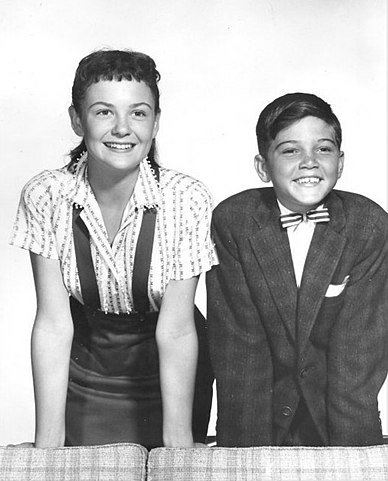 Shelley Fabares and Paul Petersen in 1958. | Source: Wikimedia Commons
Shelley, on the other hand, had no children even though she got married twice. Before "The Donna Reed Show" ended, Shelley married the record producer, Lou Adler on June 7, 1964.
After a marriage of 16 years, the couple split in December 1980. Four years later she married the former M*A*S*H star turned human-rights activist, Mike Farrell on December 31, 1984.
Even though Mike and Shelley first met when she guest-starred on an episode of Mike's series "The Interns" in 1970, their relationship only started when the pair ran into each other at a CBS affiliates convention twelve years later.
"He has expanded my whole world. Nothing in Mike's life is casual. He's very serious," Shelley said during an interview, who had a similar effect on Mike as he added, "There is a light inside her that is just magical. I find her a constant source of rejuvenation."
The actress shone equally bright on the screen. After "The Donna Reed Show," Shelley continued acting and starred opposite Elvis Presley in three movies during the 1960s called "Girl Happy," "Spinout," and "Clambake."
Acting roles dried up for a few years until her next casting in "Brian's Song," in 1971. Steady worked proved to be an issue until Shelley snagged the role of Christine Armstrong in the series "Coach," which came to television screens in 1989.
With her career looking up, Shelley and Mike started building their dream home in 1994, but her life soon took another troubling turn.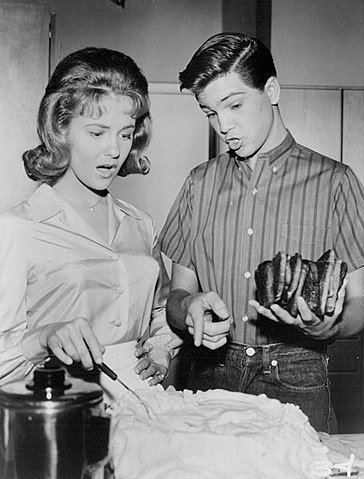 Shelley Fabares and Paul Petersen in 1962. | Source: Wikimedia Commons.
While under construction, Shelley fell through the floor joists of their home-in-progress and broke all the ribs on her left side. During a follow up with her doctor after her fall, and elevated liver count led to the diagnosis of Shelley needing a liver transplant.
Initially manageable with medication, an esophageal bleed in early 1999 reflected the seriousness of Shelley's situation and her dire need for a liver.
"More than half the people on the liver transplant list don't live long enough to get one," Shelley said. "I was very much aware that I was living on borrowed time. The strain was enormous, but there was also a level of acceptance within me. There are no words to express what this experience is like - physically, psychologically, and spiritually."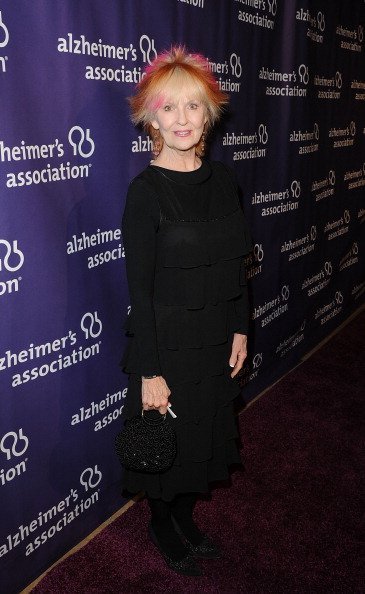 Shelley Fabares attends 'A Night at Sardi's' to mark the 20th anniversary of the Alzheimer's Association at The Beverly Hilton Hotel on March 21, 2012, in Beverly Hills, California. | Source: Getty Images
After waiting 22 months for a liver, Shelley finally got the call on October 23, 2000. When she recovered, the actress continued with her fund-raising for the Alzheimer's Association while she sometimes accompanies Mike on his human-rights campaigns around the world.
Shelley became involved with the association after her mother, Elsa began showing symptoms of the disease during the late 1980s.
Similar to Shelley and Paul, their onscreen mother on "The Donna Reed Show," Donna Reed had an eventful life darkened by severe health issues and legal troubles.
Please fill in your e-mail so we can share with you our top stories!