Jana Duggar Responded to 'Counting On' Fan Who Wished Her to Find a 'Handsome Prince'
Jana Duggar seems to be much less worried about her status as a single woman compared to some of her fans. She cleverly responded to one person who commented on her lack of a relationship. 
Jana Duggar is somewhat of an enigma when it comes to her situation compared to that of a typical Duggar woman. At 29, she's still unmarried and it appears there's no one in her sights right now. 
All of the other adult Duggar women have managed to wed and start their families. As the oldest girl, people are constantly wondering what's going on with Jana.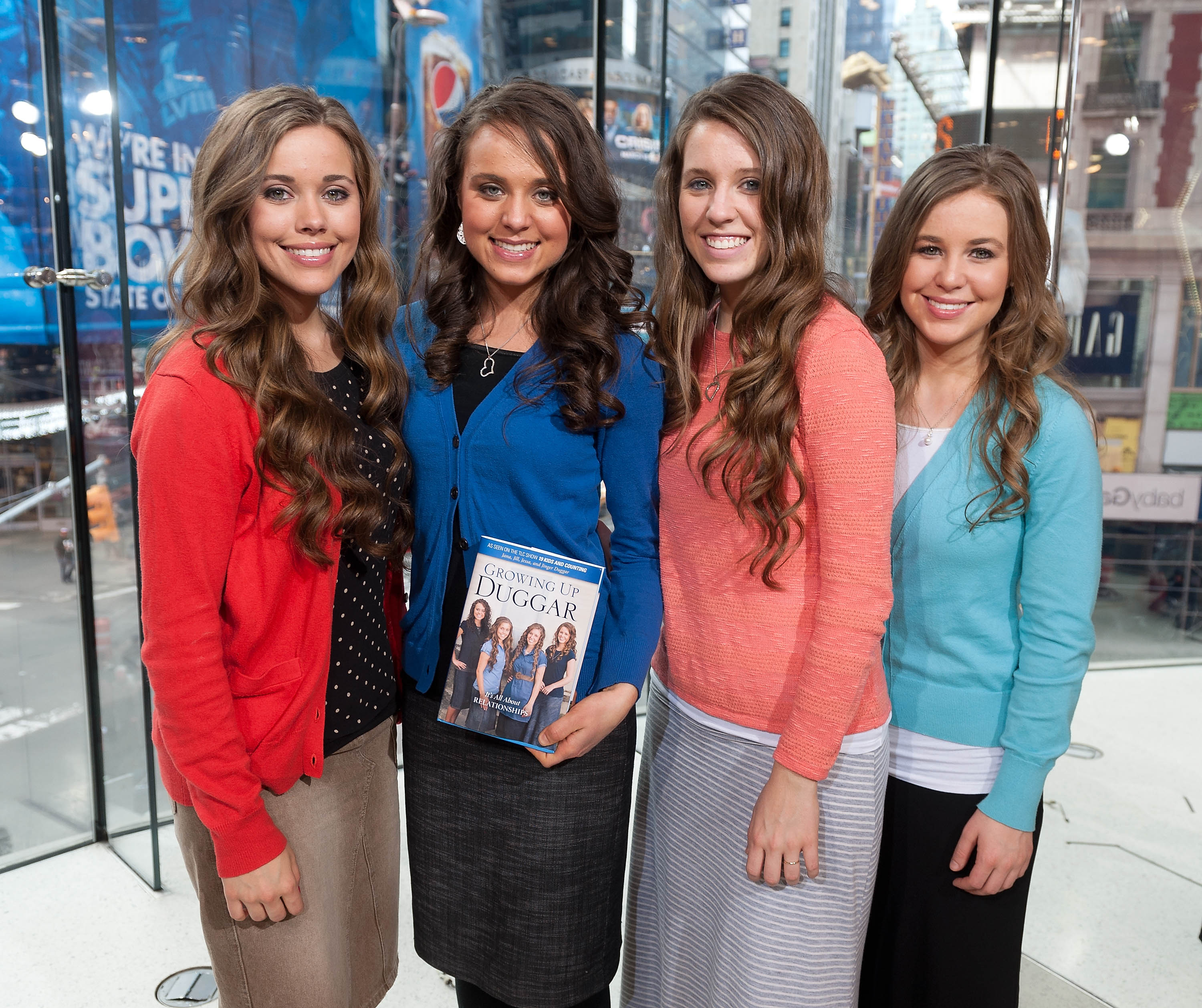 Many fans of the "19 Kids and Counting" star are often bold enough to confront Jana about her glaringly single status — at least as far as a confrontation through a comment goes.
One of Jana's Instagram followers did just that earlier this week. Underneath a lovely beach photo of the reality star, the person wrote: "Would love to see you finding your handsome prince." 
In the sunny picture, Jana wore a striped grey dress and a brown wide-brimmed hat. While other fans focused on the simplicity and beauty of the photo, Jana took the time off to respond to this person. 
She wrote: 
"Maybe he's riding in on a green turtle instead of a white horse. Still searching for Mr. Right. In the words of Michael Bublé, 'Just haven't met [him] yet!' "
Several people supported Jana's response, with many pointing out that it's better to wait for the right person and it was good that Jana is not rushing into a marriage.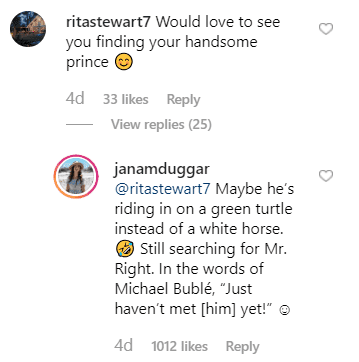 The reality star's singleness is not the only controversial matter for the show's viewers. Another one is that, due to their biblical principles, Jana still lives at home with her parents and helps take care of the younger kids. 
Theories regularly swirl that she will pack and leave her parents' house, but Jana looks to be quite happy with the way her life is organized — she said as much in the caption of the shot which read, "Happiness is a new dress on a sunny beach!"
Plus, she has other things going on for her despite not having a regular job. In addition to helping out with chores and home-schooling, she's also an avid gardener. 
Going through her Instagram, one will see many colorful photos of the results of her hard work. The constant fresh air is undoubtedly an escape from any stress she feels.
Actually, it may not just be a hobby for the Duggar daughter. In May, Jana reportedly filed paperwork for a new business, which would make her the first woman in her family to do her own thing financial-wise. 
According to Cheat Sheet, she is incorporating a business named Arbor Acres group. No description was given in the paperwork so we still don't know exactly what it entails, but it sounds like an outdoor project.
Hopefully, more of the attention placed on Jana will go towards her business rather than her personal life — although it's on-air for the world to see. Seeing as we have as many details about a new relationship as we do about her business, perhaps we can focus on what she's doing for herself. 
Additionally, Jana has addressed baseless claims that she might be a lesbian, so her connection to her best friend Laura should be taken at face value. We do hope that eventually, she does find someone to enjoy life with if that's what she so chooses.