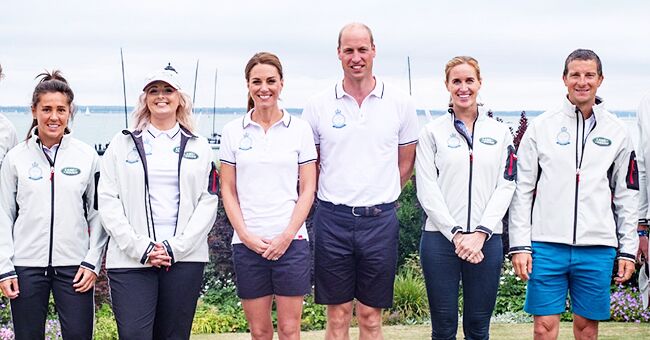 twitter.com/KensingtonRoyal
Kate Middleton and Prince William Raced Other Celebrities for Charity at the King's Cup Yachting Regatta

Kate Middleton joined Prince William at the King Cup's yachting Regatta to go head-to-head with a few celebrities, including Bear Grylls and John Bishop, for different charities.
The Duke and Duchess of Cambridge seemed to have enjoyed their Thursday afternoon at the King's Cup yachting Regatta, along with celebrities who were racing for different causes. The event was initially planned on a Friday but happened earlier after a bad weather forecast.
Everyone wore a white polo top, including Kate Middleton who paired it with navy blue shorts and trainers. Looking simple yet elegantly beautiful, Middleton styled her hair in a ponytail and went for the "no makeup" makeup look in brown eye-shadow and nude lipstick.
John Bishop and Bear Grylls were among the celebrities present to compete against Prince William, who chose the Child Bereavement UK to support, and Middleton, who chose the Royal Foundation and four of her patronages.
Prince George was also in attendance to cheer for his parents who sailed in the regatta. Looking adorable, the six-year-old rocked a little captain's hat with his sister, Charlotte, who was wearing a life jacket. Middleton's father, Michael Middleton, was present as well to watch over his grandchildren.
Noticeably, the little prince is always seen out wearing shorts and never trousers -- and there is a reason behind that. Tradition dictates the aristocracy, upper classes, and the royals to dress young boys in shorts, and only to switch to trousers as they approach a certain age.
"Trousers are for older boys and men, whereas shorts on young boys is one of those silent class markers that we have in England. Although times are (slowly) changing, a pair of trousers on a young boy is considered quite middle class – quite suburban," says William Hanson, etiquette expert.
He revealed that only at eight years old are they considered of age to wear trousers. George's father and Prince William follower the tradition as well when they were younger.
Please fill in your e-mail so we can share with you our top stories!