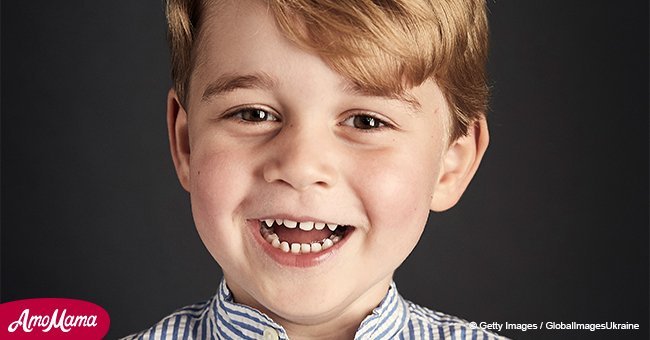 Here's the real reason why Prince George almost always wears shorts and not pants
The young prince is only ever seen in shorts, never trousers, but as with everything in his family, there is a very good reason for this.
Prince George turns 5 next month, and is probably one of the most recognizable children on the planet. As such, it's been easy for royal fans to notice that the young heir to the throne is only ever dressed in shorts.
As reported by Harper's Bazaar, like most strange discrepencies about the British Royal Family, the reason for this is steeped in tradition and is very much considered to be a class marker in England.
Traditionally, the upper classes, aristocracy, and the royals have always dressed young boys in shorts, reserving trousers for them only when they are of a certain age.
Etiquette expert William Hanson has weighed in on what the tradition symbolizes in the United Kingdom.
"Trousers are for older boys and men, whereas shorts on young boys is one of those silent class markers that we have in England. Although times are (slowly) changing, a pair of trousers on a young boy is considered quite middle class – quite suburban. And no self-respecting aristo or royal would want to be considered suburban. Even the Duchess of Cambridge," he told Harper's Bazaar.
Prince George's father, Prince William, and his uncle, Prince Harry, were both also only ever dressed in shorts when they were little.
According to Hanson, they are only considered old enough to graduate to trousers when they turn 8 years old. This is because of the archaic tradition of "breeching."
"A newborn boy would be dressed in a gown for their first year or two (these gowns have survived as the modern Christening robe) and then he was 'breeched' and wore articles of clothing that more resembled shorts or trousers than dresses," Hanson explained.
While there is no need to visually distinguish themselves with these class markers anymore, the royal family chooses to remain traditional in the way that they dress themselves and their children.
The only time that Prince George has ever been seen in trousers was at his uncle Prince Harry's wedding to Meghan, Duchess of Sussex, on May 19
On that occasion, he and the 3 other page boys wore matching outfits - miniature versions of the Blues and Royals frockcoat and trousers that Harry and William wore on the day, made by Savile Row tailors Dege & Skinner.
Please fill in your e-mail so we can share with you our top stories!