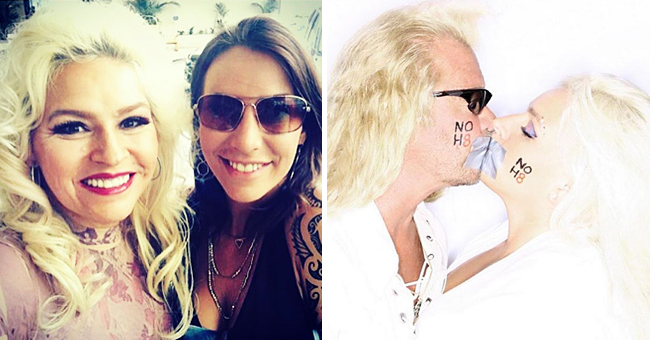 instagram.com/mslyssac
Lyssa Chapman Shares Photo of Late Beth and Dog Chapman Kissing with Duct Tape on Their Mouths to Support Equality

Lyssa Chapman, stepdaughter of late "Dog the bounty hunter" star, Beth Chapman, posts a picture of the deceased in her support of human and gender equality.
The 32-year-old took to Instagram to support late matriarch Beth chapman's constant fight for equality before she died.
The late reality TV star appeared in the picture with duct tape covering her lips and was doing the "hush" sign with her index finger. Lyssa captioned the post:
"Come down to @scarlethnl on Saturday 2-4pm and get your photo taken so you can be amazing and support equality just like us! @noh8campaign #equality #noh8 #ItsALifeStyle."
The post comes after the American businesswoman got a tattoo in remembrance of her step-mother who passed on after losing a long battle with lung cancer.
Following a series of posts gushing about how inspiring the 51-year-old was before she passed, Chapman got the tat as a way of honoring Beth.
She showed off the tattoo via an Instagram story responding to a fan who asked if she was "going to get a tattoo for Beth."
According to Survivornet, Lyssa posted a series of pictures of her and Beth "in happier times". Just about two weeks ago on July 30, the mother of 2 posted a photo of the mother-daughter-duo which she captioned:
"I miss you as deep as the ocean. I'm going thru some shit, and I need you to tell me how dumb I am for worrying."
THE NO H8 CAMPAIGN
The NO H8 campaign is a silent protest against inequality in world organizations. It is a graphic representation of silenced voices that have dared to fight for their rights over the years.
The celebrity photographer, Adam Bouska together with his partner Jeffery Parshley created NO H8 campaign. It is a direct response to the 2008 proposition passed in California, which was set to amend the ban of same-sex marriage.
The campaign has grown to 56,000 amazing faces, one of which includes Beth Chapman before she passed away.
Please fill in your e-mail so we can share with you our top stories!