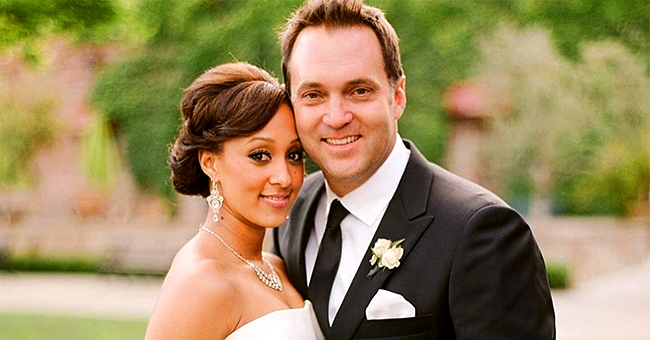 Instagram/tameramowrytwo
Tamera Mowry & Adam Housley's Love Story: Defying Interracial Marriage Criticism

Actress and "The Real" co-host, Tamera Mowry and her husband, Adam Housley have been together for the past eight years despite all the backlash thrown at them over their interracial marriage. The pair revealed how they kept their love story blazing all these years amidst interracial criticisms.
TAMERA AND ADAM'S LOVE CHRONICLE
It will come as a shock that the interracial sweethearts, Tamera Mowry and her husband Adam Housley paired up courtesy of Adam's economics professor. He does not get all the credits though as the former Fox News reporter did the difficult wooing part on his own, including sending the mail that won her over.
They went on their first date on new year's day, 2005 at P.F Changs, and Adams admitted that from that moment, he knew he wanted to spend the rest of his life with her. They kicked off their relationship soon after, and that was the beginning of their interracial public outbursts.
The duo got married in 2011, overlooking all the "racial" junks thrown at them, and it was indeed a hard time to be cyberbullied as hinted by the talk show co-host.
"It was when social media was taking off, and it would come directly to us." Tamera said, referring to the racist comments thrown at them by online trolls at the time.
CHALLENGES FACED IN
Eight years down the line, and after having two kids, the attack on their marriage seems unending. The reality star is renowned for her continuous "Sob story" about the criticisms she gets for marrying a white man.
During a 2014 talk on Oprah's show, "Where Are They Now?" the forty-one-year-old got emotional as she surmised what she has been through with her husband. She recounted:
"It's hurtful because what my husband and I are so openly and we're fine with showing is love. But people choose to look past love and spew hate. That's what hurts me because I've never experienced so much hate ever in my life. Ever… I get called white man's whore. The new one was 'back in the day, you cost $300, but now you're giving him for free.'"
Interestingly, most of these hate comments are from her fellow Afro-Americans. A tweet from 2018 read:
"Tamera Mowry, every time she finds a platform willing to lend her a boom mic to listen to her complain about black people being "racist" to her actually racist husband."
ADAM WAS A FOX REPORTER
The father of two's involvement with Fox News for about 17 years led many to tag him as being racist. But his wife spoke up for him during an episode of "The Real," saying that working for a certain television channel did not make her husband racist.
The 46-year-old, who stopped working for Fox News in August last year also refuted all allegations of being racist via his social media posts.
Following his exit from the news channel, the former baseball player has been able to spend more time with his family.
Earlier in May, the couple announced their upcoming family reality series in an interview with Hollywood Life. The series is centered around the inside life of their family, and they are excited about it.
Please fill in your e-mail so we can share with you our top stories!