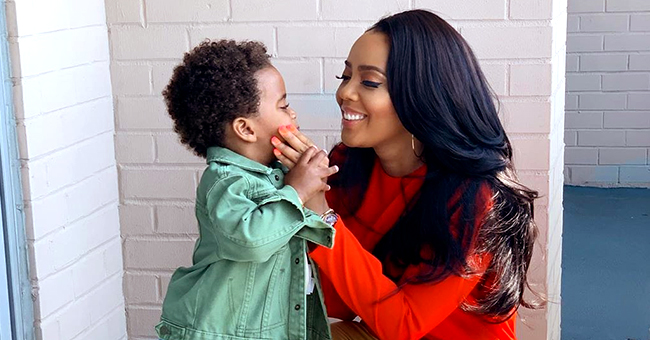 Instagram/angelasimmons
Angela Simmons Slammed for Wearing 'Inappropriate Attire' around 2-Year-Old Son

Angela Simmons is facing backlash after wearing a seemingly inappropriate attire while around her two-year-old son, Sutton Tennyson Jr.
Angela and her son Sutton were out and about in Los Angeles earlier this week, sharing a video of both of them walking on the street.
While she seemed to be showing off her outfit alongside her son's outfit which she shares exuded "Cali vibes," she ended up being criticized for it instead.
Instagram Users on her Outfit
Dressed in a neon t-shirt dress with a wide belt around her waist, people felt it was definitely not something you should be wearing around a child.
"@1timeless_classic: I bet that baby wonder why his momma is pantsless. That's weird. Smh y'all do too much for IG I swear."
"@718husla: Lil man loon like "mom did you have to dress like this"
"sixxiluv79: Where is the rest of your clothes? Smh. Why Angela? Why? You doing too much baby girl. What is the weather? I'm confused. Thought high winter boots in the summer for one is outta pocket. The tshirt is outta pocket. Issa no for me. Just be you boo. You're beautiful."
"@gwennwilliams: She went to his school looking like that, call the police!"
Regardless of whether or not Angela's a good mom to Sutton, though, he's been excelling in school.
She would share videos of her and her son practicing with flashcards, as he perfectly pronounced the words she'd show.
On Sutton's Speech Ability
At first, Simmons revealed she was worried because her son took a while before he finally spoke.
"For a while, my little one was taking his sweet time talking. It worried me. I did everything I could to assure his speech."
She adds that she and her son would regularly do flashcards so that he could familiarize himself with speaking more and more, and it's made all the difference.
"And he has come a long way. I do flash cards with him every day. Super proud of his growth. He is bilingual. So he knows Spanish as well. So I couldn't be prouder of how he is developing."
Please fill in your e-mail so we can share with you our top stories!