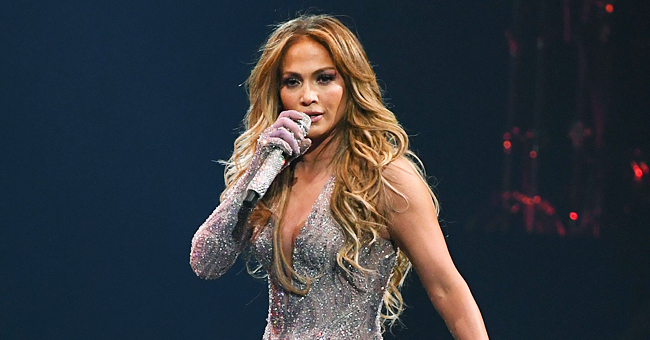 Getty Images
J-Lo, 50, Reveals Curves in Sparkling One-Legged Jumpsuit at First Concert in Egypt

On Friday, Jennifer Lopez dazzled fans in a sheer sequined leotard that showed off her ageless figure, at her first-ever concert in Egypt.
The 50-year-old musician was in the Middle East for her first-ever concert in Egypt, and she performed 20 years worth of hits.
J. Lo, as her fans fondly call her, flaunted her beautiful figure in several revealing outfits throughout her electrifying performance.
But her most iconic outfit was a sheer unitard, that extended up to one arm and down one leg. The unitard was bedazzled with sequins and rhinestones and featured a plunging neckline that reveals her cleavage.
She wore a pair of skin-colored fishnet stockings down her other leg and kept her accessories to the barest minimum in a bid to not detract from her shimmering outfit.
The star performed with a studded microphone, that blended well with her already shimmering suit.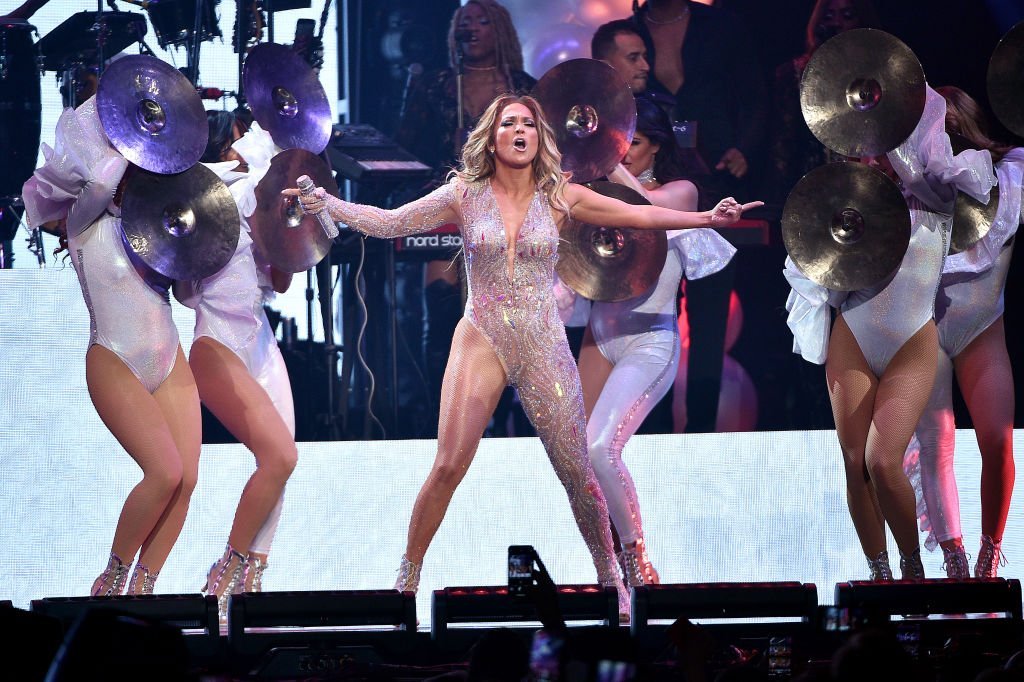 ennifer Lopez performs onstage during the It's My Party Tour at Madison Square Garden | Photo: Getty Images
She later got dressed in a stylish white crop top, combining it with a shimmering sheer unitard that was worn underneath it.
At one portion of the night, she whipped out a pair of faux gold brick-shaped guns and excited the audience by shooting out JLo branded faux $100 bills.
She also slayed in a glittering crimson bra and a matching crimson skirt. The flowing skirt featured a high-cut slit that displayed her toned legs.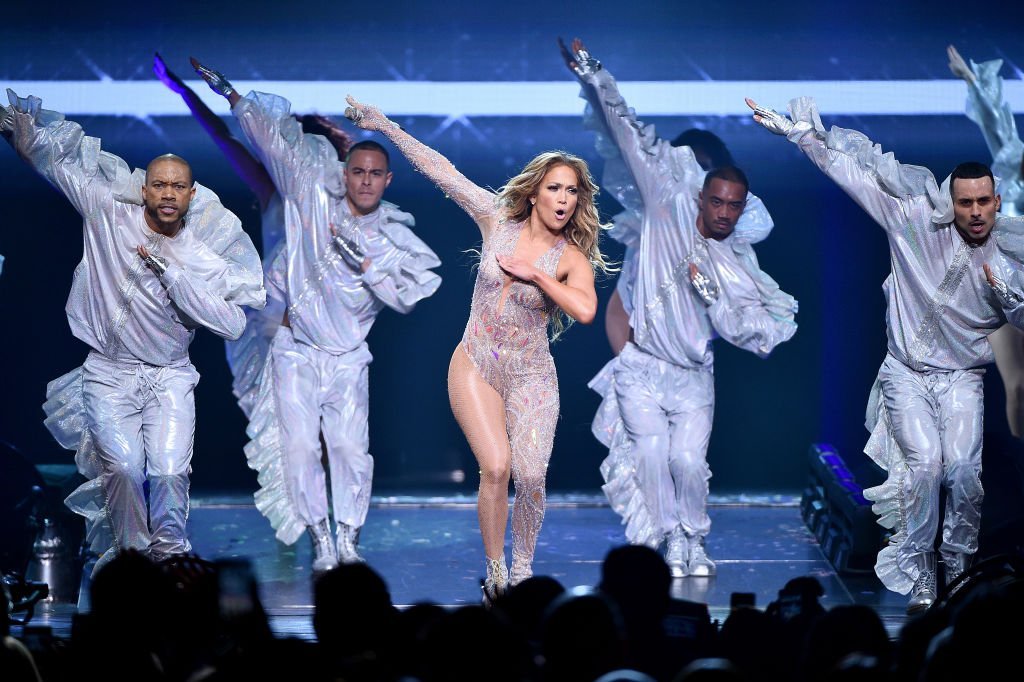 Jennifer Lopez performs onstage during the It's My Party Tour at Madison Square Garden | Photo: Getty Images
The theme of her outfits for the night was undoubtedly dazzling, shimmer and pop, because the shiny blue outfit which she slipped into at one part of the night was all of these. The all-blue outfit consists of a fringed leotard, thigh-high boots, and a jacket.
EARLIER PROTESTS OVER THE EGYPT CONCERT
Her first-ever concert in Egypt was a significant success despite several protests by anti-Israel groups to scrap the show because of her recent appearance in Israel.
The Egypt concert which held north of Cairo had about 2,000 people in attendance, including Egyptian celebrities, and government ministers, according to a CNN Arabic report.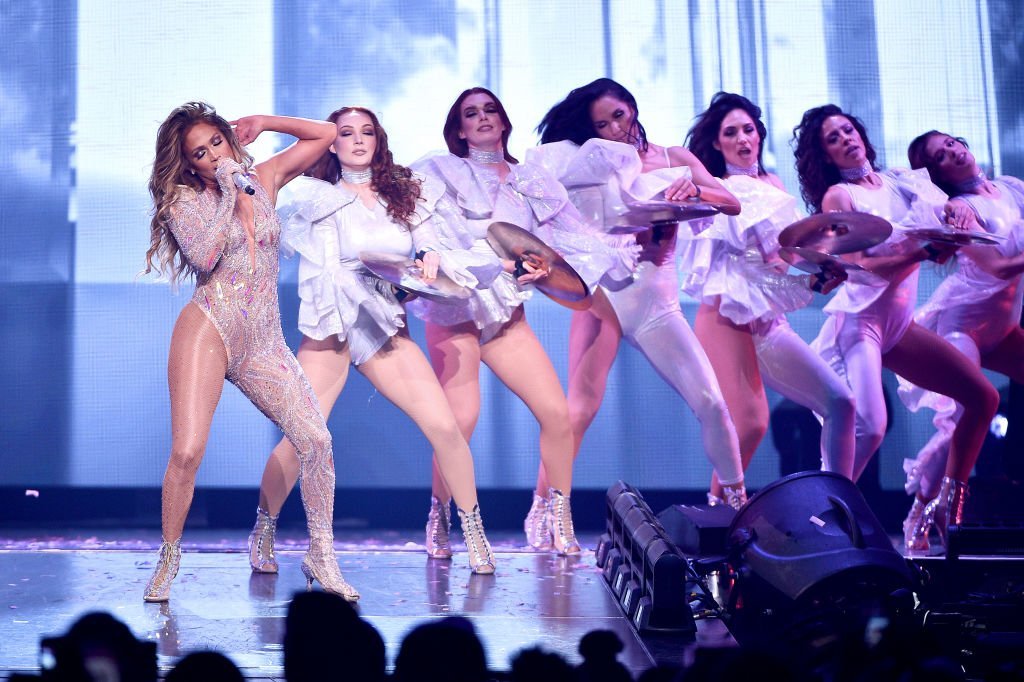 J-Lo, 50, Reveals Her Iconic Curves in a Sheer Sparkling Jumpsuit at Her First Concert in Egypt | Photo: Getty Images
The crowd is significantly lower than the 50,000 - 60,000 people that showed up for her concert in Tel Aviv on August 1.
Because of the Tel Aviv concert, many Egyptians were angered by her show of love and support for Israel. One of the most vocal anti-Israel groups is the BDS (Boycott, Divestment, Sanctions) movement.
The group released a statement days before JLo's concert at Tel Aviv, as reported by Egypt Independent, condemning the concert and calling for its cancelation.
The group also claimed that the show is an express endorsement of Israel's abuse of human rights.
Please fill in your e-mail so we can share with you our top stories!