Jennifer Lopez Cuddles with Her Twins during 'It's My Party' Tour Stop in Chicago
Jennifer Lopez shares her best moments cuddling with her adorable twins, Max and Emme.
Singer and actress Jennifer Lopez may be a superstar, but her best moments are not on screen or on stage.
Lopez's greatest joy is cuddling her twins 11-year-old Max and Emme, and nothing gets in the way of her downtime with her children.
JENNIFER LOPEZ CUDDLES HER "COCONUTS"
Jennifer posted an adorable snap on Instagram taken in Chicago in which she is lovingly cuddling her two children. The family was in Chicago for Jennifer's  It's My Party world tour. 
The star is casually dressed in a grey hoodie, with no makeup, and her long tresses swept up into a casual ponytail.
"Me and my coconuts," she captioned the post.
Alex, who had two daughters of his own, proposed to Jennifer after two years of dating
SWEET INSTAGRAM VIDEO SHOWS JENNIFER KISSING MAX
In another Instagram video which has since been removed, Jennifer is seen giving son Max love, hugging him and planting a kiss on his little nose. 
TWINS RUN IN THE FAMILY
Jennifer shares the twins with her third ex-husband, celebrated salsa singer Marc Anthony.
Jennifer revealed that twins run in her family and that her Catholic beliefs precluded her using in vitro fertilization treatments to get pregnant.
"My sister also had twins, so it's a hereditary thing," she said.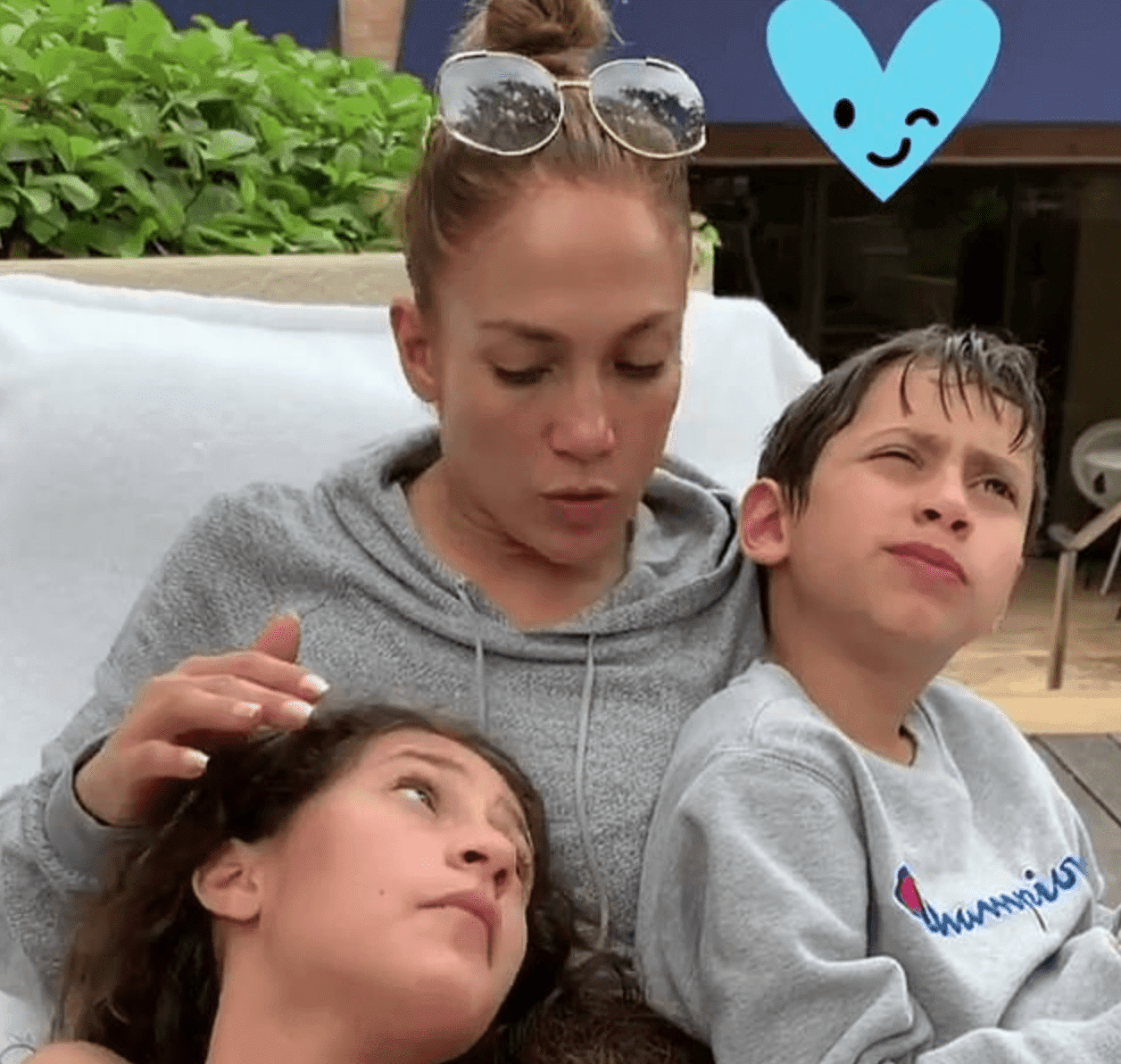 ONE BIG HAPPY BLENDED FAMILY
Marc Anthony and Jennifer Lopez have a great relationship, and the singer posted Father's Day tributes to both her ex-husband and her fiancé Alex Rodriguez.
Alex, who had two daughters of his own, proposed to Jennifer after two years of dating with a stunning emerald-cut diamond ring, said to have set the former baseball player back a cool $4.5 million. 
Alex's daughters Ella, 11, and Natasha, 14, love their future stepmom and get on beautifully with Max and Emme.
We can't wait for the announcement of Jennifer and Alex's big day.
EMME JOINS MEGASTAR MOM ON STAGE
Jennifer Lopez "It's My Party: The Live Celebration" tour exceeded fans' expectations when she was joined on stage by her daughter, Emme.
Emme Maribel Muñiz. who is now 11-years-old stepped out in a gorgeous red gown that matched her mother's and sang a duet with Lopez.
The two belted out the song "Limitless" from Lopez's movie "Second Act," and Emme proved that she has inherited her vocal talents from her mom, and her father, singer Marc Anthony.