Tori Roloff Posts Sonogram Photo of 2nd Baby and Says She Has Some Muscles
"Little People, Big World" star, Tori Roloff is pregnant with her second child, a baby girl, who is due for delivery in November.
Her baby would be an active child, as a sonogram picture shared by Tori revealed. Tori Roloff and her husband, Zach, are expecting baby number two, after Jackson's birth in 2017.
The couple has been in the preparatory mood for their baby girl's arrival, as there have been several posts from them, especially Tori, on social media.
Her latest post featured a sonogram photo of the baby in the womb, which showed the unborn baby flex some muscles. 
TORI'S POST
The reality television star shared her baby's sonogram photo on her Instagram story. The image showed the baby's muscles all flexed up, prompting Tori to caption it with the words:
"Girl has got some muscles."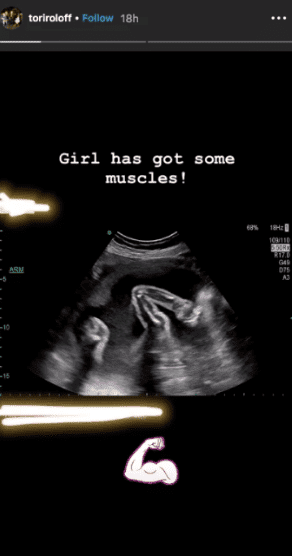 With the view of the baby's flexed muscles, not many can argue with Tori's caption. The star would have her hands filled when her baby is born in November, turning her household into a family of four.
TORI ADMITS HER 2ND PREGNANCY IS A LOT HARDER THAN THE FIRST
Tori and Zach announced that they were expecting a second child in May. Since then, more posts have followed.
One particular post that got the attention of many of her fans was that in which she revealed that her second pregnancy was more difficult than her pregnancy with Jackson.
That revelation came in an Instagram post, which had a beautiful picture of her and her two-year-old son.
In the caption that followed, she thanked the photographer for taking a beautiful shot of her and her son, as her pregnancy hasn't made her the best of herself lately. 
She continued by saying that the photograph made her feel beautiful and confident and that she would be sharing the picture for the unforeseeable future. 
Before that particular post, Tori had made previous posts where she revealed that she was experiencing all the symptoms of pregnancy with her second pregnancy.
This is a far cry from what she experienced during Jackson's pregnancy, where she experienced no symptoms apart from egg aversion. 
ZACH HAS BEEN VERY SUPPORTIVE
Through all her difficulties, Tori maintained that her husband, Zach, has been very supportive. She lauded his contributions towards the family's upkeep, especially with taking care of Jackson, in a sweet post she made on the occasion of their fourth anniversary.