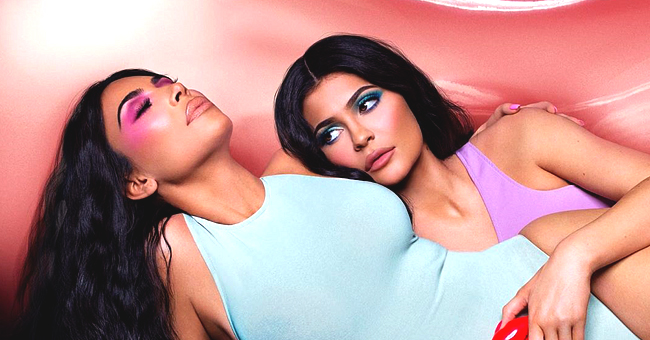 instagram.com/kimkardashian
Kim Kardashian and Kylie Jenner Pose Together in an Advert for Their New Perfume Collaboration
Fashion Mogul, Kim Kardashian, posts a steamy picture to mark her first perfume collaboration with sister, Kylie. Two years ago, Kim and Kylie, revealed that they would be working together on their very first fragrance.
The news was met with much excitement at the time! That is mostly because Kylie's previous collaboration with her sister Khloe gave the world, both fans and critics alike, a lot of new lip shades to obsess over.
Now the two contour queens are back and have made good on their promise.
That was made evident in a post uploaded by Kim on her Instagram page on Monday.
The picture featured Kylie affectionately cuddling her older half-sister, Kim Kardashian while holding the "red-lip shaped" perfume container against her hips.
According to Kim, the previous date assigned to the launch of the anticipated brand came so late because they "did not pass durability tests on the assembly line."
However, thanks to the caption, fans now know exactly when to expect the fragrance; Kim wrote:
"You thought we forgot about you??? KKW X KYLIE perfume coming August 23rd!!!!"
She then went on to promote the various fragrances with various short video clips on her Instagram story. Among her posts for the ad campaign were descriptions of the three different fragrances titled after lip colors: red, pink and nude.
The nude one reportedly contains Tahitian vanilla, vibrant amber, and is said to have a musky scent. The red fragrance, however, boasts an opulent white floral scent with a vanilla bean, red cedar, and luxurious musk finish.
And the last pink fragrance contains a solar floral coconut with creamy coconut, pink musk, sandalwood, and also boasts a liquid amber finish.
The ad campaign was released just hours after lipstick model Kylie, posted more pictures from her fun-filled birthday getaway.
The 22-year-old Instagram sensation reportedly rented the eye-catching superyacht named "Tranquility" for the birthday getaway.
There were rumors that Kylie and Travis may be tying the knot with reports that she had a white dress with an extravagant train moved onto a plane.
The rumors were laid to rest when the alleged wedding dress was discovered to be a glamorously feathered birthday gown!
The fabulous fragrance collection will make its debut on Friday, August 23. That is, however, not nearly soon enough for those who are impatient to get their hands on them.
Please fill in your e-mail so we can share with you our top stories!