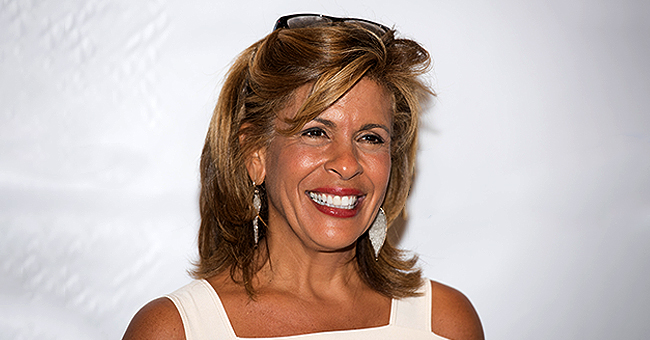 Getty images
Hoda Kotb's 2-Year-Old Daughter Helps Mom Blow out Candles during Her 55th Birthday

Hoda Kotb turns 55 and has a special helper to blow out her candles.
Fans of "Today Show" host Hoda Kotb were delighted with the post she shared on Instagram, that showed her celebrating her 55th birthday.
The celebrity, who is on maternity leave since adopting a second child in April, is glowing with joy and living one of the best moments of her life.
HODA'S BEST BIRTHDAY EVER
Hoda shared a series of adorable photos and a video, that shows her and a few friends gathered around the table and a bright yellow birthday cake which read "MOM."
Happily singing "Happy Birthday" and getting ready to help blow out the candles in Hoda's oldest child Haley, 2.
12 years ago, Hoda's current happiness would have seemed an impossible dream
FANS GO WILD OVER BIRTHDAY POST
Since Hoda published her birthday post it garnered over 120,000 likes and thousands of comments from well-wishers.
"Happy Birthday Hoda, what a great job singing Haley. I cannot believe how big she is getting and how long her hair is. Beautiful family Hoda."
"Happy Birthday Hoda....I love how you choose joy! I bet no hurry to get back on tv either"
HODA KOTB'S STORY OF LOVE AND HOPE
12 years ago, Hoda's current happiness would have seemed an impossible dream to her.
In 2007 she was diagnosed with breast cancer and underwent a mastectomy and reconstructive surgery. Motherhood seemed to be out of her reach after the treatments, but in February 2017, Hoda adopted a baby girl named Haley Joy Kotb.
The reporter, who has been in a committed relationship with New York financier Joel Schiffman for six years has now taken the plunge and adopted another little girl, Hope Catherine Kotb.
Happy Birthday, Hoda, and may your life be ever filled with hope and joy.
HODA KOTB SHARES FIRST PHOTO OF DAUGHTERS TOGETHER
Hoda Kotb shared the first photo of her two girls together, with Haley, 2, playing the part of the big sister with obvious pride.
In the photo, Haley holds a baby bottle for little Hope to suckle on and cradles the tiny head with a careful hand.
Hoda, sitting next to her treasures, sports the biggest, happiest smile possibly ever captured on camera.
Hoda and her partner Joel Schiffman are delighting in every second of their adventure as parents to these adorable little mites.
Please fill in your e-mail so we can share with you our top stories!