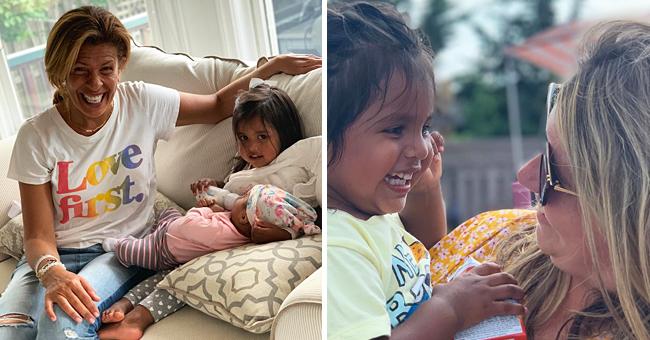 instagram.com/hodakotb
Hoda Kotb's Daughter Haley Joy Sings 'Happy Birthday!' to Her Mom's Friend Katie Ryan

54-year-old Hoda Kotb's toddler, Haley Joy recognizes her mother's friend's birthday, as she sings to her in an adorable video.
Recently, Katie Ryan celebrated another year on earth, and her buddy's family presented her with the most appreciable gift.
2-year-old Haley appeared in an online video, churning happy birthday lyrics to Katie, at the end of the clip, the youngster blows out a candle.
Her mother, Hoda, posted the video, and the TV star caption revealed that her family loves her pal, Katie. It reads:
"Happy birthday lovely Katie!!!! We love you, @katieryan18. Swipe for your song! Xoxo."
Haley wasn't the only one to wish Katie well on her day, the "Today" co-host's post was greeted with an array of wishes from her Instagram followers.
It seems that as a birthday is to cake, Haley Joy is to singing, as this is not the first time Haley will be performing with her young, sweet, and melodious voice.
Last year August, during her mother's birthday, the young chap did serenade the celebrant with the happy birthday tune. Both mother and daughter sang along to the popular happy birthday rhythm. Their performance was filmed and uploaded on Hoda's page.
Towards the end of the clip, the one-year-old who was locked in her mama's embrace began to clap, and when she asked who the song was for, she said "mama!"
The TV anchor's 54th birthday celebration was seasoned with appreciation and well wishes from family and friends. Her mother, Sameha, woke up as early as 3 am to wish her daughter a happy birthday. Friends gathered around her later in the day for a little party.
It was indeed a fun day for Hoda, as she got to dive in her massive black and white cake. The party continued with an "eat out" by the celebrant's family and close-knit friends, and her upload read:
"Family in town for a fun bday weekend!!!"
Hoda's excitement heightened as a result of the important individuals she has in her life, during her 54-year birthday celebration, she had her lovely one-year-old Haley and 59-year old lover, Joel, who has been with her through thick and thin support her.
This year, the couple celebrated a milestone in their love relationship by marking the sixth anniversary together. The onscreen diva wasted no time to show the world of social media how well she and her longtime partner are faring even without being married.
Haley's mom suffered some infertility issues after her battle with cancer for about a decade. Hoda went on to adopt Haley Hope last year, and in the early months of 2019, adopted her second daughter, Hope Catherine.
Series of "Today's" host post shares how her family is getting along with the new addition and Haley happens to be a good and caring big sister.
The happy mom also shared on the fourth of July her family's outing and how they supported the parade and the independence celebration.
She adorned her girls' stroller in American themed flags and stepped out in a multi-colored dress along with her mother, and lover.
The adorable Haley Joy might be the next Beyonce, who knows, and she'll be right to say that she started her musical career at age 1!
Please fill in your e-mail so we can share with you our top stories!