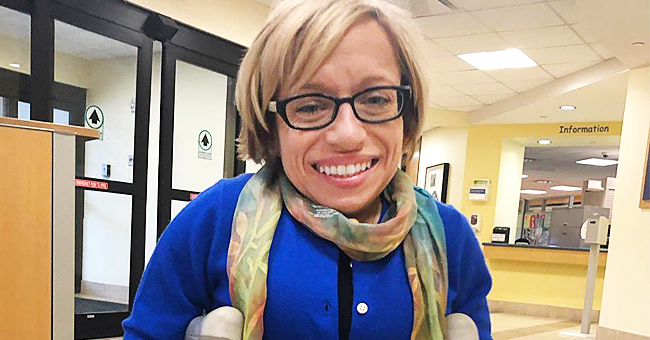 instagram.com/jenarnoldmd
Jennifer Arnold's Fans Calls Her a 'Fighter' after Seeing Her on Crutches in a New Photo
Jennifer Arnold, one of the stars of TLC's "The Little Couple," has recently taken to her official Instagram page to share a photo of herself on crutches.
The show's brand new season premiered on August 6 and started with one of the most nerve-wracking moments ever considering that Arnold was submitted to a hip replacement surgery.
The procedure was Arnold's 35th so far and fans couldn't help but praise her for her courage and positive attitude, going as far as to describe her as a fighter.

Photo: Instagram/jenarnoldmd
THE SURGERY
In the photo, the 45-year-old can be seen at the hospital following the surgery. Despite the tough moment in her life, she still sported a brave smile.
In the last episode of "The Little Couple," Arnold met with the surgeon who explained that they would be revising her right hip which had some loose components and was, overall, worn out.
"I worry about the technical aspects of the surgery, making sure the components fit. We have to have very special components available to fit her size. And she has a very difficult airway, so we have real concerns from an anesthetic standpoint."
Although the moment was quite scary for the mother-of-two, Arnold still put on a brave face, which contrasted with her husband's. Bill Klein was afraid of losing her on the table.
EXTREMELY WORRIED ABOUT HIS WIFE
During the episode, Klein said that there are several risks associated with any major surgery and that skeletal dysplasia, the condition they both have complicated everything.
He said:
"Part of me knows exactly what it feels like, and part of me is just sick to my stomach that I'm watching her have to go through it."
A FAMILY THAT STICKS TOGETHER, HAS FUN TOGETHER
Fortunately, everything worked out well and Arnold is now focused on making a quick recovery so she can go back to focusing on her career and family.
The surgery came just a few days after they spent some quality time at Camp Korey, a free-of-charge camp that seeks to empower children and families living with serious medical conditions.
Please fill in your e-mail so we can share with you our top stories!