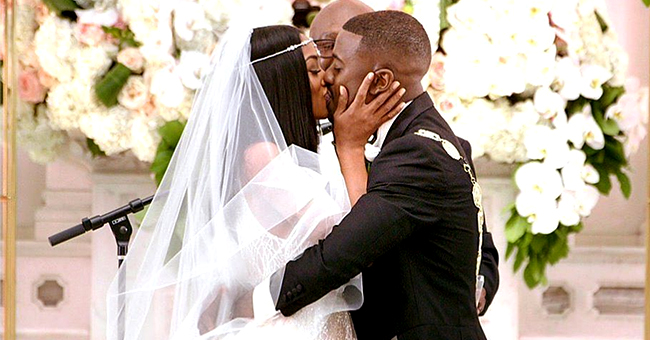 Getty Images / Instagram.com/princesslove
Ray J and Princess Love Share Sweet Tributes on Their 3rd Wedding Anniversary

Ray J and Princess Love are celebrating another year together, and the lovely couple made sure to gush about one another on social media on their special day.
It's been quite an eventful marriage for Ray J and Princess Love so far, as they've experienced many firsts. This includes welcoming their first child, Melody Love Norwood, who recently turned a year old, growing their business empires, and continuing their reality TV careers.
Greetings of Love
Reminiscing a little bit about their wedding day, Princess Love shared a picture of them kissing at the altar, before sharing the simple way they decided to celebrate their anniversary: a cozy dinner at home.
Of course, their celebration wouldn't be complete without gifts, coming in the form of Chanel and two other undisclosed presents still wrapped in their packaging.
Meanwhile, Ray J celebrated their anniversary by posting a photo of their little family, expressing his love for his wife and all that they've built together through the years.
"3 years strong! Happy anniversary [Princess Love] - God blessed us with such a beautiful angel [Melody Love]! #Blessed #happyanniversary"
A Milestone for Melody Love
Recently, the Norwoods celebrated their darling daughter's first birthday in Disneyland, where they had a fun-filled day with their family.
They posted photos of their daughter's day on Instagram, enjoying all the different attractions that Disney had to offer and by taking photos with the different character mascots that were in the park.
While Ray J greeted his little princess by calling her the most beautiful girl in the world, Princess Love shared a longer greeting, sharing how proud she is to watch her daughter grow the way she has, and how she'd always be her baby.
Many comments trailed the proud parents' posts, with well-wishers wishing their beautiful daughter a wonderful celebration and also attesting to her cuteness and beauty.
"@ittybittytoes: Happy belated birthday, princess!! We wish you the best of everything and we cannot wait to hit many more milestones with you."
"@alyjaxn: Look at all that pretty hair. She's so cute. Happy Birthday Melody!"
Please fill in your e-mail so we can share with you our top stories!