20 Little-Known Facts about 'Bewitched'
"Bewitched" became a popular sitcom during the 1960s and drew viewers into the magical world of suburban the couple, Samantha and Darrin. While viewers get to see the final product, behind the scene events are a different story. Here are 20 less-known facts about the show.
1. THE FAMOUS TWITCH
Elizabeth Montgomery famously played the witch-turned-housewife, and her twitching nose soon became synonymous with the show.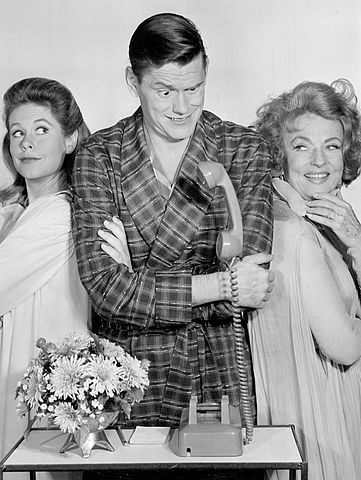 As it turns out, her wriggly nose is nothing more than a camera trick. Looking closely, one can see it's her mouth moving, and not her nose.
2. ELIZABETH MONTGOMERY & WILLIAM ASHER
In real life, Elizabeth married William Asher, the director of "Bewitched" in 1963, the year before the show first aired. However, the couple parted ways a year after the show's eighth and final season in 1973.
3. A HIDDEN PREGNANCY
During the show, Elizabeth got pregnant three times. While two of the three pregnancies got written into the show, her first pregnancy during the first season got hidden by progressively looser clothing.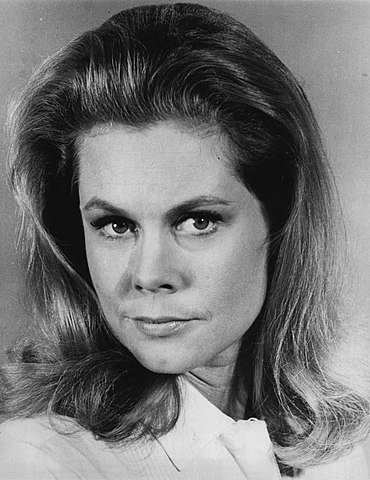 4. TABITHA'S NAME
Elizabeth Montgomery gave Erin Murphy, her on-screen daughter's name as she told Harpiesbizarre in 1967:
"I loved it because it was so old-fashioned. I got it from one of the daughters of Edward Andrews, the actor. The two Andrews girls are named Tabitha and Abigail. But, somehow or other, her name came out 'Tabatha' on the credit roll, and that's the way it's been ever since. Honestly, I shudder every time I see it. It's like a squeaky piece of chalk scratching on my nerves."
5. MOST OF THE SUPPORTING ACTORS WORE THEIR OWN CLOTHES ON SCREEN
The supporting actors would give the wardrobe department their clothes a week in advance, so they had time to clean and press it before the actors wore it during filming.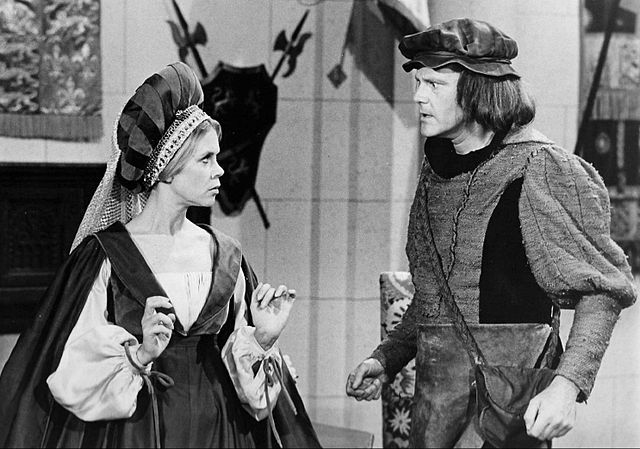 Agnes Moorehead often wore a starburst brooch set in 8.5 carats of old-mine diamonds. Admired by her onscreen daughter, Elizabeth Montgomery, Agnes bequeathed it to her when she passed away in 1974.
6. THE DOORKNOB COLLECTOR
Marion Lorne became known as the loveable Aunt Clara with an unusual fascination with doorknobs. Based on her real-life fetish, Marion owned a vast collection of more than 1000 antique doorknobs.
7. MANY TABITHA'S
During the second season of the show, five different babies played Tabitha. While Cynthia Black got used for the first episode, twins Heidi and Laura Gentry took over after, followed by another set of twins, Tamar and Julie Young.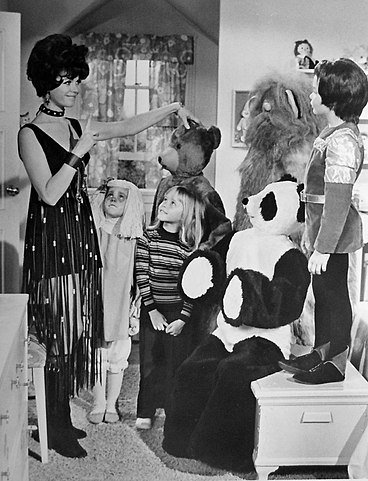 When the third season started, Erin Murphy and her sister Diane got the part, with Erin eventually taking over the role full time.
8. BIBLICAL NAMINGS
The two leading characters, Samantha and Endora, got their names from the bible. I Samuel 28 tells the story of Saul consulting the "Witch of Endor" so he can bring back the spirit of Samuel.
9. TWO ASSASSINATIONS
The filming of the shows pilot episode in 1963 got halted when President John F. Kennedy got assassinated. Bill Asher and Elizabeth had been friends of the late president, and she had a difficult time focussing on filming. When Martin Luther King Jr. got assassinated five years later, they had to cancel filming that day as well.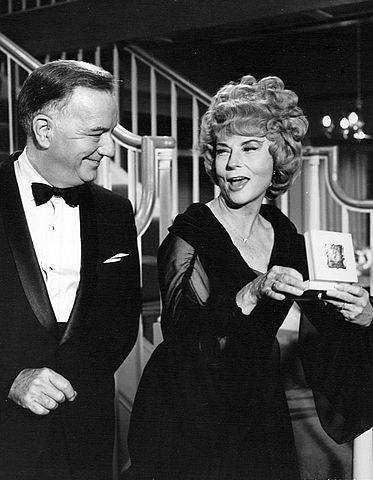 10. ALICE PEARCE HID HER TERMINAL CANCER
Alice Pearce starred as the nosy neighbor that preferred keeping things to herself in real life. Four months before she got cast as Gladys Kravits, Alice got diagnosed with ovarian cancer.
After she had surgery, doctors said that her condition is terminal, but she kept her condition for everyone on the show.
Despite showing signs of fatigue, no one suspected that she had cancer. Two months after her death on March 1966, Alice got awarded an Outstanding Supporting Actress Emmy Award.
11. "BEWITCHED" GOT INSPIRED BY TWO MOVIES.
The show's creator, Sol Saks got  inspiration for the script from two films, "Bell, Book, and Candle," and "I Married a Witch."
While Columbia Pictures own both movies, Sol didn't worry about similarities, as Columbia Pictures also owned Screen Gems, the company that produced "Bewitched."
12. TWO CHARACTERS FOR ELIZABETH MONTGOMERY
While Elizabeth starred as Samantha, she also played her cousin, Serena, who liked prancing around in short skirts with short black hair.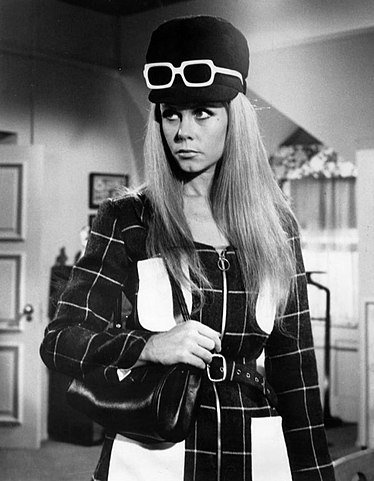 Even though people knew about Elizabeth's dual roles, a made-up actress called Pandora Spocks got credited for playing Serena.
13. TAMMY GRIMES ALMOST GOT CAST AS THE SHOW'S WITCH
Because Tammy Grimes had been under contract to Screen Gems in 1964 and won the Best Actress Tony Award three years prior, the studio wanted her to star as Samantha.
However, Tammy didn't like the concept, and when she disagreed with producers over the direction of her role, Tammy accepted a Broadway role in "High Spirits," and the part got recast.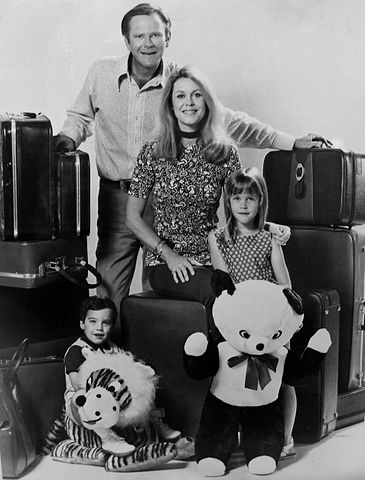 14. RICHARD CRENNA ALMOST STARRED AS DARRIN
While the studio still had Tammy Grimes lined up to play the lead, producers looked at Dick Sargent to play her onscreen husband, Darrin. But he took another job offer, and the role then got offered to Richard Crenna. 
Because Richard had just finished several years on "The Real McCoys," he passed on the offer, and the role then went to Dick York.
15. DICK YORK LEFT THE SHOW BECAUSE OF HEALTH ISSUES.
On the last day of filming "Cordura," Dick suffered an injury that tore most of the muscles on the right side of his back while his spine never fully recovered.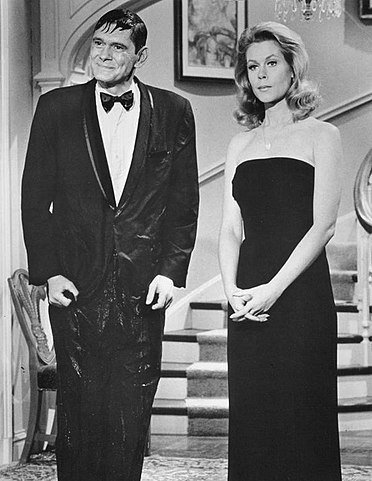 While no medical treatments existed to help Dick at the time, the only thing specialists could do is supply him with increasingly stronger pain medication.
Dick suffered from terrible pain throughout the first four seasons of the show, but then he had a seizure during the filming of an episode of the fifth season. 
The actor got rushed to the hospital and never returned to set. After a few episodes without Darrin, Dick Sargent took over the role.
16. MOOREHEAD AND YORK BECAME CLOSE FRIENDS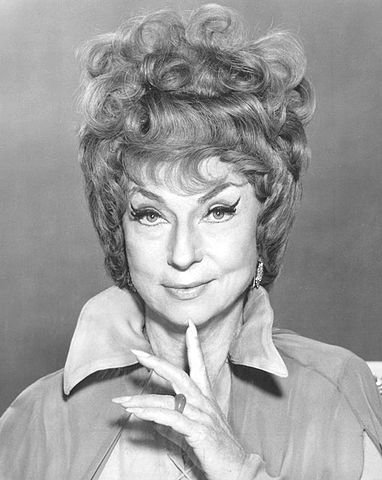 Agnes and Dick's onscreen characters barely tolerated each other, but in real life the two became friends. She admired Dick's acting talent and looked up to his New Age spirituality since she is a religious Fundamentalist herself.
17. DICK YORK'S DEATH
Some misconceptions surrounded Dick's eventual death. Known to be gay, rumors had it that Dick died from AIDS when prostate cancer turned out to be the real cause.
18. ANOTHER REPLACEMENT
Dick York left the show without any explanation for the network, and so did Glady Kravitz. The actress got replaced by Alice Pearce and then by Sandra Gould.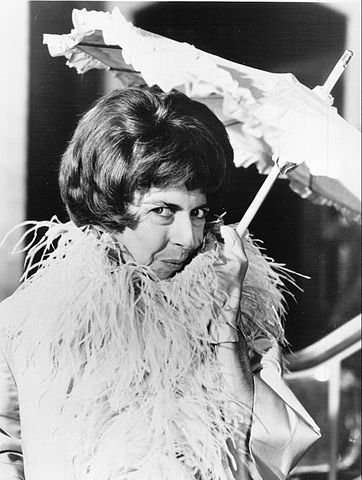 19. THE THEME SONG
While the lyrics never got sung over the opening credits, the "Bewitched" theme song had them none the less.
20.  DAVID WHITE NAMED HIS ONSCREEN SON AFTER HIS OWN SON
David famously played the advertising exec, Larry Tate. In real life, he had a son named Jonathan, whom he raised as a single father after his wife died.
When David's character and his onscreen wife Louise Tate had a son on "Bewitched," he got named Jonathan at David's request.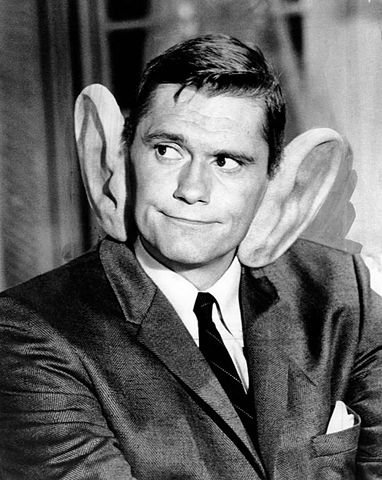 Sadly, Jonathan died as one of the passengers on board Pan Am Flight 103 which exploded due to a terrorist attack over Lockerbie, Scotland, on December 21, 1988. Two years later, David died of a heart attack.
Marion Lorne had also passed since then. Even though she never reached lasting success in Hollywood, Marion became highly respected for her talents.