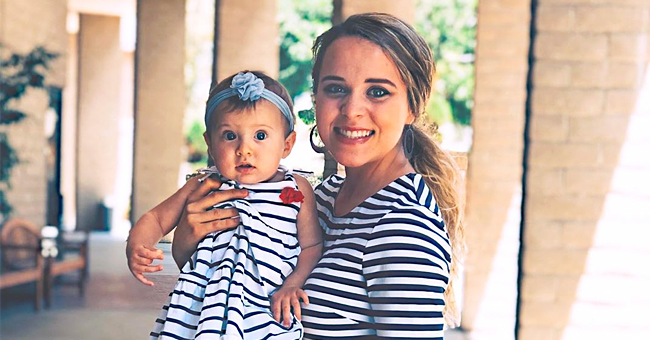 instagram.com/jingervuolo
Jinger Duggar and Her 1-Year-Old Daughter Felicity Look like Twins in Striped Dresses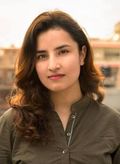 The "Counting On" star Jinger Duggar and her mini-me daughter Felicity donned matching striped dresses as they posed for a lovely picture together. They look absolutely adorable!
Jinger Duggar is the star of her parent's social media account. Jinger and her husband, Jeremy Vuolo, share cute snapshots of their precious daughter now and then, and it is amazing how she is growing to be a cheerful little girl.
Felicity is back on her mother's Instagram, and this time, she sported a cute little outfit which is similar to what Jinger wore.
"Me & My Mini-Me. I don't know about you, but I have to do the matchy-matchy thing every once in a while," the proud mother captioned the post.
FELICITY'S FIRST FOOTBALL MATCH
Back in July, Jinger's husband Jeremy Vuolo shared pictures of his family enjoying a football match on his Instagram. The Duggar kids were not allowed to play organized sports, but it seems like little Felicity could play soccer in the future.
Given that her father was a professional athlete before he went deep into ministry, the possibility of her playing soccer cannot be denied.
Jinger even shared a picture of Felicity smiling against a goal post on her Instagram.
"It looks like she wants to be a goalkeeper like her daddy," she wrote.
FANS WANT TO KNOW IF FELICITY IS ALLOWED TO PLAY SOCCER
After seeing little Felicity near the goalpost, fans were keen to know whether the family's beliefs allow her to play.
"Is she allowed to play sports according to your beliefs?" one of the fans queried.

Fan's comment on Jinger Vuolo's Post. | Source: Instagram/jingervuolo
Another fan replied to the comment saying that they are "adults and make their own decisions,"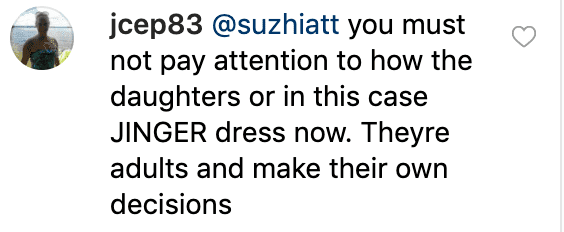 Fan's comment on Jinger Vuolo's Post. | Source: Instagram/jingervuolo
"Um, the girls aren't supposed to show their knees or wear pants. Why would I assumed that they can wear short soccer shorts and be goalies where their shirts might fly up and show their stomachs?" another comment from a fan read.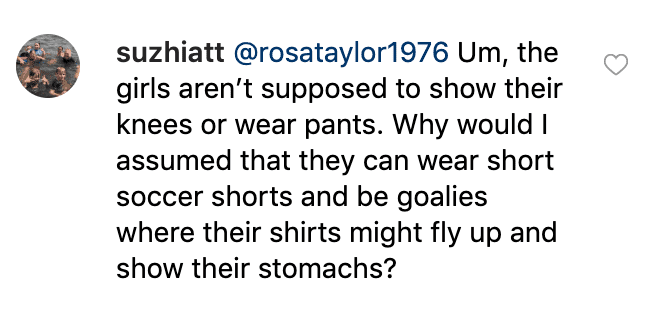 Fan's comment on Jinger Vuolo's Post. | Source: Instagram/jingervuolo
Do you think Felicity will grow up to be a soccer player?
Please fill in your e-mail so we can share with you our top stories!