Pumpkin Does Dumbbell Curls Next to Dwayne 'The Rock' Johnson's Statue in a Funny New Video
The "Here Comes Honey Boo Boo" star shared a humorous boomerang-style video, which sees her lifting dumbells like it's no big deal.
19-year-old Lauryn "Pumpkin" Shannon stood beside a statue of Hollywood star, Dwayne "The Rock" Johnson, as she mimicked the statue's posture in lifting the dumbells.
She captioned her video, "If only the gym had weights this [light]," and tagged Johnson on the post.
AN INSPIRATION FOR ALL
Pumpkin's post has been liked by more than 118,000 of her fans with hundreds of them also taking to the comments section to express their adoration for her.
One fan wrote about how Pumpkin is an inspiration to many people and also praised her for her wisdom and common sense.
"You have a wonderful opportunity to show people the right way to overcome hardships. It amazes me that someone so young can be so wise and have more common sense than people much older. Keep being the role model you have become."

FANS MISS SEEING HER ON TV
Some of the fans also took the opportunity to talk about their reality TV series and how they enjoyed watching it.
Instagram user, "da_queen_2008," commented that she loved the show because it portrayed the "real struggles" of life.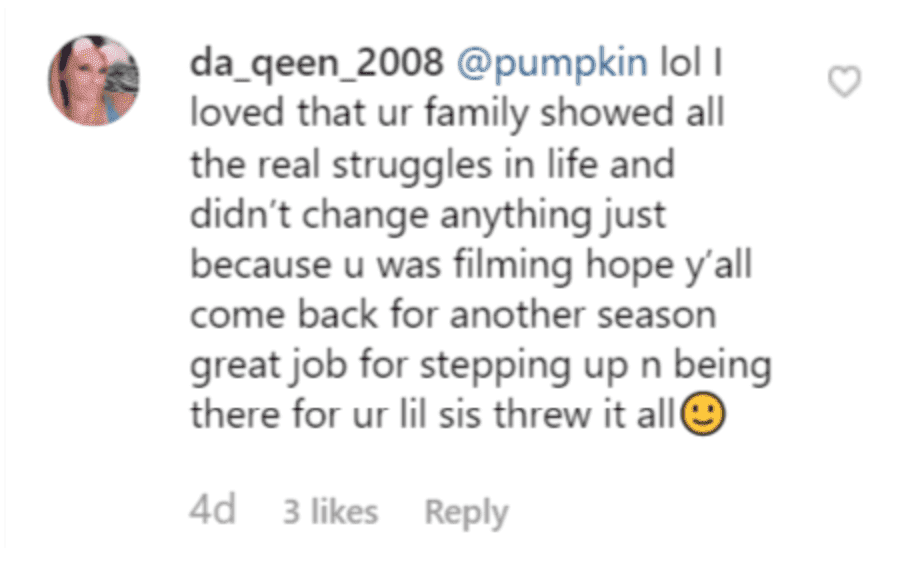 Recently, Pumpkin made headlines after reports emerged about her potential return in television with her own reality show alongside her sister, Alana "Honey Boo Boo" Thompson.
The news should come as a big delight for their fans, who are eager to watch the duo back on their television screens. However, neither Pumpkin nor Honey Boo Boo has officially confirmed the report.
Fans have always adored the great bond that the two sisters share, which is apparent through their social media, where they regularly feature in each other's posts.
Recently, fans loved how Honey Boo Boo made an unexpected appearance in one of the snapshots of Pumpkin's husband and her 19-month-old baby.