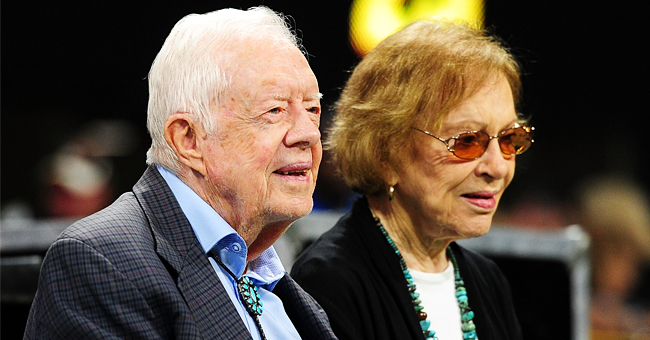 Getty Images
President Jimmy Carter and Wife Rosalynn's Love Story: From a Small Town to the White House
Former President Jimmy Carter and his wife, Rosalynn, have been a couple for over seven decades, and their love story began when they were childhood neighbors.
Jimmy Carter and Rosalynn Carter have nothing short of a genuine love story that began as hometown sweethearts and ended in the most famous house in the United States. The couple's love withstood the test of time, more than 70 years to be particular, and many look up to their relationship.
SHE'S THE ONE
Jimmy grew up in Plains, a small town in Georgia where Rosalynn lived as well. Because of her friendship with Jimmy's younger sister Ruth, the two remained familiar with each other. In 1945, they began to notice each other until romance sparked.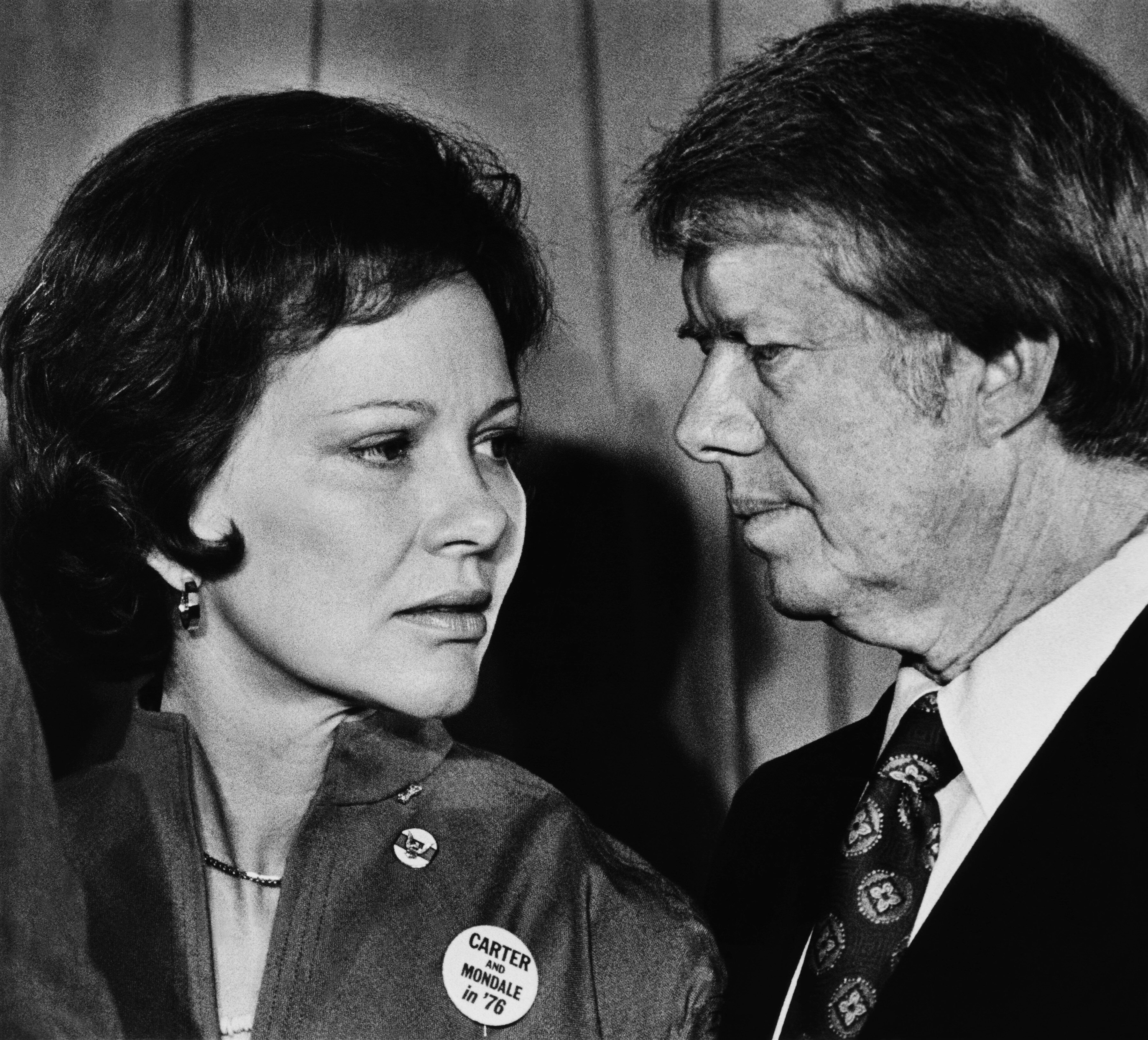 Jimmy and Rosalynn Carter at the 1976 Democratic National Convention. | Source: Getty Images
Rosalynn began freshman year at Georgia Institute of Technology, whereas Jimmy was on his final year at Annapolis. It was around this time that his photos in a military uniform began to get her attention.
That summer, Jimmy took notice of the pretty and shy then-17-year-old girl and impulsively asked her out one night. Their first date was but a cliche -- they went to the movies and shared their first kiss, and since then, Jimmy knew she was the one.
NO PERMANENT ADDRESS
For months, the former president courted the girl of his dreams and eventually proposed. Initially, Rosalynn declined, thinking that their relationship was too fast-paced, but said yes months after.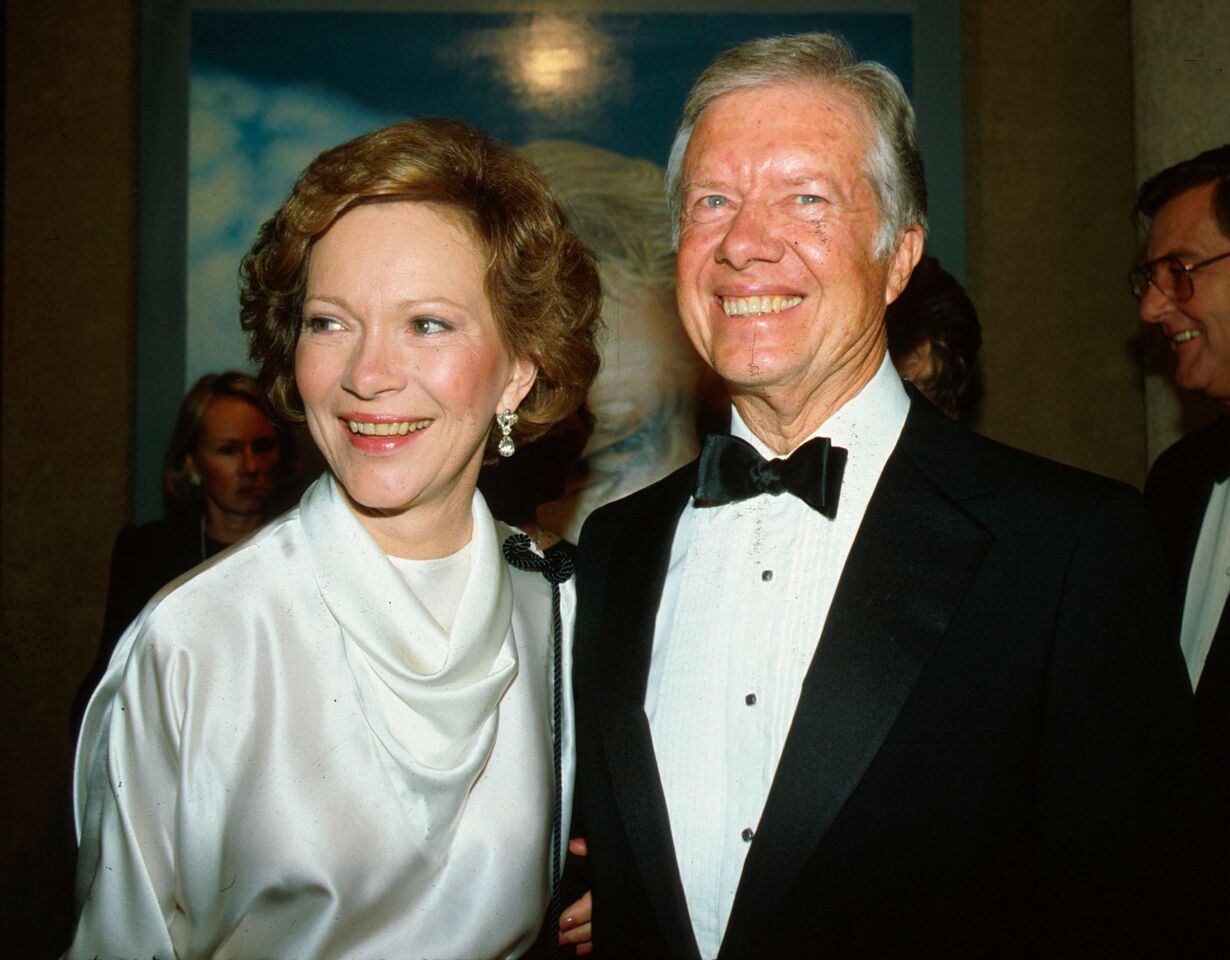 Jimmy and Rosalynn Carter at the Sotheby's Auction in 1983. | Source: Getty Images
The couple tied the knot on July 7, 1946, at the Plains Methodist Church, following Jimmy's graduation. Shortly after, the newlyweds moved to Norfolk, Virginia for Jimmy's naval first assignment. However, it was not long after that the couple had to move.
The two changed houses from Hawaii, Connecticut, Massachusetts, and Pennsylvania, until they finally resided in New York. Rosalynn had no problems with the constant moves; in fact, she loved being a naval wife, until 1953.
THE BIGGEST CHALLENGE YET
When Jimmy's father died, he made a life-changing choice to resign from the navy and run the family business in Plains -- something his wife was not pleased about.
Rosalynn "avoided talking to me as much as possible," Jimmy said of their broken communication. For the former first lady, she believed "the best part of my life has ended." She was unsure of where or how to place herself or how to be on equal foot with her husband.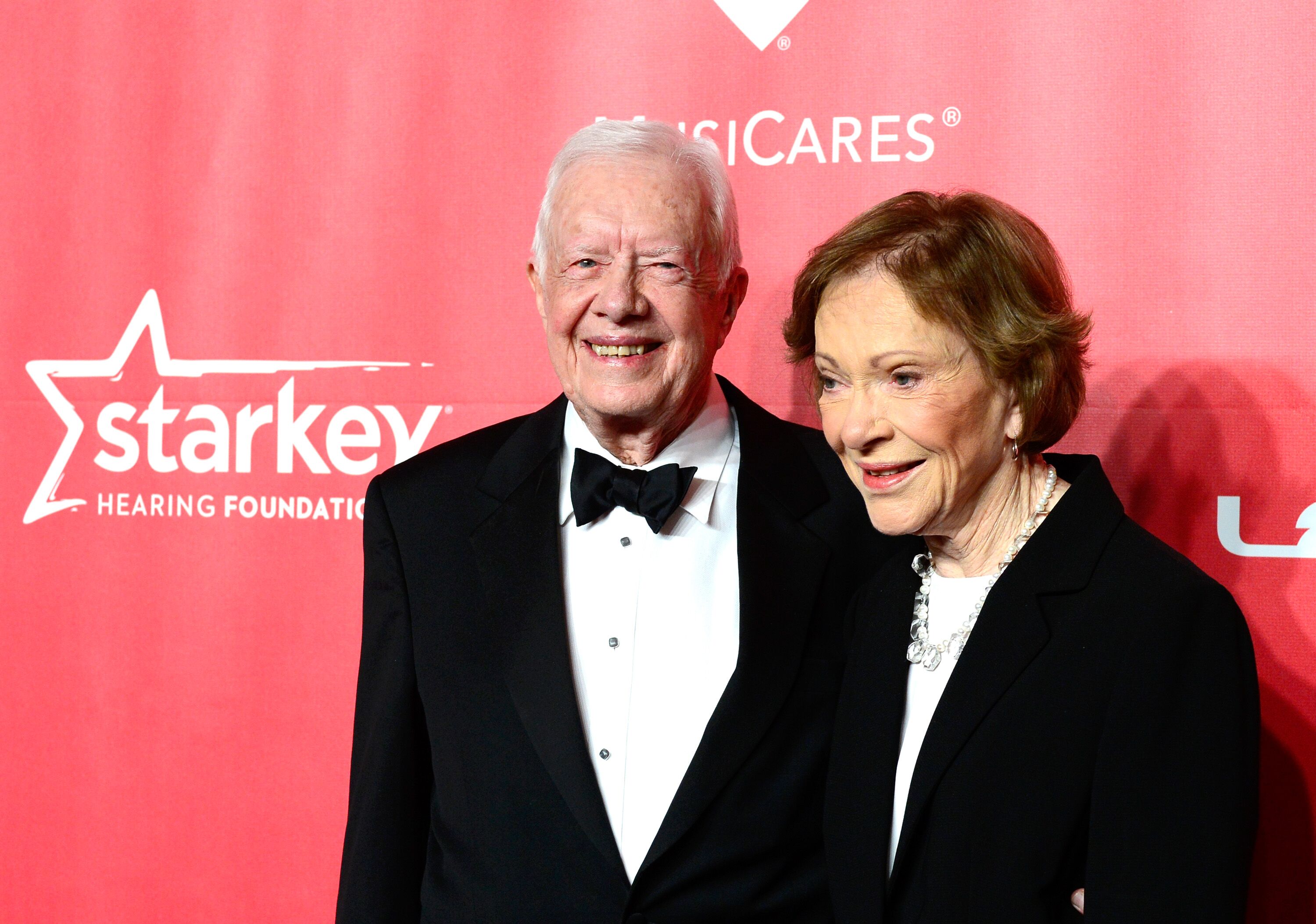 Jimmy and Rosalynn Carter at the 25th anniversary MusiCares Person Of The Year Gala. | Source: Getty Images
Everything fell into place for Rosalynn as she started helping out in her husband's family business, managing finances and turning it to profit.
JIMMY ENTERS POLITICS
Jimmy won a place in the Georgia State Senate in 1962 and later eyed a seat in Congress. Sadly, his attempt was unsuccessful, and so in 1970, he wanted to run for governor. His wife was all-out support and effort during campaigns, which later was rewarded with a win.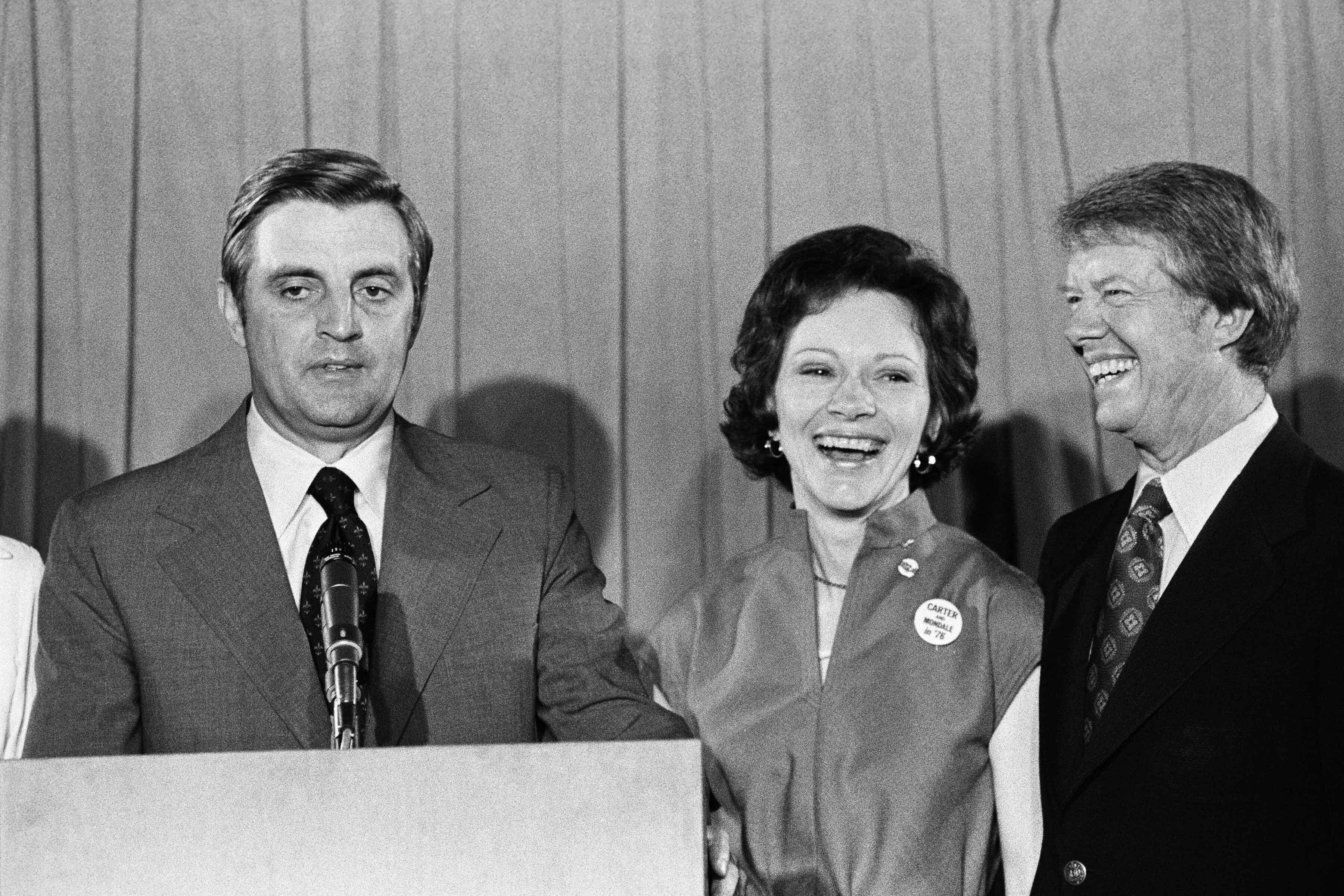 Jimmy Carter taps Walter F. Mondale as his Vice President running mate at the Democratic National Convention. | Source: Getty Images
In 1974, Jimmy filed for candidacy in the presidential race and won. They made another move to the White House, where Rosalynn served as a close advisor to the former president. She honed her role and worked alongside her husband's administration.
POST-PRESIDENCY
After Jimmy lost the 1980 re-election, the couple returned to their Georgia Home. However, both carried on with their causes and humanitarian efforts, which included the Carter Care and Habitat for Humanity.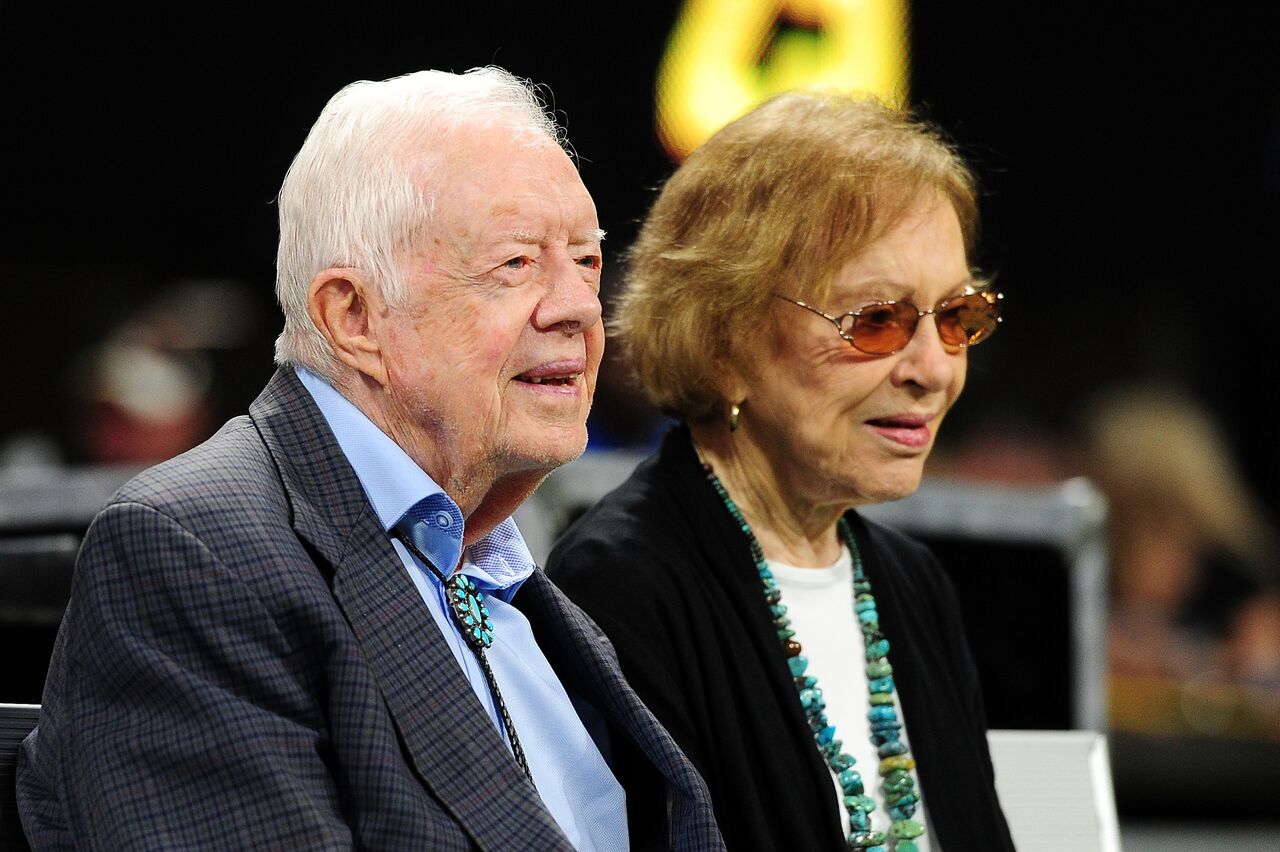 Jimmy and Rosalynn Carter at the Mercedes-Benz Stadium in 2018. | Source: Getty Images
Devastating news struck in 2015 as Jimmy was diagnosed with cancer, but the ordeal only brought them closer and stronger. In 2019, he became the longest-living American president in history and later celebrated his 73rd anniversary with Rosalynn.
America's 39th president surpassed late President George H.W. Bush's record after he turned 94 years old and spent 172 days on earth. Bush, on the other hand, was 94-years-old when he died in November.
Please fill in your e-mail so we can share with you our top stories!