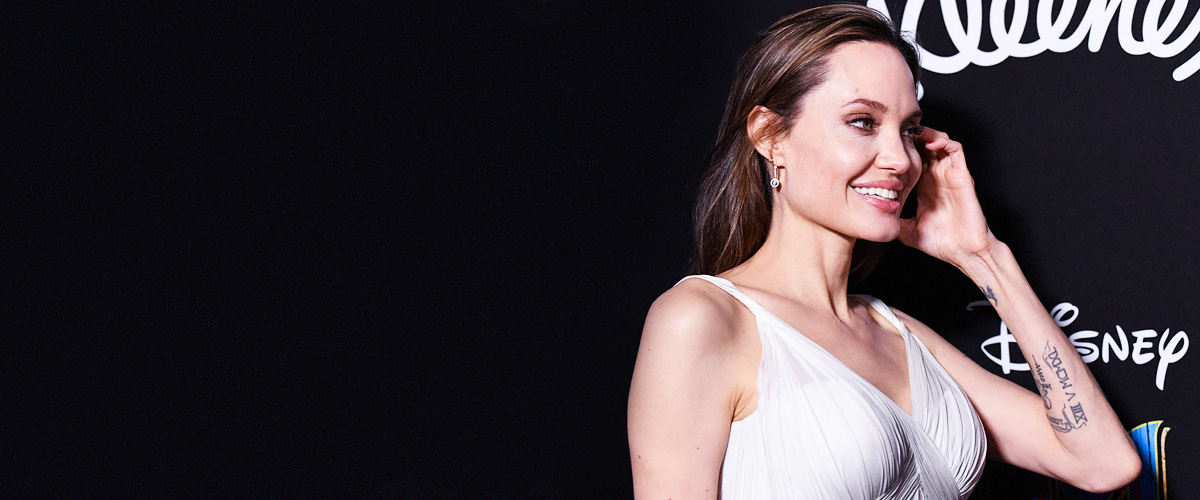 Getty Images
Here's The Real Meaning Behind All of Angelina Jolie's Tattoos

Angelina Jolie stands out in the film industry in more ways than one. She's not only the embodiment of exotic beauty for many but in a rare instance, she's chosen to get inked in several places on her body.
The 44-year-old stands out from the crowd on the red carpet because she's one of very few in Hollywood who opted to get tattoos that are quite apparent.
The "Lara Croft: Tomb Raider" star has everything from Buddhist chants to Arabic script to Geographic Coordinates on her back and arms, and she wears them proudly when she steps out. Here's what they all mean.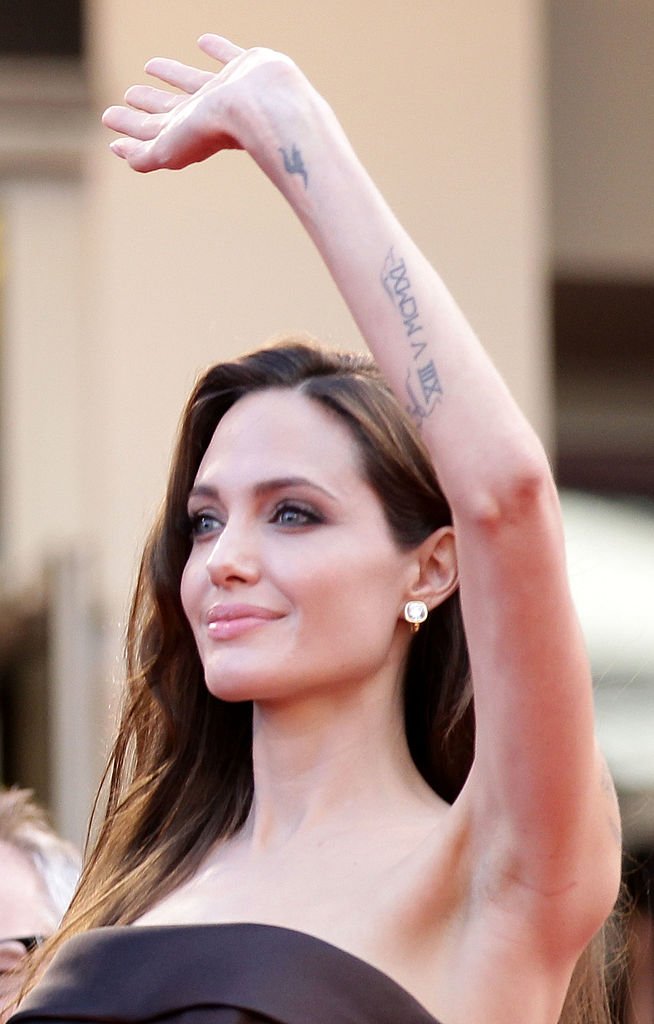 Angelina Jolie attends the premiere of of "The Tree Of Life" at the 64th Annual Cannes Film Festival in Cannes, France on May 16, 2011 | Photo: Getty Images
Left Shoulder Geographical Tattoos - Her Children
These may be among the most important sets of ink the "Maleficent" actress has on her skin. They display each location of her six children's birthplace.
Jolie, who was once married to A-list actor Brad Pitt, has three biological children and another three who were adopted. The pair share a balance of three boys and three girls.
N 11º 33' 0" E 104º 51' 00" points to Phnom Penh, Cambodia, the birthplace of her first adopted son Maddox. N 10° 46' 0" E 106º 41' 40" marks Ho Chi Minh City, Vietnam, where adopted son Pax Thien was born.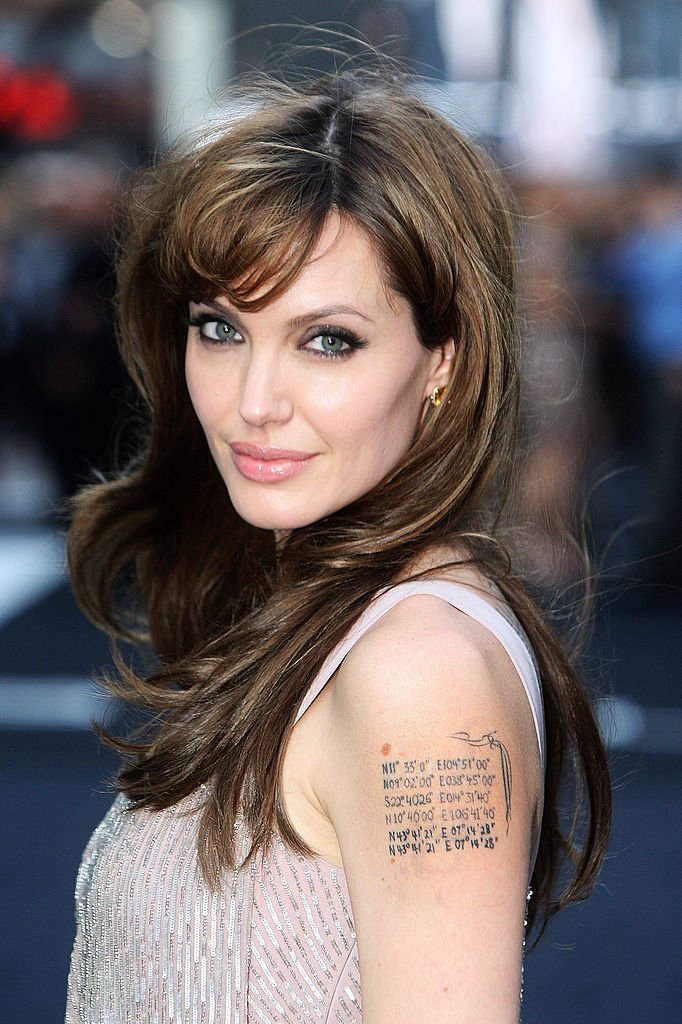 Angelina Jolie attends the UK premiere of "Salt" in London, England on August 16, 2010 | Photo: Getty Images
N 9º 2' 0" E 38º 45' 0" represents Addis Ababa, Ethiopia, the birthplace of adopted daughter Zahara. S 22º 40' 26" E 14º 31' 40" signifies Swakopmund, Namibian, where Jolie gave birth to her daughter Shiloh.
N 43º 41' 21" E 07º 14' 28" marks Nice France, the birthplace of Jolie's twins Knox Léon and Vivienne Marcheline. Additionally, the actress put the coordinates of ex-husband Pitt's birth town in Oklahoma.
Left Shoulder Blade Tattoo - Buddhist Incantation
Jolie's most prominent tattoo is the one placed on her back and the meaning behind the Khmer Prayer is quite sweet. The work was done using long needles and a hammer, marking traditional Thai tattoo practice.
The "Mr. & Mrs." Smith" star reportedly spoke on the piece, done by Noo Sompong Kanhpaiin, back in 2003, saying, "I kind of felt like it was something that I was going through for Maddox because it's for protection." She described it as a ritual and a prayer and her way of suffering for her son.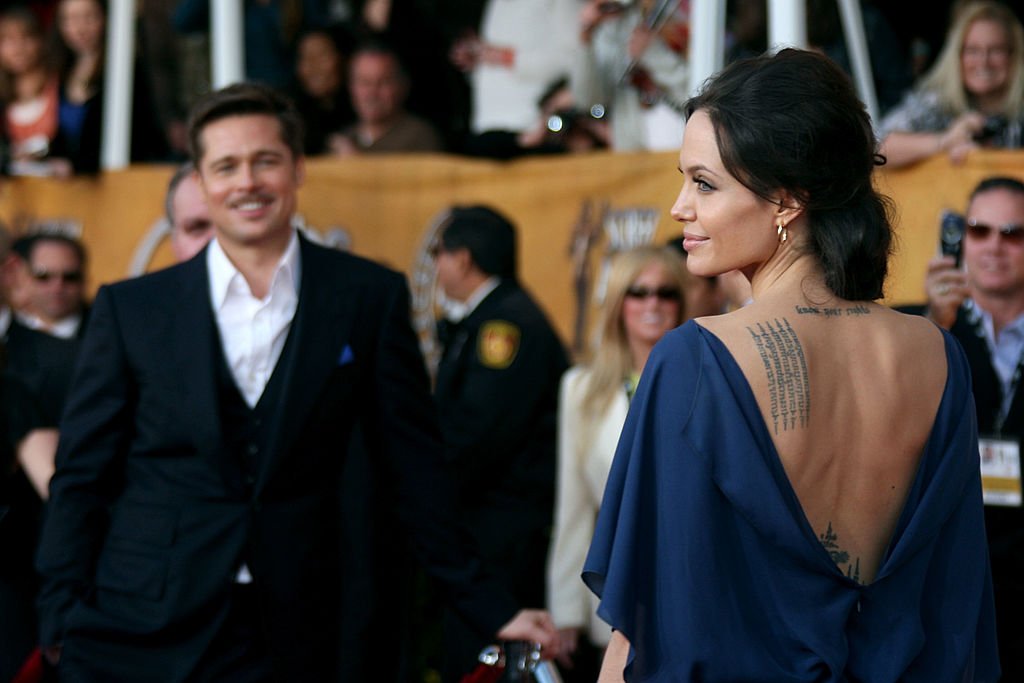 Angelina Jolie and her ex-husband Brad Pitt attend the 15th Annual Screen Actors Guild Awards in Los Angeles, California on January 25, 2009 | Photo: Getty Images
Maddox was adopted in 2002. In English, the inscription reads: "May your enemies run far away from you. If you acquire riches, may they remain yours always. Your beauty will be that of Apsara. Wherever you may go, many will attend, serve and protect you, surrounding you on all sides."
Lower Back Tattoo - Bengal Tiger
Perhaps the biggest single piece of ink on the actress is the large Bengal tiger she spots on her lower back for protection. It was done in 2004 by the same artist who did her left shoulder tattoo.
Again using local tools and following Thai tradition, the artist reportedly blessed the design and chanted an ancient hymn. The "Wanted" actress allegedly sat through two hours to get the tattoo completed.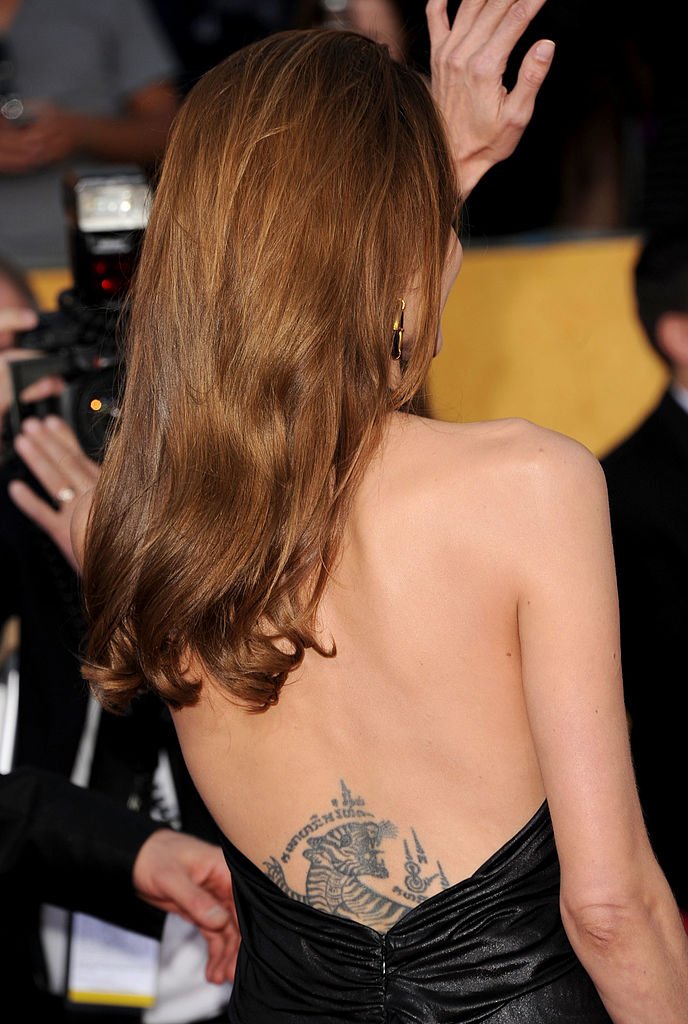 Angelina Jolie attends the 18th Annual Screen Actors Guild Awards in Los Angeles, California on January 29, 2012 | Photo: Getty Images
Neck Tattoo - Humanitarianism work
At the base of her neck, Jolie placed moving words inspired by one of her favorite songs from the band, The Clash. In Gothic Letter are the words "Know your rights," an idea that also pushes the actress' human rights cause.
In 2006, Jolie was interviewed on CNN's "Anderson Cooper." At the time, she said that it all comes down to knowing "what their rights are, and then gives them the ability—for children who are trafficked, for women who are vulnerable, for everybody."
Jolie is a Goodwill Ambassador for the United Nations High Commissioner for Refugees and works towards implementing universal education and freedom of movement rights for refugees throughout the world.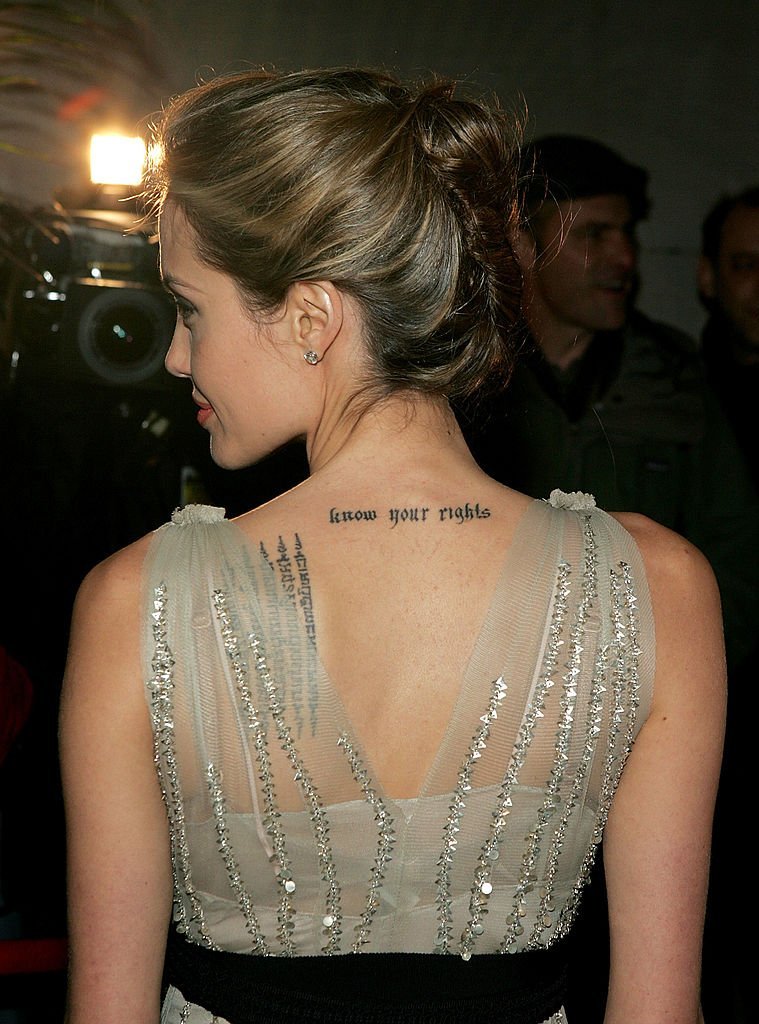 Angelina Jolie attend the Worldwide Orphans Foundation Gala in New York City on October 24, 2005 | Photo: Getty Images
Middle Back Tattoos - Prayers and The Elements
Ten years on, Jolie took to the eastern continents to get inked once again following her very public split with Pitt in 2016. This time, she enlisted a monk named Ajarn Noo Kanpai to get several more Buddhist-inspired tattoos.
Again, the piece was done using steel rods and surgical needs in line with local practice. Right in the middle is a temple design which, according to Yahoo News, encourages the wearer to give oneself mercy.
The ink on the right shoulder blade is as large as the one on Jolie's left. The meaning of the words is meant to bring luck and wealth. Below and to the right, Jolie wears the largest of her script back tattoos.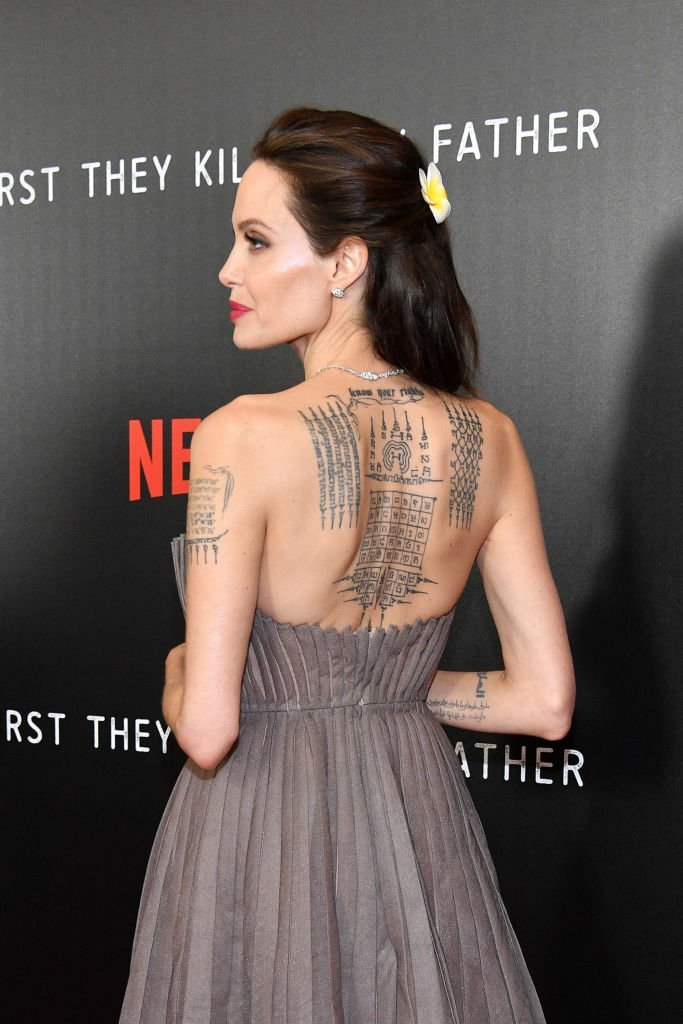 Angelina Jolie attends the New York premiere of "First They Killed My Father" on September 14, 2017 | Photo: Getty Images
Designed almost like an upside-down building, the tattoo represents the four elements, namely, fire, water, wind, and earth. Jolie's back also has some animalistic decor.
Left Forearm Tattoo - Roman Numerals and a Quote
Jolie has clearly proven that she's not a typical Western woman and has embraced several ideas from Eastern spirituality. She took things further by looking Western superstition in the eye with her forearm tattoo.
There, she has the number 13 printed in roman numeral form. She also has the date for a Winston Churchill quote in roman numerals. "I have nothing to offer but blood, toil, tears and sweat," the quote goes.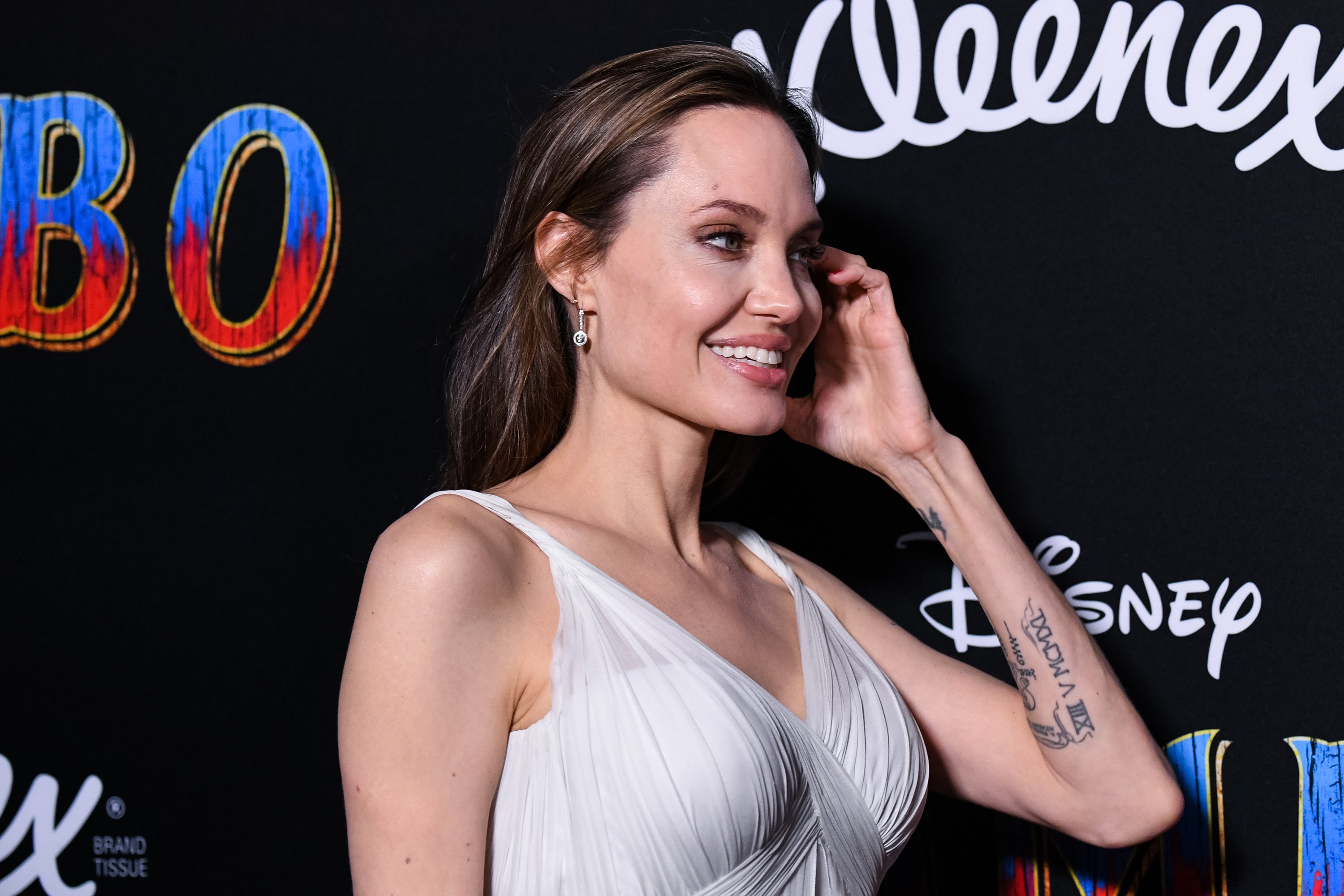 Angelina Jolie attends the premiere of Disney's "Dumbo" in Los Angeles, California on March 11, 2019 | Photo: Getty Images
Left Inside Elbow Tattoo - Tennesee Williams
The "Salt" actress clearly has a strong belief in the power of prayer. Inside her left elbow, she has the words "A prayer for the wild at heart kept in cages."
The line originates from the 1941 play, "Stairs to the Roof," written by Tennesee Williams and was done soon after Jolie finished filming for 1999's "Girl, Interrupted."
Left Wrist Tattoo - Family Tribute
Jolie's tattoos get smaller as they reach her fingertips. On her left wrist, the actress sports a runic inscription that represents the letter "H." She reportedly said that it's meant to honor her brother James Haven.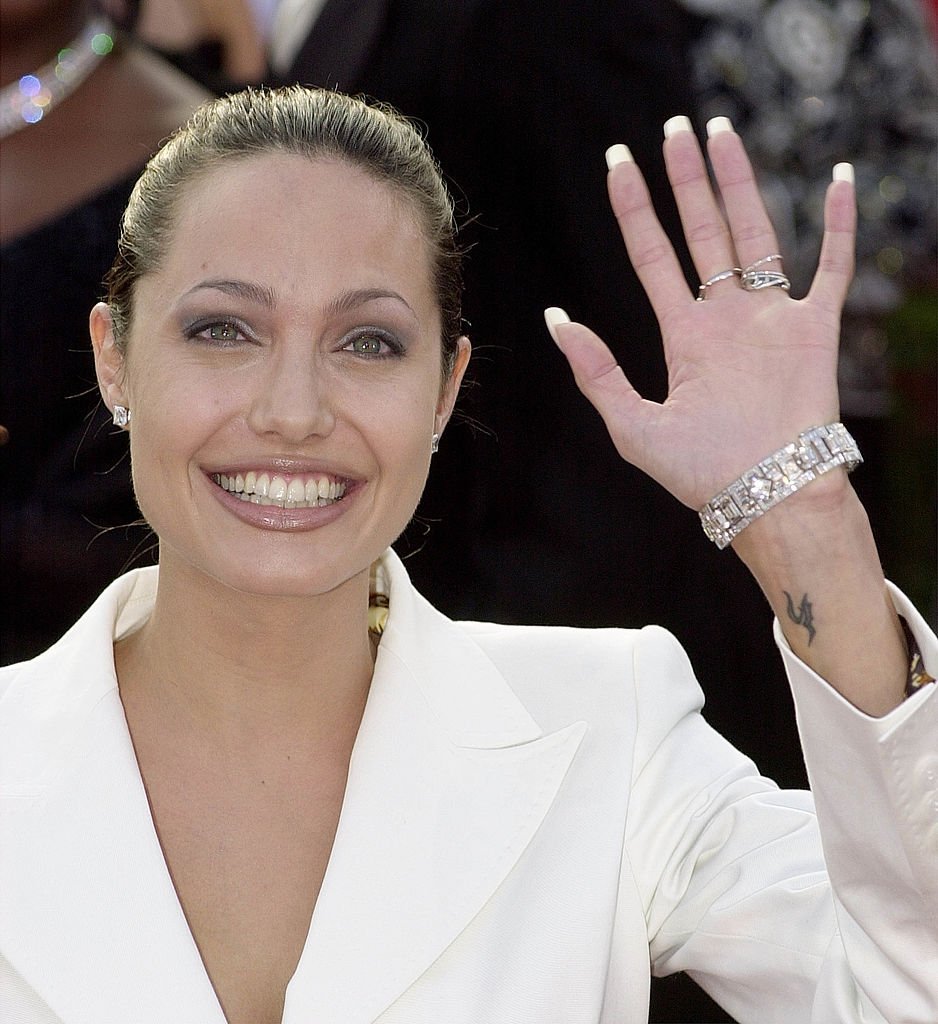 Angelina Jolie attends the 73rd Annual Academy Awards in Los Angeles, California on March 25, 2001 | Photo: Getty Images
Right Forearm Tattoo - Arabic Inscription
Jolie's right side is less inked than the left, but in her right forearm she wears Arabic lettering "العزيمة." The reported meaning is "the determination" or "the firm will." It could also mean "the incantation" or "the spell."
Lower Stomach Tattoo - Latin Reading and Cross
One of Jolie's earliest tattoos is written across her lower midsection. In 1995, she had the Latin phrase Quod me nutrut me destruit" which translated into: "what nourishes me, destroys me."
To the left of it is a large cross about this piece once when she visited USA Today. "I got that the day before I married Jonny," she said. Jolie was first married to Jonny Lee Miller from 1996 to 1999. "It was all symbolic, and it was a good thing, nothing dark," she added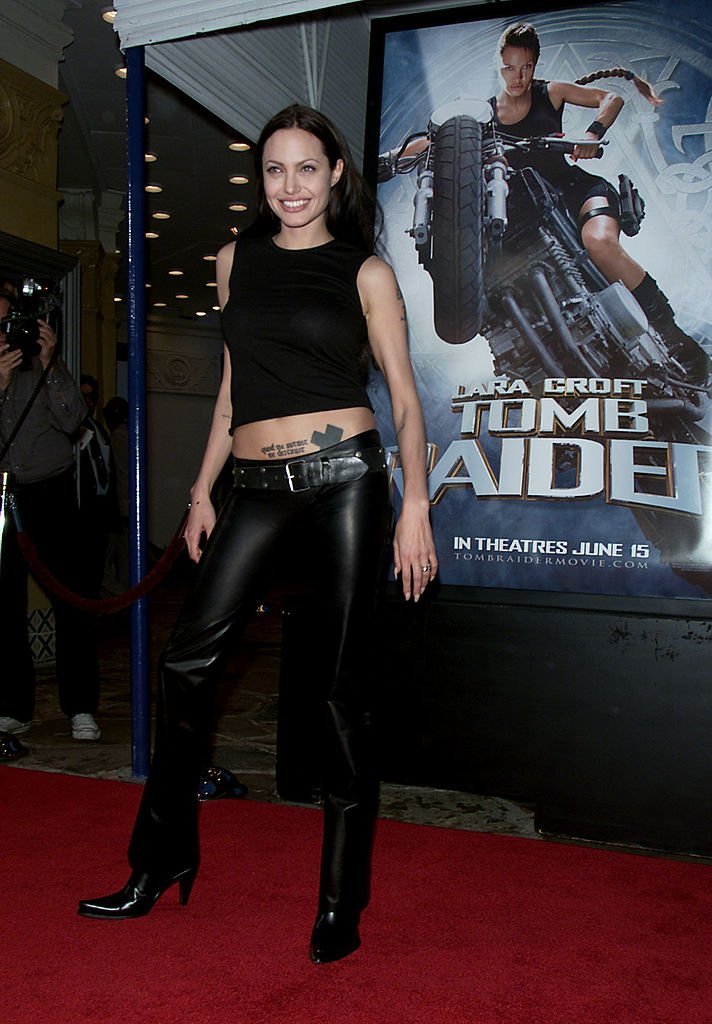 Angelina Jolie attends the premiere of "Lara Croft: Tomb Raider" in Los Angeles, California on June 11, 2001 | Photo: Getty Images
Hand Tattoo - Homage to Mother
A letter M on the actress' hand reportedly pays tribute to her mother Marcheline Bertrand, who passed away in 2007 after battling breast cancer for eight years.
Removed Tattoos and Coverups
Jolie sported a few tattoos before debuting those she currently wears. She one had the name of her ex-husband Billy Bob Thornton on her left arm before replaced it with the geographical coordinates.
On her shoulder, she wore the Japanese script for death reportedly as a constant reminder to live life fully. She seemed to be doing so on a trip to Amsterdam when she got a dragon tattoo with a blue tongue tattooed in.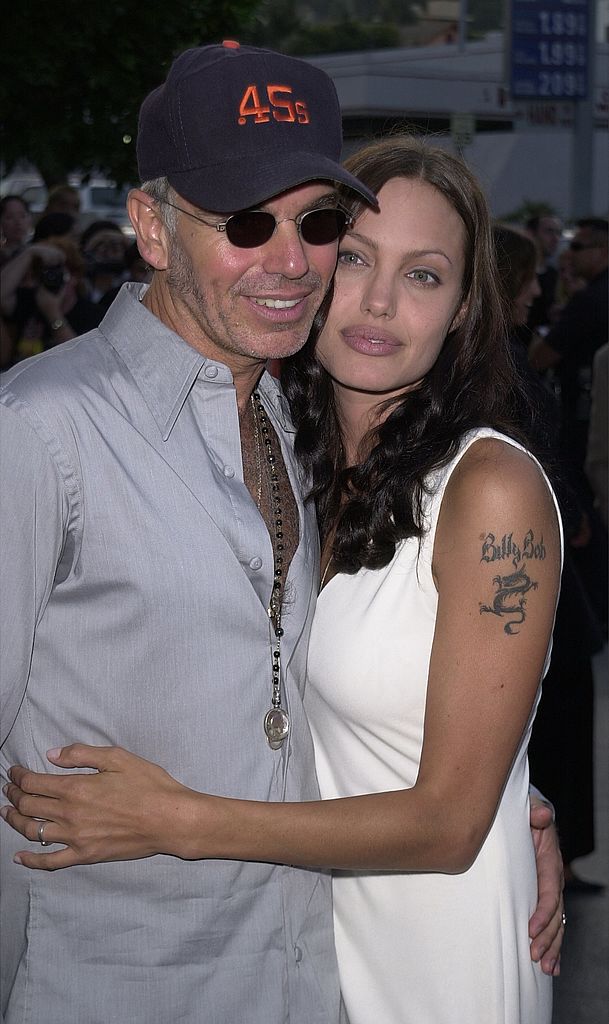 Angelina Jolie and her ex-husband Billy Bob Thornton attend the premiere of "Original Sin" in Hollywood, California on July 31, 2001 | Photo: Getty Images
That piece was replaced by the cross and the Latin script we mentioned above. She wore an abstract design and Japenese script on her right arm before replacing the former with the Arabic script and getting rid of the latter.
Where Jolie now wears the Bengal tiger, she once sported a tattoo representing her looking out of a window to symbolize her desire to be elsewhere. Right now, the star believes she's right where she needs to be.
Please fill in your e-mail so we can share with you our top stories!