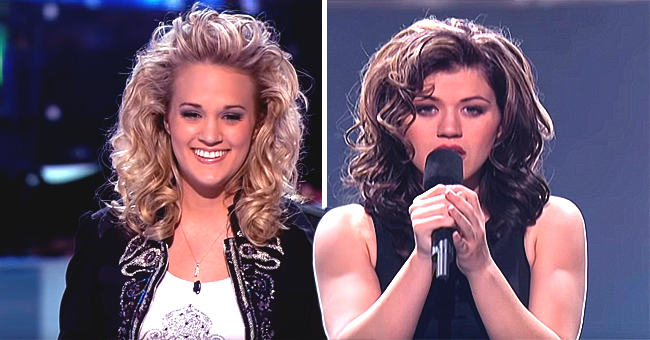 Youtube.com/American Idol // Youtube.com/markusa51
'American Idol': Where the Winners of Our Favourite Show Are Now

When the singing competition series debuted on Fox in 2002, it made a lasting impact on pop culture, and in the years that have passed, we have seen many stars being born. Let's remember them.
"American Idol" was rebooted in 2018 by the ABC network, not long after the original run on Fox came to an end after 15 seasons. As a new generation gets to enjoy the iconic show, let's revisit the past winners of the show to see what have become of them.
KELLY CLARKSON
Now 37 years old, Clarkson made history when she became the first winner of the series, earning a record deal with RCA Records, which she really made good use of, since her record became multiplatinum in 2003.
Her second album, 2004's "Breakaway" made her win her first two Grammy Awards. The "Since you've been gone" singer has released eight albums, her last being "Meaning of Life" in 2017, the first with Atlantic Records.
Nowadays you can see her as coach on "The Voice," alongside Blake Shelton, John Legend and, soon, Gwen Stefani, who returns to the show for the upcoming season, replacing Adam Levine.
RUBEN STUDDARD
Less than a year after becoming the winner of the series' second season, now-40-year-old Studdard released his debut album titled "Soulful," reaching number 1 immediately and granting him his first Grammy nomination.
He has continued experimenting with gospel and R&B, with seven solo records out to this date, the last being a tribute to one of his favorite artists, singer Luther Vandross.
Apart from building a solid music career, Studdard also became an actor. The last film he has been on was 2016's romance "I Need A Man." He is currently touring the US to promote his latest record.
FANTASIA BARRINO
Barrino not only conquered even coach Simon Cowell on her final performance during Season 3, winning the first place at age 19 despite being a single mother. Six months after her triumph, she debuted with a platinum album that received a Grammy nomination.
She shared part of her inspirational story on her memoir "Fantasia: Life Is Not a Fairytale" which was later adapted into a film with her as an actress playing herself. Barrino also appeared at Aretha Franklin's funeral in 2018. She is 35.
CARRIE UNDERWOOD
Arguably the most successful performing artist to come out of the series, Underwood is such a country music superstar today that it is hard to picture her as a 20-year-old who used her parent's dial-up connection to register for auditions for "American Idol."
She has won an impressive seven Grammys, surpassing any other contestant of "American Idol." She has recorded six albums and sold more than 65 million records, and has an estimated net worth of $83 million.
The 36-year-old recently had made a childhood dream come true when she got to share the Grand Ole Opry with one of her most admired country singers, 45-year-old Bryan White.
TAYLOR HICKS
At 42, Hicks remains to this day the oldest winner of the competition. He was 29 when he did so in 2006. Following his victory, Hicks released an eponymous album that same year that went platinum.
He made his Broadway crossover taking part on "Grease." Beyond singing, he hosts a food-themed TV show. In 2008 he launched his own record label, Modern Whomp, self-releasing his next to albums.
From 2012 to 2013 he had a Las Vegas residency. Now he is a restaurateur back in his hometown in Alabama.
JORDIN SPARKS
29-year-old Sparks has the distinction of being the youngest person to win the competition since her victory on Season 6 at age 17. After releasing her first two records, Sparks took a break from music and focused on acting, appearing in several TV shows and in Broadway's "In the Heights."
She also shared the screen with late Whitney Houston in 2012 on her feature film debut "Sparkle." In 2015 she released her third studio album "Right Here Right Now."
DAVID COOK
After winning Season 7, Cook, now 36, went on to break a record with 11 songs hitting the Billboard Hot 100. His debut album, self-titled, sold more than one million copies. In 2015 he released his third album independently.
Cook has distinguished himself for his humanitarian efforts since he found fame, serving as a UN ambassador in 2010 in Ethiopia and helping raise money for brain cancer research.
KRIS ALLEN
34-year-old Allen was the winner of Season 8, and he enjoyed considerable success with his first album, 2012's "Thank You Camellia." Unfortunately, he suffered a wrist injury in a car accident that forced him to take a break from music, since he was unable to play the guitar for a while.
Eventually, Allen fully recovered and went back to do what he loves, both as a solo artist and as part of the band The Dames. His fifth and last record to date was 2016's "Something About Christmas."
LEE DEWYZE
The winner of Season 9 was now-33-year-old DeWyze. While his career seemed to slow down in the beginning after failing to release a successful record, his music started to be very popular to use on series.
Since his "Blackbird Song" was featured on "The Walking Dead," his songs were picked for series such as "Nashville", "Elementary", and "Suits." The exposition certainly gave his career a boost, and he returned to the recording studio in 2016 to release "Oil & Water."
DeWyze is currently working on a follow up to his 2018 album "Paranoia." Back in April, he released his latest single "Night and Day."
SCOTTY MCCREERY
Now 25, McCreery is famous not only for having won Season 10 but also for replicating the achievement of his predecessor Ruben Studdard by having his first album "Clear as Day" debuting at number 1 on the Billboard 200.
He has since been recognized by the Country Music industry with the New Artist of the Year Awards at the 2011 American Country Awards. His most recent record to date was 2018's "Season Change."
PHILLIP PHILLIPS
28-year-old Phillips, who won Season 11, has had a bittersweet relationship with "American Idol." He was one of the most loved contestants of the show, scoring the biggest digital sales week of any finale with the song that granted him the victory, "Home," which sold 5 million copies in the US.
His first two post-Idol albums didn't disappoint, but he saw himself involved in a legal battle with the series production company that prevented from releasing any new music until 2018 when he finally returned with "Collateral."
CANDICE GLOVER
29-year-old Glover released her debut studio album "Music Speaks" nearly a year after winning Season 12. But the album received poor reviews and Glover virtually disowned it by stating that it was released without her approval.
She parted ways with her label and has since been mostly away from the spotlight, sporadically releasing new songs via Soundcloud. In 2017, she debuted on Broadway. She has also appeared in the 2014 TV Movie "Northpole" and has guest-starred in series "Underground" and "GRITS."
CALEB JOHNSON
After winning Season 13, 28-year-old Johnson struggled to sell copies of his first record "Testify." He then split from Interscope Records and he financed his follow-up project thanks to a crowdfunding campaign in 2017.
Johnson recently reinvented himself as part of the band "Caleb Johnson and the Ramblin' Saints," releasing a new album on June 2019.
NICK FRADIANI
33-year-old Fradiani, the winner of Season 14, was even less lucky with his first album "Hurricane," selling only 5000 copies during its first week. He left his label Big Machine Records in 2017. Fradiani has continued touring and releasing singles and EP's independently.
TRENT HARMON
28-year-old Harmon won Season 15 of the series, the last one produced by Fox. His debut album "You Got 'em All" came out two years after his victory.
Please fill in your e-mail so we can share with you our top stories!