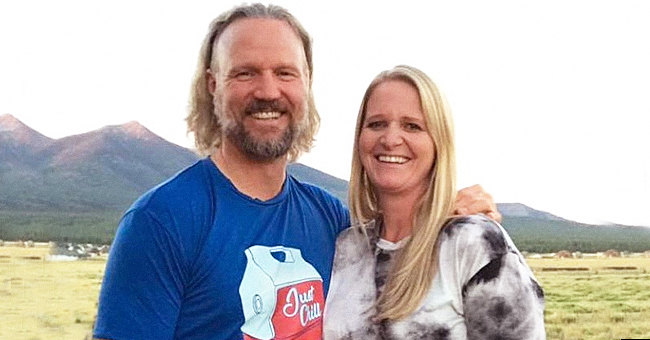 instagram.com/christine_brownsw
Christine Brown of 'Sister Wives' Shares Rare Smiley Photograph with Husband Kody

Christine Brown of "Sister Wives" fame shared a rare picture of herself and her polygamous husband, Kody Brown. The picture showed off T-shirts made by LulaRoe fashion and a smiling Kody, who fans were delighted to see on social media.
Kody Brown hasn't appeared on social media for over a year now but made a smiling return after his wife, Christine shared a photo of them both. The picture showed the couple showing off their LulaRoe shirts and also praising the view of their Flagstaff home.
Christine Brown, who is one of the four wives of Kody, posted a cute picture of her and Kody standing at the verandah of their property in Flagstaff.
The couple was all smiles for the photo, with Kody rocking a blue LulaRoe shirt, while Christine wore a grey and black shirt patterned like a camo, from the same designer.
In her caption, the "sister wife" praised the designer shirts and the view from their new house as she wrote:
"Our T-shirt, the LulaRoe Hudson, is so soft!! Like puppy bellies. And unisex too! #LulaRoe Hudson #Lularoeretailer #Ilovemylularoe #amazingview #flagstaffrocks."
FANS REACTIONS TO THE POST
Fans of the couple and their reality show expressed their love for the shot and their new house. There were some disenchanted comments, however, as some of Christine's followers had rather strong words for the shirt designer and the couple.
Their genuine fans however condemned such comments and asked the couple to ignore negative comments as they looked awesome in their picture.
Some fans chose to focus on Kody's looks in the picture, with one particular fan urging the star to cut his hair, as it was receding a lot.
There have been rumours and questions surrounding Kody's plans to move to a big house, and a fan asked if houses were built or just one big house. Fans would have all their questions answered when a new season of the show kicks off.
KODY'S DAUGHTER ANSWERS QUESTIONS ABOUT THE SHOW
There have been many fans wanting to know if there would be another season of "Sister Wives," and Gwendlyn, daughter of Kody Brown, answered some of those questions on a question and answer session on her Instagram page.
There, she revealed that there would be another season, though she didn't have any clues as to the return dates and premiere dates.
Please fill in your e-mail so we can share with you our top stories!